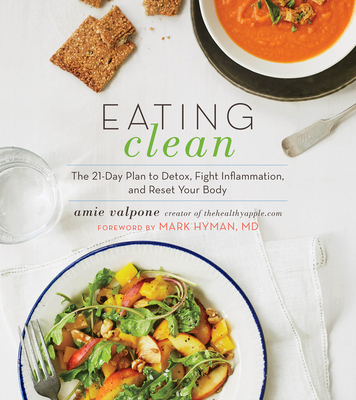 Eating Clean
The 21-Day Plan to Detox, Fight Inflammation, and Reset Your Body
Paperback

* Individual store prices may vary.
Description
The essential guide to fight inflammation, heal your gut, and reset your body with detox and clean eating

After suffering for a decade from a range of ailments like Lyme Disease, Hypothyroidism, and Leaky Gut Syndrome, Amie Valpone, creator of TheHealthyApple.com, healed herself through clean eating and detoxing. In Eating Clean, Amie provides guidance on how to fight inflammation and reset your body, including a 21-Day Elimination Diet, instructions for food reintroduction, a 2-week meal plan, and an extensive pantry list. The book has over 200 recipes that are vegetarian and free of gluten, dairy, soy, corn, eggs, and refined sugar to keep tummies healthy and satisfied—such as Velvety Pear and Fennel Soup, Carrot "Fettuccine" with Sun-Dried Tomatoes and Pumpkin Seeds, and Vanilla Bean Coconut Ice Cream. With this book, readers are able to get the support they need on their path toward wellness.
 

Praise For Eating Clean: The 21-Day Plan to Detox, Fight Inflammation, and Reset Your Body…
"Amie approaches detoxification and optimal health from a genuine place. She has struggled with toxicity and many of its health-robbing ramifications. Along the way, she's developed a road map she shares in this groundbreaking book that can also help you heal your health, your weight, and your life."
—from the Foreword by MARK HYMAN, MD, nine-time #1 New York Times best-selling author
 
"I admire and respect Amie's healthy approach to clean eating and love the recipes and photography in this book! A huge help for people who want to live a healthier lifestyle, but don't know where to start."
—GINA HOMOLKA, creator of Skinnytaste.com and New York Times best-selling author of The Skinnytaste Cookbook
 
"Eating Clean is filled with delicious anti-inflammatory recipes and practical solutions to help reset your body and reclaim your health. Amie has the courage to share her authentic journey from chronic illness to vitality: She's an inspiration. Her contagious enthusiasm, passion, and glowing energy come through on every page. This book is a must-have in your anti-inflammatory kitchen."
—FRANK LIPMAN, MD, New York Times best-selling author of The New Health Rules
 
"In Eating Clean, Amie Valpone nails the simple truth that food is at the heart of our well-being. As someone, much like Amie, who has struggled with conventional treatment of an auto-immune disease, I can attest to the healing power of food. In this age of overly processed food, excessive prescription medication, and so-called quick fixes, it's so wonderful to hear Amie's courageous voice inspiring us to return to a cleaner, more natural way of taking control of our health!"
—SEAMUS MULLEN, award-winning chef, restaurateur, cookbook author, and wellness advocate
 
"Everything is changing when it comes to the health of our families. The escalating rates of food allergies, asthma, autism, diabetes, obesity, and cancer are changing how we view food. Eating Clean is a cookbook for a healthy life! With resources, tools, and a strong and gentle hand, it is a valuable resource for those on the road to recovery."
—ROBYN O'BRIEN, analyst, mother, and author of The Unhealthy Truth

"Persevering through a battery of physicians and restructuring her food intake totally, Valpone achieved complete relief from chronic illness that had dogged and debilitated her for years. Causes of her poor health appeared to center on systemic accumulation of heavy metals and Lyme disease, among other disorders. To blaze a trail back to good health, Valpone successfully cleansed her body of toxins and jettisoned dairy products and gluten. She also rejected processed foods and anything pulled from a can. This sort of diet demands home cooking for virtually every meal. In the process, Valpone became expert at finding foods that met her requirements for both good health and satisfying flavors. She sought out obscure, nonstandard ingredients that promised anti-inflammatory benefits. The hundreds of recipes she advances may repudiate whole classes of edibles, but she is meticulous to keep her cooking flavorful and appealing by including many carefully sourced nuts, seeds, oils, fruits and vegetables."
—Booklist

"While most Western doctors doctors treat symptons, Amie Valpone believes that many diseases can be cured simply altering your diet and eliminating toxins from your environs."
—Marie Claire
Mariner Books, 9780544546462, 400pp.
Publication Date: March 8, 2016
About the Author
AMIE VALPONE, HHC, AADP, founder of TheHealthyApple.com, healed herself from a decade of chronic illness. Amie cooks for a variety of clients including celebrities, using organic, anti-inflammatory foods to create recipes and meal plans.

Mark Hyman, MD, is the Director of the Cleveland Clinic Center for Functional Medicine, the chairman of the Institute for Functional Medicine, and founder and medical director of The UltraWellness Center. He is the #1 New York Times bestselling author of The Blood Sugar Solution 10-Day Detox Diet, The Blood Sugar Solution, The Blood Sugar Solution Cookbook, Ultrametabolism, The Ultramind Solution, The Ultrasimple Diet, and coauthor of The Daniel Plan and Ultraprevention.