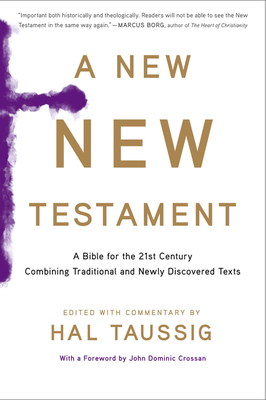 A New New Testament
A Bible for the Twenty-first Century Combining Traditional and Newly Discovered Texts
Paperback

* Individual store prices may vary.
Description
It is time for a new New Testament.

Over the past century, numerous lost scriptures have been discovered, authenticated, translated, debated, celebrated. Many of these documents were as important to shaping early Christian communities and beliefs as what we have come to call the New Testament. These were not the work of shunned sects or rebel apostles, not alternative histories or doctrines, but part of the vibrant conversations that sparked the rise of Christianity. Yet these scriptures are rarely read in contemporary churches; they are discussed almost only by scholars or within the context only of gnostic gospels. Why should these books be set aside? Why should they continue to be lost to most of us? And don't we have a great deal to gain by placing them back into contact with the twenty-seven books of the traditional New Testament—by hearing, finally, the full range of voices that formed the early chorus of Christians?

To create this new New Testament, Hal Taussig called together a council of scholars and spiritual leaders to discuss and reconsider which books belong in the New Testament. They talked about these recently found documents, the lessons therein, and how they inform the previously bound books. They voted on which should be added, choosing ten new books to include in a new New Testament. Reading the traditional scriptures alongside these new texts—the Gospel of Luke with the Gospel of Mary, Paul's letters with The Letter of Peter to Philip, The Revelation to John with The Secret Revelation to John—offers the exciting possibility of understanding both the new and the old better. This new reading, and the accompanying commentary in this volume, promises to reinvigorate a centuries-old conversation and to bring new relevance to a dynamic tradition.
Praise For A New New Testament: A Bible for the Twenty-first Century Combining Traditional and Newly Discovered Texts…
"This brilliant contextualization of the familiar New Testament in the context of other early Christian writings illuminates both. It is important both historically and theologically. Readers will not be able to see the New Testament in the same way again." —Marcus Borg, author of The Heart of Christianity "A New New Testament does what some of us never dreamed possible: it opens the treasure chest of early Christian writings, restoring a carefully select few of them to their rightful place in the broad conversation about who Jesus was, what he did and taught, and what all of that has to do with us now. This new constellation of early Christian scriptures adds brilliant facets to the diamond of divine revelation, waking up those of us who thought we knew it all. While this book will be a welcome addition to the academic courses in New Testament, Christian origins, and theology, I expect it will have its greatest impact in churches, as people of faith become better acquainted with some of their first forebears in faith." —Barbara Brown Taylor, author of Leaving Church and An Altar in the World "A New New Testament offers its readers an expansive opening onto the world of the early Christians. For the first time, modern readers can explore a range of voices and theological perspectives that have not been heard for centuries, set side-by-side with well-known biblical books. Old texts become freshly vibrant, and new texts open ancient avenues for renewed reflection and spiritual practice. A New New Testament will be a vital resource for the 21st century." —Karen L. King, Hollis Professor of Divinity, Harvard Divinity School "Remarkable...Not meant to replace the traditional New Testament, this fascinating work will be, Taussig hopes, the first of several new New Testaments." —Booklist, starred "A culminating work of the Jesus Seminar era and of others influenced by it, this collection of manuscripts serves to complete and update the standard Christian New Testament." -- Kirkus
  —
HarperOne, 9780544570108, 640pp.
Publication Date: September 1, 2015
About the Author
A founding member of the Jesus Seminar, HAL TAUSSIG is a pastor, professor of Biblical literature at Union Theological Seminary in New York, and professor of early Christianity at the Reconstructionist Rabbinical College. He is the author of In the Beginning Was the Meal; TheThunder: Perfect Mind; A New Spiritual Home; Reimagining Life Together in America (with Catherine Nerney); Jesus Before God; Reimagining Christian Origins (with Elizabeth Castelli), and others.