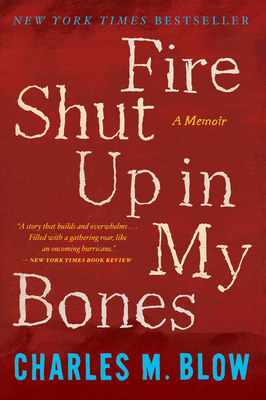 Fire Shut Up In My Bones
Paperback

* Individual store prices may vary.
Other Editions of This Title:
Digital Audiobook (9/22/2014)
MP3 CD (9/23/2014)
Description
A New York Times Notable Book | Lambda Literary Award Winner | Long-listed for the PEN Open Book Award

"Charles Blow is the James Baldwin of our age." — Washington Blade

"[An] exquisite memoir . . . Delicately wrought and arresting." — New York Times

Universally praised on its publication, Fire Shut Up in My Bones is a pioneering journalist's indelible coming-of-age tale. 

Charles M. Blow's mother was a fiercely driven woman with five sons, brass knuckles in her glove box, and a job plucking poultry at a factory near their segregated Louisiana town, where slavery's legacy felt close. When her philandering husband finally pushed her over the edge, she fired a pistol at his fleeing back, missing every shot, thanks to "love that blurred her vision and bent the barrel." Charles was the baby of the family, fiercely attached to his "do-right" mother. Until one day that divided his life into Before and After—the day an older cousin took advantage of the young boy. The story of how Charles escaped that world to become one of America's most innovative and respected public figures is a stirring, redemptive journey that works its way into the deepest chambers of the heart.

"Stunning . . . Blow's words grab hold of you . . . [and] lead you to a place of healing." — Essence

"The memoir of the year." — A. V. Club
Praise For Fire Shut Up In My Bones…
"Fire Shut Up in My Bones is a luminous memoir that digs deep into territory I've longed to read about in black men's writing: into the horror of being submerged in a vast drowning swirl of racial, spiritual, and sexual complexity, only to somehow find one's self afloat, though gasping for breath, and then, at long last and at great cost, swimming. I believe both Ancestors and Descendants will cheer."  —ALICE WALKER    "Some truths cannot be taught, only learned through stories - profoundly personal and startlingly honest accounts that open not only our eyes but also our hearts to painful and complicated social realities. Charles Blow's memoir tells these kinds of truths. No one who reads this book will be able to forget it. It lays bare in so many ways what is beautiful, cruel, hopeful and despairing about race, gender, class and sexuality in the American South and our nation as a whole. This book is more than a personal triumph; it is a true gift to us all."  —MICHELLE ALEXANDER, author of The New Jim Crow    "Fire Shut Up in My Bones is a profoundly moving memoir of Charles Blow's coming of age as a black boy in the Deep South; of the way his sensitive and gifted intelligence slowly begins to kindle, becoming ablaze with wonder at the world and his place in it. Above all, this is the story of a courageously honest man arriving at his decision to 'stop running like the river . . . and just be the ocean, vast, deep, and exactly where it was always meant to be.' Blow has written a classic memoir of a truly American childhood."  —HENRY LOUIS GATES    "Fire Shut Up in My Bones is a heart-stopping memoir: a portrait of the artist—the exceptionally talented columnist Charles Blow—that also puts a searing face on all sorts of abstractions, like poverty, race, sexuality, and a human persistence sometimes known as courage. So particular yet gracefully timeless is this evocation of childhood that I sometimes felt as if I were reading an update of To Kill a Mockingbird, in which the poor, black protagonist's moral education destines him to endure, and prevail."  —DIANE McWHORTER, author of  Carry Me Home    "Stunning...Blow's words grab hold of you like a fever that shakes you up at first but eventually leads you to a place of healing."  —Essence    "[Fire Shut Up In My Bones] is the most compelling read of the fall and the kind of book that will inspire you to turn off the TV and curl up in front of the fire instead."  —BET.com "Blow masterfully evokes the sights, sounds and smells of rough-and-tumble, backwater Louisiana...a well-written, often poetic memoir"  —Kirkus    "Page by elegant page, Charles Blow has constructed an eloquent and courageous memoir that explains why black and white is never just that—whether it comes to race or the rich, conflicted stew of childhood memory."  —GWEN IFILL, moderator, Washington Week, and co-anchor, PBS NewsHour    "Brave and powerful . . .a singular look at a neglected America."  —Publishers Weekly     "Powerful...so well-written."  —ANDERSON COOPER    "When you finish Charles Blow's mesmerizing memoir, you will cry. And you will better understand poverty, the south, racism, sex, fear, rage, and love. Then you will miss being in his authorial grip. Then you wil —
Harper Perennial, 9780544570115, 240pp.
Publication Date: September 1, 2015
About the Author
CHARLES M. BLOW has been columnist at the New York Times since 2008, and he appears regularly on MSNBC, CNN, Fox News, the BBC, Al Jazeera, and HBO. Blow lives in Brooklyn with his three children and was named 11th most influential African American in the world by The Root magazine.