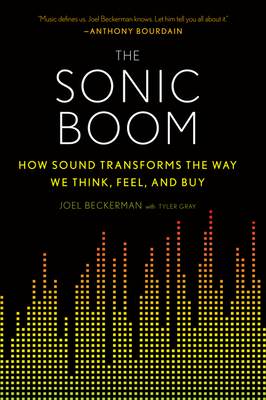 The Sonic Boom
How Sound Transforms the Way We Think, Feel, and Buy
Paperback

* Individual store prices may vary.
Description
"Music defines us. Joel Beckerman knows. Let him tell you all about it." —Anthony Bourdain

"Equal parts sociological study and business advice, using unique everyday examples—for instance, how the fate of the Chili's fajita empire rested on the sound of the sizzling platter, and how Disneyland approaches soundscapes for a fully immersive experience—to explain how sound effects our mood and shopping habits."—EW.com
 
Sound and music surround us so constantly that we often take them for granted. But sound has surprising power to influence our decisions, opinions, and actions in ways we might not even notice. Discordant ambient noise can induce anxiety; ice cream truck jingles can bring you back to your childhood. In The Sonic Boom, composer and strategic sound expert Joel Beckerman provides a new framework for thinking about sound's effects on every aspect of our lives.
 
You don't need to be a musician or a composer to harness the power of sound. Companies, brands, and individuals can strategically use sound to get to the core of their mission, influence how they're perceived by their audiences, and gain a competitive edge. Whether you're a corporate giant connecting with millions of customers or a teacher connecting with one classroom of students, the key to an effective sonic strategy is the creation of "boom moments"—transcendent instants when sound connects with a listener's emotional core.
 
"I've spent my life curating, creating, and collecting sounds. But Beckerman and Gray have shown here that there are still plenty of sounds that we've all missed. The Sonic Boom reveals the music and structured cacophony of everyday life." —Moby

Mariner Books, 9780544570160, 208pp.
Publication Date: October 6, 2015
About the Author
Hailed as "equal parts Philip Glass and Don Draper" by Details Magazine, JOEL BECKERMAN is an award-winning composer and producer for television. He is the founder of Man Made Music, a company specializing in sonic branding. Fast Company named him one of their "Most Creative People in Business" and Man Made Music one of their "Most Innovative Companies" in music. He created original scores for more than fifty television programs, won ASCAP's "Most Performed" theme award for the past eight years, and has developed signature sonic branding programs for global giants such as Disney, AT&T, and Southwest Airlines. Beckerman has worked with John Legend, will.i.am, Moby, OK Go, Morgan Freeman, and the composer John Williams. He lives in New Providence, New Jersey.
TYLER GRAY is editorial director for Edelman in the New York City office. He was previously editorial director for Fast Company and is the author of The Hit Charade.