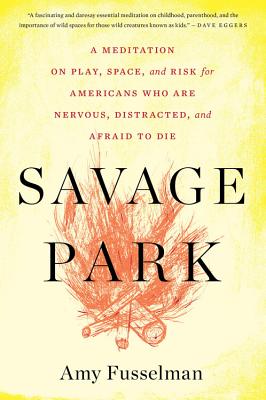 Savage Park (Paperback)
A Meditation on Play, Space, and Risk for Americans Who Are Nervous, Distracted, and Afraid to Die
Mariner Books, 9780544570207, 144pp.
Publication Date: January 5, 2016
Other Editions of This Title:
Hardcover (1/13/2015)
* Individual store prices may vary.
Description
"A fascinating and daresay essential meditation on childhood, parenthood, and the importance of wild spaces for those wild creatures known as kids."—Dave Eggers

How fully can the world be explored when you are focused on trying not to die?

This is the question that lies at the heart of Amy Fusselman's Savage Park. America is the land of safety, of protecting children to make sure that nothing can possibly hurt them. But while on a trip to Tokyo with her family, Fusselman stumbled upon an adventure playground called Hanegi Playpark, where children sawed wood, hammered nails, and built open fires. Her conceptions of space, risk, and play were shattered. In asking us to reexamine fundamental ideas about our approaches to space and risk and how we pass these concepts down to our children, Fusselman also asks us to look at the world in a different way. Perhaps it isn't variety, but fear that is the spice of life. This startling revelation is at the heart of Savage Park, and will make readers look at the world in a whole new way.
 
"I yield to no one in my admiration for Amy Fusselman's work. Her new book, Savage Park, further explores with astonishing power, eloquence, precision, and acid humor her obsessive, necessary theme: the gossamer-thin separation between life and death." —David Shields, author of Reality Hunger
 
"In this unusually refreshing meditation (which reads like a novel), we are given a tour of the space around and within us. With poetic efficiency Amy Fusselman reveals what makes us savage or not; why secret, wild spaces are essential; and why playing should be taken seriously." —Philippe Petit, high-wire artist
About the Author
AMY FUSSELMAN is the author of The Pharmacist''s Mate and 8. As "Dr." Fusselman, she writes the "Family Practice" parenting column for McSweeney's Internet Tendency. Her work has also appeared in the New York Times Magazine, Ms., Hairpin, and ARTnews.
Praise For Savage Park: A Meditation on Play, Space, and Risk for Americans Who Are Nervous, Distracted, and Afraid to Die…
Advance Praise for Savage Park:

"In this unusually refreshing meditation (which reads like a novel), we are given a tour of the space around and within us. With poetic efficiency Amy Fusselman reveals what makes us savage or not; why secret, wild spaces are essential; and, why playing should be taken seriously. I should add, she frightened me with: It is still illegal to climb a tree in Central Park!"
—Philippe Petit, High Wire Artist