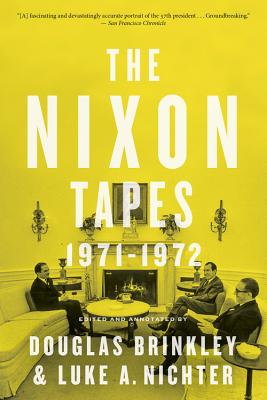 The Nixon Tapes
1971–1972
Paperback

* Individual store prices may vary.
Other Editions of This Title:
Hardcover (7/29/2014)
Description
"[A] fascinating and devastatingly accurate portrait of the 37th president . . . Groundbreaking." — San Francisco Chronicle

"Presents a clear, fly-on-the-wall view of Nixon's White House . . .  A monumental accomplishment." — USA Today

President Nixon's voice-activated taping system captured every word spoken in the Oval Office, the Cabinet Room, and other key locations in the White House and at Camp David — in all, 3,700 hours of recordings between 1971 and 1973. Yet less than 5 percent of those conversations have ever been transcribed and published. Now the world can finally read an unprecedented account of one of the most important and controversial presidencies in U.S. history.

The Nixon Tapes, with annotations and commentary by Professors Luke Nichter and Douglas Brinkley, offers a selection of fascinating scenes from the years Nixon opened relations with China, negotiated the SALT I arms agreement with the Soviet Union, and won a landslide reelection victory, while the growing shadow of Watergate and Nixon's political downfall crept ever closer. The Nixon Tapes provides a unique glimpse into a flawed president's hubris, paranoia, and political genius.

"A treasure trove." — Boston Globe                       

"Strangely addictive." — Los Angeles Times
Praise For The Nixon Tapes: 1971–1972…
"The editors artfully cull from the more than 3,500 hours of tapes a fairly coherent documentary record…the exchanges published here give a more vivid sense than most accounts of the climate of urgency, risk and anticipation that enveloped Nixon's and Kissinger's effort.  To witness these two titans of ambition, vainglory and suspicion…is to receive gritty instruction in statecraft and psychology alike." -- New York Times Book Review

"Douglas Brinkley and Luke Nichter... have heroically compiled a huge, fascinating and devastatingly accurate portrait of the 37th president…groundbreaking" -- San Francisco Chronicle

"A monumental accomplishment. . . Nichter's decade of research into the tapes has only deepened his understanding of this rich period of U.S. history, and his collaboration with Brinkley will only enrich Americans' knowledge of the Nixon administration." -- USA Today "An eye-opening reckoning of crimes, misdemeanors and bugging technology  40 years after Richard Nixon's ignominious departure from the White House . . . Essential for students of the era and fascinating for those who lived it." -- Kirkus Reviews, starred review 
Mariner Books, 9780544570337, 800pp.
Publication Date: October 6, 2015
About the Author
DOUGLAS BRINKLEY is a professor of history at Rice University, CBS News Historian, and contributing editor of Vanity Fair. He is the author of seven New York Times Notable Books of the Year. His recent New York Times bestsellers include Cronkite, The Wilderness Warrior: Theodore Roosevelt and the Crusade for America, and The Reagan Diaries.
LUKE NICHTER is an associate professor of history at Texas A&M University–Central Texas. He is a noted expert on the Nixon tapes as a result of his efforts to digitize the nearly 4,000 hours of recordings he makes available online as a public service, and he is the author of an ongoing petition before the District Court for the District of Columbia to open Watergate-related government records still sealed in the National Archives. Nichter's work has been reported on by the New York Times, the Washington Post, and the Associated Press.
or
Not Currently Available for Direct Purchase