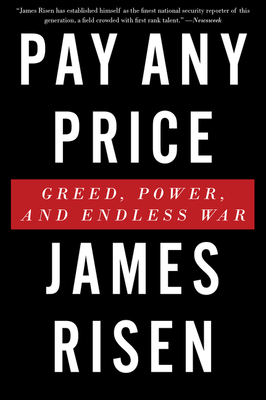 Pay Any Price (Paperback)
Greed, Power, and Endless War
Mariner Books, 9780544570351, 304pp.
Publication Date: October 6, 2015
Other Editions of This Title:
MP3 CD (10/7/2014)
Compact Disc (10/6/2015)
Compact Disc (10/14/2014)
* Individual store prices may vary.
Description
"James Risen has established himself as the finest national security reporter of this generation, a field crowded with first rank talent." —Newsweek

"An important and powerful book that should be read by anyone who believes it is time to take stock after thirteen years and re-evaluate the nature of the threat the country faces and its response to the atrocity of 9/11." —New York Times Book Review
 
Ever since 9/11 America has fought an endless war on terror, seeking enemies everywhere and never promising peace. In Pay Any Price, Pulitzer Prize winner James Risen reveals an extraordinary litany of the hidden costs of that war: billions of dollars that went missing from Iraq only to turn up in a bunker in Lebanon; whistleblowers abused, including a staffer on the House Intelligence Committee persecuted by the F.B.I. for expressing her concerns about the NSA spying on U.S. citizens; and an entire professional organization, the American Psychological Association, forced to investigate its own involvement with the government's use of torture. In the name of fighting terrorism, our government has perpetrated acts that rival the shameful historic wartime abuses of generations past, and it has worked very hard to cover them up. James Risen brings them into the light.
 
"[Pay Any Price is] a wide-ranging look at consequences of the so-called war on terror and includes stories of shocking thievery during the U.S. occupation of Iraq." —U.S. News & World Report
 
"A no-holds-barred tarring and feathering of the past thirteen years of the U.S. national security system. At times frightening, Risen's book is a strong reminder of the importance of a free press keeping a powerful government in check." —Daily Beast
About the Author
JAMES RISEN is an investigative journalist with the New York Times, and author of the New York Times bestseller State of War,among other books.  In 2006 he won a Pulitzer Prize for his stories about warrantless wiretapping by the NSA. In 2007 he was elected into the American Academy of Arts and Sciences.