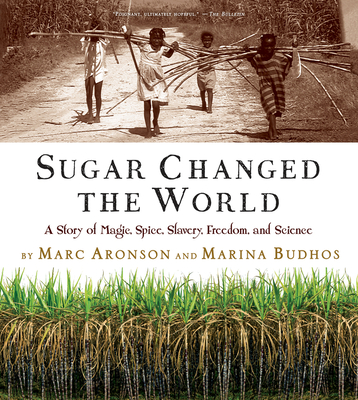 Sugar Changed the World
A Story of Magic, Spice, Slavery, Freedom, and Science
Paperback

* Individual store prices may vary.
Other Editions of This Title:
Hardcover (11/15/2010)
Description
When this award-winning husband-and-wife team discovered that they each had sugar in their family history, they were inspired to trace the globe-spanning story of the sweet substance and to seek out the voices of those who led bitter sugar lives. The trail ran like a bright band from religious ceremonies in India to Europe's Middle Ages, then on to Columbus, who brought the first cane cuttings to the Americas. Sugar was the substance that drove the bloody slave trade and caused the loss of countless lives but it also planted the seeds of revolution that led to freedom in the American colonies, Haiti, and France. With songs, oral histories, maps, and over 80 archival illustrations, here is the story of how one product allows us to see the grand currents of world history in new ways. Time line, source notes, bibliography, and index included.
Praise For Sugar Changed the World: A Story of Magic, Spice, Slavery, Freedom, and Science…
"This is fine historical writing: an epic story on a broad canvas that never loses sight of individual moments of human drama; a historical methodology infused with political, intellectual, cultural, and social strands; a complex sequence of cause and effect; an illuminating synthesis of primary and secondary sources; and a thoughtful marriage of words, picture, and design."—Horn Book, starred review 

"Covering 10,000 years of history and ranging the world, the story is made personal by the authors' own family stories, their passion for the subject and their conviction that young people are up to the challenge of complex, well-written narrative history."—Kirkus Reviews, starred review 

"As the title suggests, this stirring, highly detailed history of the sugar trade reaches across time and around the globe . . . The book's scope is ambitious, but the clear, informal prose, along with maps and archival illustrations, makes the horrific connections with dramatic immediacy."—Booklist

"This is a poignant, ultimately hopeful essay that clearly chronicles the human pursuit of sugar to satisfy our collective sweet tooth."—The Bulletin

"An impassioned, thought-provoking account that forces us to look anew at the things we take for granted."—Jennifer Brown, Shelf Awareness

"This book, at once serious and engaging, traces the complex history of sugar over vast expanses of time and space, exploring ways in which this one commodity influenced the formation of empires, the enslavement and migrations of peoples, the development of ideas about liberty, and so much more."—Deborah Warner, Curator, National Museum of American History, Smithsonian Institution, Washington DC
Clarion Books, 9780544582477, 176pp.
Publication Date: April 4, 2017
About the Author
Marc Aronson is the award-winning author of a wide variety of nonfiction works for younger readers, including
Sugar Changed the World
and
Sir Walter Ralegh and the Quest for El Dorado
, which received the first Robert F. Sibert Informational Book Award. He edits and publishes young adult fiction in a special arrangement with Candlewick and lives with his wife and two sons in Maplewood, New Jersey. Visit him at marcaronson.com.
Marina Budhos is an assistant professor of English at William Paterson University. She is the author of Ask Me No Questions, winner of the inaugural James Cook Teen Book Award. She and her husband live with their two sons in Maplewood, New Jersey.