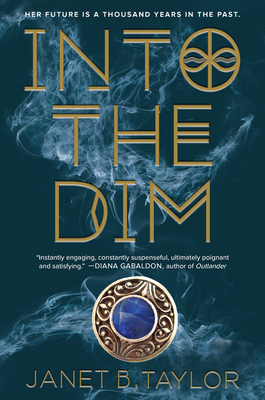 Into the Dim
Hardcover

* Individual store prices may vary.
Description
"Instantly engaging, constantly suspenseful, ultimately poignant and satisfying. Loved it!"--Diana Gabaldon, author of the #1 New York Times bestselling Outlander series

When fragile, sixteen-year-old Hope Walton loses her mom to an earthquake overseas, her secluded world crumbles. Agreeing to spend the summer in Scotland, Hope discovers that her mother was more than a brilliant academic, but also a member of a secret society of time travelers. And she's alive, though currently trapped in the twelfth century, during the age of Eleanor of Aquitaine. Hope has seventy-two hours to rescue her mother and get back to their own time. Passing through the Dim, Hope enters a brutal medieval world of political intrigue, danger, and violence. A place where any serious interference could alter the very course of history. And when she meets a boy whose face is impossibly familiar, she must decide between her mission and her heart—both of which could leave Hope trapped in the past forever.      
Praise For Into the Dim…
"Instantly engaging, constantly suspenseful, ultimately poignant and satisfying. Loved it!"--Diana Gabaldon, author of the #1 New York Times bestselling Outlander series "Debut author Taylor adeptly blends the fantastical and the historical as she sends her reluctant heroine back to the age of Eleanor of Aquitaine in order to save her mother. Taylor's writing is bright with detail and her plot dense with action as Hope learns to be brave and resourceful when circumstances turn dire." —Publishers Weekly "Janet B. Taylor's absorbing novel keeps the action moving with well-timed revelations, deftly drawn historical events and personages, and a sparks-flying romance."--School Library Journal "Readers will connect with Hope and her anxiety and quest to fit into the world. This book immerses readers into a fast-moving, action-packed story with great characters and an excellent historical setting. Supporting characters are fun and bring much to the plot and development of Hope's character... This is recommended as a wonderful addition to existing science fiction and historical fiction collections." —VOYA "Historical-fiction and romance fans will be thrilled with this strong addition to the genres." —Booklist Online "Into the Dim is a time-travel adventure that will leave readers breathless. Janet Taylor has woven a story that will capture action seekers and romance lovers and pull them along for the ride."—Joelle Charbonneau - New York Times bestselling author of THE TESTING trilogy "Janet B. Taylor's Into the Dim shines bright.  This debut time travel novel captures the imagination and takes the reader on a fascinating journey to 12th century England, deftly weaving historical characters like Eleanor of Aquitaine and Thomas Becket into the drama.  Rich with period detail, and an intriguing lead character, this is YA science fiction at its best." --Rysa Walker, author of The Chronos Files Series "Janet B. Taylor's Into the Dim is one truly enjoyable read. A fast-paced, time-travel adventure with rogue Tesla science and Middle Ages history, it will make you want to jump back into the English court, after a proper round of smallpox and typhoid vaccines, of course." —Kendare Blake, author of Anna Dressed in Blood "The perfect blend of mystery, sci-fi, action, cute guys, romance, history and gorgeous Scotland!" —Justine magazine "A total page-turner full of action, interesting history and a timeless romance (literally!). Be sure you have time to read this book in one sitting—I promise you won't be able to put it down." —Marin L., 16  (Girls Life reader) "Why You'll Love It: Three words: Young Adult Outlander. …It's the first book in a series, promising forbidden love, high stakes and epic thrills in the Scottish highlands." —Paste Magazine online ""Fantasy, historical events, and time-travel all combine for a suspenseful and fun trip to the medieval period." —Bustle ""You don't want to miss this time-traveling adventure, thrilling romance, and rich, historical tale." —The Columbus Dispatch —
Clarion Books, 9780544602007, 432pp.
Publication Date: March 1, 2016
About the Author
The 2013 winner of the coveted #PitchWars, Janet B. Taylor has four years' experience writing web content for a major television network fan site (CBS) that garners over a hundred thousand hits a day. Janet travels extensively to those places where her novels are set, often roaming around at night to commune with the famous historical figures about whom she loves to write. She is a member of several writing organizations, including the SCBWI and the Historical Novel Society, and lives in a tiny town in Arkansas with her family. Visit her at janetbtaylor.com and on Twitter at @Janet_B_Taylor.
or
Not Currently Available for Direct Purchase