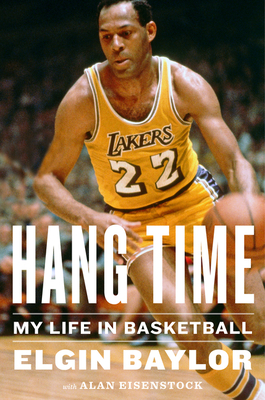 Hang Time
My Life in Basketball
Hardcover

* Individual store prices may vary.
Description
Elgin Baylor's memoir of an epic all-star career in the NBA—during which he transformed basketball from a horizontal game to a vertical one—and his fights against racism during his career as a player and as general manager of the LA Clippers under the infamous Donald Sterling

People think of Elgin Baylor as one of the greatest basketball players in the history of the game—and one of the NBA's first black superstars—but the full extent of his legacy stretches beyond his spectacular, game-changing shots and dunks. With startling symmetry, Baylor recounts his story: flying back and forth between the U.S. Army and the Lakers, his time as a central figure in the great Celtics-Lakers rivalry and how he helped break down color barriers in the sport, his 1964 All-Star game boycott, his early years as an executive for the New Orleans Jazz, and twenty-two years as general manager for the notorious L.A. Clippers and Donald Sterling, spent fighting to draft and sign young, black phenoms—only to be hamstrung by his boss at every turn.

No one has seen the league change, and has worked to bring change, more than Baylor. Year after year, he continued to fight and persevere against racism. At the beginning of his career, he was forced to stay in separate hotel rooms. From those days to today's superstardom, he has had a front-row view of the game's elevation to one of America's favorite sports. For the first time, Elgin Baylor tells his full story and sets the record straight.
Praise For Hang Time: My Life in Basketball…
"I've always admired Elgin because of his versatility and athleticism as a player. Now he's sharing his exciting life and career stories that give us honest and revealing insights into a man who redefined what being a forward means." –Kareem Abdul-Jabbar

"Before Jordan, there was Elgin Baylor with his high-flying act and incredible scoring ability. Elgin showed the world that man could fly! Elgin paved the way for many African-American NBA players while fighting for our country and breaking down color barriers. He has always been dignified, strong and a class act." –Earvin "Magic" Johnson

"The first time I saw Elgin Baylor play basketball I could not take my eyes off of him. I didn't blink for fear of missing a move that I might never see again. I always worked on trying to play like Elgin but realized he was a one and only player who could not be duplicated. He was and is my favorite all-time basketball player, and I am so happy that he has penned his story." –Julius "Dr. J" Erving

"Elgin Baylor will always occupy a special place in my heart. Simply put, he has influenced me more than almost anyone in my life. As a young player on the Lakers, I looked up to him, learned from him, and I believe he looked out for me. He was my mentor, my role model, my running mate, and, ultimately, my dear friend. This is a heartfelt, deeply-moving, courageous memoir of a great, great player and an even better person." –Jerry West 

"(A) compulsively readable autobiography… for anyone with an interest in basketball history, this is absolutely essential reading."–Booklist, *starred* review

"(A) sturdy, thoughtful memoir . . .  Baylor's bittersweet and detailed stories will enchant and enlighten hoops fans of all ages."–Publishers Weekly  

"Baylor's life story will fascinate anybody from anywhere. Nobody's bio tops Baylor's for a mix of race and sports . . . What a story! What a life!"–Deadspin

"There is so much in this book. It goes way beyond basketball. It's about the culture of basketball, how things have changed in America and how things have changed in the sport. Respect this man!" – Rachel Nichols, ESPN's host of "The Jump"

"Baylor . . . was refreshingly honest in his compelling book." –Seattle Times 
 
Houghton Mifflin Harcourt, 9780544617056, 336pp.
Publication Date: April 10, 2018
About the Author
ELGIN BAYLOR (1934 - 2021) played thirteen seasons in the NBA for the Minnesota/Los Angeles Lakers, appearing in eight NBA finals. A #1 draft pick, NBA Rookie of the Year, and eleven-time NBA All-Star who was named to the All-NBA First Team ten times, Elgin is considered one of the game's all-time greatest players. After retiring from the NBA as a player, he coached the New Orleans Jazz, and then in 1986, became the general manager of the Los Angeles Clippers, a position he held for twenty-two years. In 2006, he was named NBA Executive of the Year.  

Award-winning and best-selling author ALAN EISENSTOCK has written fifteen books, most recently Warrior with former U.S. Marine platoon commander Theresa Larson. He has co-authored The Handoff with John "JT the Brick" Tournour, I'm Not Gonna Lie with George Lopez, and Just a Guy with Bill Engvall. He has also written the nonfiction narratives Raiders!, The Kindergarten Wars, Ten on Sunday, and Sports Talk.  He lives in Pacific Palisades, California.  
Coverage from NPR