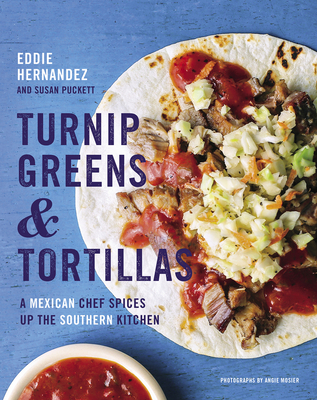 Turnip Greens & Tortillas
A Mexican Chef Spices Up the Southern Kitchen
Hardcover

* Individual store prices may vary.
Description
Southern fare with a Mexican flair, by the chef/co-owner of the restaurant empire that Bon Appétit called a "Top American Restaurant"

USA Today called Taqueria del Sol "a runaway success." Bon Appétit wrote: "Move over, Chipotle!" The fast-casual food of Eddie Hernandez, the James Beard-nominated chef/co-owner of the restaurant, lands on the commonalities of Southern and Mexican food, with dishes like Memphis barbecue pork tacos, chicken pot pie served in a "bowl" of a puffed tortilla, turnip greens in "pot likker" spiked with chiles, or the "Eddie Palmer," sweet tea with a jab of tequila. Eddie never hesitates to break with purists to make food taste better, adding sugar to creamy grits to balance the jalapeños, or substituting tomatillos in fried green tomatoes for a more delicate texture. Throughout, "Eddie's Way" sidebars show how to make each dish even more special.
 
Praise For Turnip Greens & Tortillas: A Mexican Chef Spices Up the Southern Kitchen…
"The result is . . . decidedly Southern . . . punched up with the flavors [Hernandez] grew up eating in his hometown, Monterrey [Mexico] . . . thrifty, practical and delicious." —The  New York Times "Eddie Hernandez cooks my type of food—honest, thrifty, and full of flavor—using fresh, inexpensive, and ordinary ingredients."   —Jacques Pépin "In Turnip Greens & Tortillas, Eddie Hernandez teaches us how to cook American food the way we've always dreamed of cooking it. He bends the rules with the confidence of a thousand Southern grandmothers and brings a healthy dose of rock 'n' roll to our favorite weekend comforts: cheese dip, baked chicken, barbecued shrimp, pizza—he even finds a way to improve on boiled peanuts! In our world, Eddie is a culinary innovator as inspiring as Thomas Keller, René Redzepi, or Madhur Jaffrey."   —Matt Lee and Ted Lee, authors, The Lee Bros. Charleston Kitchen "From refried black-eyed peas to chicken–green chile potpies in puffy tortilla shells, Turnip Greens & Tortillas showcases honest and joyous cooking from the modern South." —John T. Edge, author, The Potlikker Papers: A Food History of the Modern South "This book resonates with recipes that glorify home cooking from the South as well as Mexico and melds them together in a deliciously satisfying way." —Nathalie Dupree, author, Mastering the Art of Southern Cooking  "I have enjoyed both the food and the company of Eddie Hernandez for years, so I was thrilled to get my hands on his new cookbook." —Bill Smith, chef, Crook's Corner "Turnip Greens & Tortillas is a breath of fresh air. It's filled with colorful pages of mouthwatering recipes that celebrate the intersection of Mexican and Southern American cuisines in a unique and playful way. Chef Eddie's roots and his character shine brightly in this book, with great stories that grab your attention and make your stomach rumble for deep-flavored sauces, melty cheese, crispy tortillas, spicy chiles, and more. Whether you are an existing fan or a new one, you are bound to fall in love with this book." —Steven Satterfield, James Beard Award–winning chef and author, Root to Leaf "Turnip Greens & Tortillas is one of the most appetizing recipe collections to emerge from the South in a long time. Eddie Hernandez combines the freshest ingredients in just the right big-flavor way." —Frank Stitt, chef-owner, Highlands Bar & Grill, Chez Fonfon, and Bottega "Eddie Hernandez is a charismatic weaver of food cultures, threading together his native Mexican flavors with the strong strands of American Southern food. Turnip Greens & Tortillas is an ode to meals that pull at your heartstrings and take you to a place that is familiar and grounding." —Hugh Acheson, chef, author "Chef Eddie eloquently shares the foundations of Mexican culture and cuisine in a creative and entertaining way in this new beautiful homage to the blending of Southern American and Mexican food." —Aarón Sánchez, chef, TV personality, author "In his first cookbook, Hernandez, executive chef of the Taqueria del Sol restaurants, delivers a fun and adventurous mash-up of his influences—he was born in Mexico, raised in the American —
Harvest, 9780544618824, 320pp.
Publication Date: April 10, 2018
About the Author
Born in Monterrey, Mexico, EDDIE HERNANDEZ is the executive chef of Taqueria del Sol. He and his business partner, Mike Klank, were nominated for a 2017 James Beard Outstanding Restaurateur Award. His recipes have appeared in Bon Appétit, Food & Wine, Southern Living, and Garden & Gun.

SUSAN PUCKETT, the former food editor of the Atlanta Journal-Constitution, writes for Saveur, National Geographical Traveler, and Atlanta Magazine.