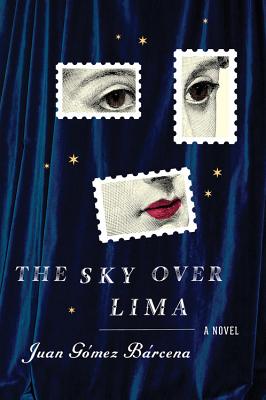 The Sky Over Lima (Hardcover)
Houghton Mifflin Harcourt, 9780544630055, 288pp.
Publication Date: May 17, 2016
* Individual store prices may vary.
Description
"Refreshing, comic, and sublime...The conquest in this novel, a game played by one writer and his readers, captivates, drawing us in through the seductive power of a monumental young author."
—Laura Esquivel, bestselling author of Like Water for Chocolate and Malinche

"Intoxicating…I'll be thinking of these characters, what they longed to create and what they managed to despoil, for a long time." —Helen OyeyemiA retelling of a fantastical true story: two young men seduce Nobel laureate Juan Ramón Jiménez with the words of an imaginary woman and inspire one of his greatest love poems.
José Gálvez and Carlos Rodríguez are poets. Or, at least, they'd like to be. Sons of Lima's elite in the early twentieth century, they scribble bad verses and read the greats: Rilke, Rimbaud, and, above all others, Juan Ramón Jímenez, the Spanish Maestro. Desperate for Jímenez's latest work, unavailable in Lima, they decide to ask him for a copy. 
They're sure Jímenez won't send two dilettantes his book, but he might favor a beautiful woman. They write to him as the lovely, imaginary Georgina Hübner. Jímenez responds with a letter and a book. Elated, José and Carlos write back. Their correspondence continues, as the Maestro falls in love with Georgina, and the boys abandon poetry for the pages of Jímenez's life. 
About the Author
JUAN GÓMEZ BÁRCENA holds degrees in literary theory, comparative literature, and history from the Complutense University of Madrid, and a degree in philosophy from Spain's National University of Distance Education. He's the author of numerous essay, short story, and poetry collections, for which he's received the José Hierro Prize for Poetry and Fiction, the International CRAPE Prize for stories, and the Ramón J. Sender Prize for Narrative, among others. He lives in Madrid.
ANDREA ROSENBERG is a translator from the Spanish and Portuguese and an editor of the Buenos Aires Review. Her work has appeared or is forthcoming in Words Without Borders, The Iowa Review, The Quarterly Conversation, Absinthe, and other publications. Her translations of David Jiménez's Children of the Monsoon (Autumn Hill Books 2014) and Lina Meruane's Viral Voyages: Tracing AIDS in Latin America (Palgrave Macmillan 2014) have recently made their way to bookstores. She holds an MFA in literary translation and an MA in Spanish from the University of Iowa.
Praise For The Sky Over Lima…
One of Vulture's Fun Beach Reads of 2016
Winner of the 2014 Ojo Crítico Literary Prize
An official selection of the Festival du premier roman in Chambéry

"The best heartbreaker novels are the ones that sneak up on you like this one." —Alexander Chee, Vulture

"This marvelous story is stitched together by the seduction of three epistolary lovers, distant acquaintances that together conquer reality and fantasy, transporting us to an imaginary world that is at once refreshing, comic, and sublime. The conquest in this novel, a game played by one writer and his readers, captivates, drawing us in through the seductive power of a monumental young author."
—Laura Esquivel, bestselling author of Like Water for Chocolate and Malinche

"Here's a tale with the subtlest of stings in it, dark wit and telescopic perspective aplenty. And then there's the intoxicating folly of the games that the protagonists play with fantasy and fact, malice, tenderness, ambition, envy and other forces that strike at our most vulnerable selves. I'll be thinking of these characters, what they longed to create and what they managed to despoil, for a long time." —Helen Oyeyemi, author of Boy Snow Bird and What Is Not Your Is Not Yours

"A beautifully written novel, chock-full of sharp humor and penetrating insight, The Sky over Lima has at its heart a captivating, ventriloquistic love story, not unlike the classic Cyrano de Bergerac. But in this epistolary romance, the woman is a fiction written by two boys—reminiscent in their way of Bolaño's Visceral Realists—who come alive on the page as impeccably-wrought emissaries of their time and place, while remaining incredibly relatable and engaging to readers today." —Andrè Aciman,  author of Call Me By Your Name and Harvard Square
 
"Bárcena shines where so many writers stumble—his writing about art, of the artifice both in the narrative and implicit in his prose, feels alive, fresh and important. His words, which so easily could have become overwrought when translated into English, feel subtle and whimsical in Rosenberg's deft hands. Against the fascinating backdrop of Lima's burgeoning rubber industry, The Sky Over Lima explores notions of class, identity, and friendship, and reminded me of how it first felt to fall in love with writing." —Sara Nović, author of Girl at War

"Bárcena has an incredible voice, and The Sky Over Lima evinces the attention to detail and characterization of a Gabriel Garcia Marquez...The Sky Over Lima is a magician's conjuring through which we are made to see our own artifice. As Cristóbal says to Carlos over drinks, placing a hand on the young man's shoulder, 'Open your eyes, my friend; love, as you understand it, was invented by literature, just as Goethe gave suicide to the Germans. We don't write novels; novels write us.'" —ZYZZYVA

"Anyone who has ever wept over a poem or burned to write more and better and despaired because their talent let them down will read this novel and come away feeling understood." —National Book Review

"A gentle, beautifully crafted, humorous and incisively profound essay on love, identity and writing."
—Books Reenchanted

"Charming...A love letter to the creative process." —Kirkus

"An intriguing tale of transatlantic catfishing ... Bárcena grounds the literary games in a richly detailed, early 20th-century Lima and its cast of secondary characters: dock workers, prostitutes, café-haunting literati. Its lightly ironic tone darkening as it proceeds, the novel sensitively explores how a literary prank shapes the sentimental, romantic, and moral education of Carlos."— Publishers Weekly

"The novel is faithful to the facts, recreating in great detail the minutia of the story and time period, but also transcending them…Gómez Bárcena tackles the most serious topics while masterfully showing how to write a story that's simultaneously a comedy, a tragedy, and a portrait of another culture. The style is magnificent, the narration told with originality, pulse, and rhythm. There's little more to say: read Gómez Bárcena." —El Cultural
 
"A solid, marvelously written narrative…The careful language, the ability to dig into the human psyche, the finely-tuned portraits of characters and the landscape of Peru in the earlier twentieth century, with is social upheaval, strikes, brothels, the rubber industry (the reader might be reminded of The Dream of the Celt by Mario Vargas Llosa), plus the story's literary web, all wisely employed, turn The Sky over Lima into a novel to be read with supreme pleasure until it's been completely devoured." —Estado Crítico
 
"Gómez Bárcena succeeds at turning this singular moment into fiction with flying colors…The narration of this minimalist work flows and advances like an afternoon bike ride." —Buensalvaje 

 
or
Not Currently Available for Direct Purchase