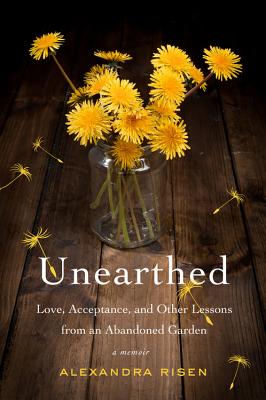 Unearthed
Love, Acceptance, and Other Lessons from an Abandoned Garden
Hardcover

* Individual store prices may vary.
Other Editions of This Title:
Digital Audiobook (7/4/2016)
CD-Audio (7/5/2016)
Compact Disc (7/5/2016)
MP3 CD (7/5/2016)
Library Binding, Large Print (11/1/2016)
Description
In this moving memoir, a woman digs into a garden and into the past and finds secrets, beauty, and acceptance.

Alex's father dies just as she and her husband buy a nondescript house set atop an acre of wilderness that extends into a natural gorge in the middle of the city. Choked with weeds and crumbling antique structures, the abandoned garden turned wild jungle stirs cherished memories of Alex's childhood: when her home life became unbearable, she would escape to the forest. In her new home, Alex can feel the power of the majestic trees that nurtured her in her youth.

She begins to beat back the bushes to unveil the garden's mysteries. At the same time, her mother has a stroke and develops dementia and Alex discovers an envelope of yellowed documents while sorting through her father's junk pile. The papers hold clues to her Ukrainian-born parents' mysterious past. She reluctantly musters the courage to uncover their secrets, while discovering the plants hidden in the garden — from primroses and maple syrup–producing sugar maples to her mother's favorite, lily of the valley. As every passionate gardener knows, to spend time with the soil is the opposite of escapism — it is to embrace our own circle of life and hold it close.
 

Praise For Unearthed: Love, Acceptance, and Other Lessons from an Abandoned Garden…
"As she restores the property and heals her long-troubled soul, Risen paints a vivid and exquisite portrait of nature and its profound significance."—
Publishers Weekly
"Risen's book is as much a celebration of nature and family as it is feast for the heart and soul. A generous, poignant memoir." —
Kirkus Reviews
"Readers who appreciate memoirs and prosaic reflections on gardening will relish this title." —
Library Journal
"A remarkable book." —
Booklist,
starred review
"a poignant reflection on love, acceptance and the connection between nature and human beings...Risen's memoir is an appealing and satisfying journey. The renewed and reshaped garden is a metaphor for the growth and insight we each can experience in our personal lives. It is a story that leads the reader to reflect on acceptance, reconciliation and love within his or her own family. It is an especially engaging metaphor for gardeners." - The Missourian

"In this rich and rewarding memoir, Alexandra Risen reminds us that a garden is a place of transformation and discovery. As she brings an abandoned and overgrown plot of land to life, she uncovers not just the secrets of her garden, but of her own past. She finds truth and beauty in both foliage and family, and we're fortunate to be invited along for the journey." — Amy Stewart, author of Girl Waits with Gun, The Drunken Botanist, and Wicked Plants

"Unearthed is a powerful read. Alexandra Risen's stirring narrative offers a deeply personal testament to the healing powers of nature. As the secrets of her family's troubled past are revealed, the shape-shifting garden becomes a metaphor for life, a source of recovery, growth, and insight. In Risen's own words, 'The garden is a journey, and, like life, needs rest stops along the way, different vantage points to help our doubts morph into wisdom.' "
— Scott D. Sampson, author of How to Raise a Wild Child

"What does a hidden, neglected garden have to teach us about life in this crazy world? Plenty, it turns out. From the first pages, I was under Alexandra's Risen's spell. At a time when so much of life is spent in virtual worlds, Unearthed is a reminder that information is nice but wisdom is better, and it's all around us waiting to be discovered."
— William Powers, author of Hamlet's BlackBerry
Mariner Books, 9780544633360, 304pp.
Publication Date: July 5, 2016
About the Author
ALEXANDRA RISEN has lived her life as a gradual migration from the northwestern prairies to the hilly southeast, all the while enjoying nature and increasingly warmer Plant Hardiness Zones. Unearthed is her first meditation on love, forgiveness, and our interconnectedness with nature. She lives and gardens with her husband, son, and rescued dog in Ontario.
or
Not Currently Available for Direct Purchase