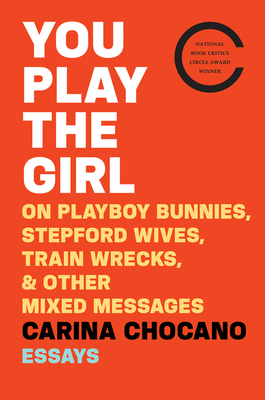 You Play The Girl
On Playboy Bunnies, Stepford Wives, Train Wrecks, & Other Mixed Messages
Paperback

* Individual store prices may vary.
Other Editions of This Title:
Digital Audiobook (12/30/2019)
MP3 CD (12/31/2019)
Compact Disc (12/31/2019)
Description
WINNER OF THE NATIONAL BOOK CRITICS CIRCLE AWARD FOR CRITICISM.

In this smart, funny, impassioned call to arms, a pop culture critic merges memoir and commentary to explore how our culture shapes ideas about who women are, what they are meant to be, and where they belong.

As a kid in the 1970s and '80s, Carina Chocano was confused by the mixed messages all around her: messages that told her who she could be—and who she couldn't. She grappled with sexed-up sidekicks, princesses waiting to be saved, and morally infallible angels who seemed to have no opinions of their own.

Chocano learned that "the girl" is not a person, but a man's idea of what a woman should be—she's whatever the hero needs her to be in order to become himself. Drawing from her years as a movie critic, Chocano unveils how stories in popular culture too often limits girls' lives and shapes their destinies. She resolved to rewrite her own story.

In You Play the Girl, Chocano blends formative personal stories with insightful and emotionally powerful analysis. Moving from Bugs Bunny to Playboy Bunnies, from Flashdance to Frozen, from the progressive '70s through the backlash '80s, the glib '90s, and the pornified aughts—and at stops in between—she explains how growing up in the shadow of "the girl" taught her to think about herself and the world and what it means to raise a daughter in the face of these contorted reflections.

In the tradition of Roxane Gay, Rebecca Solnit, and Susan Sontag, Chocano brilliantly shows that our identities are more fluid than we think, and certainly more complex than anything we see on any kind of screen.

"If Hollywood's treatment of women leaves you wanting, you'll find good, heady company in You Play the Girl."—Elle
Praise For You Play The Girl: On Playboy Bunnies, Stepford Wives, Train Wrecks, & Other Mixed Messages…
Winner of the National Book Critics Circle Award for Criticism A Finalist for the PEN/Diamonstein-Spielvogel Award for the Art of the Essay  One of Amazon's "Best Books of 2017: Nonfiction" One of iBook's "Best Books of August" One of Publishers Weekly's "Books of the Week" "Carina Chocano's You Play the Girl reads like a war cry. With dazzling clarity, her commentary exposes the subliminal sexism on our pages and screens." —O, THE OPRAH MAGAZINE  "If Hollywood's treatment of women leaves you wanting, you'll find good, heady company in Carina Chocano's essay collection, You Play the Girl. Why, Chocano asks, does the ingenue have to choose between marriage and death?" —ELLE "In Carina Chocano's whip-smart new book You Play The Girl: On Playboy Bunnies, Stepford Wives, Train Wrecks, & Other Mixed Messages, she analyzes the 'girls' of pop culture across the decades, from Bewitched to contestants on The Bachelor (and its fictional counterpart, UnREAL) to the princesses of Frozen. Through cultural commentary mixed with personal reflections, Chocano explores the ways on-screen women have influenced her life and the way she sees the world. A-." —ENTERTAINMENT WEEKLY, "Best New Books" "Brilliant and insightful...You Play the Girl stands apart from others in the genre [...] by dissecting pop culture through the lens of a mother watching her young girl try to make sense of the world. The result is a heartfelt look at the complicated messages women receive, and argues that gut feelings about these messages should be carefully examined. Chocano persuades the reader that the media we absorb around us does matter, and shapes how we feel about ourselves. And she deftly shows how books, TV, and film that have been labeled "empowering" for women [...] often have hidden agendas." —PLAYBOY "The cultural formulas that Chocano identifies are frustrating, but her readings don't deny them their fun…In the tradition of a long line of women writers, Chocano wants to make sense of this sort of enchantment and understand what kind of education it is offering up, and to whom." —NEW YORK TIMES BOOK REVIEW "Three sentences into You Play the Girl I already felt like cheering. Carina Chocano is a first-rate cultural critic whose specialty is constructing dead-on feminist analyses of such sinister artifacts as the relentless 'Frozen' and the various horrifying iterations of Barbie. Chocano is unusually skilled at dismantling the toxic underpinnings of such pop-culture mainstays, motivated in part by her desire to help her young daughter confront 'a world that literally never stops yelling at her that her primary value is sexual.' And Chocano demolishes the dismal shibboleth that feminists can't be funny, wielding abundant wit with a devastating sardonic edge." —WASHINGTON POST "Reading Carina Chocano is like listening to a smart friend think out loud [...] [You Play the Girl is] a ruefully funny collection." —FILM QUARTERLY "Ch —
Mariner Books, 9780544648944, 304pp.
Publication Date: August 8, 2017
About the Author
CARINA CHOCANO is a frequent contributor to the New York Times Magazine and Elle, and her writing has appeared in The New Yorker, Vulture, Rolling Stone, and others. She worked as a staff film and TV critic at the Los Angeles Times, a TV and book critic at Entertainment Weekly, and a staff writer at Salon. Her humor book, Do You Love Me, or Am I Just Paranoid?, was published in 2004. She lives in Los Angeles.