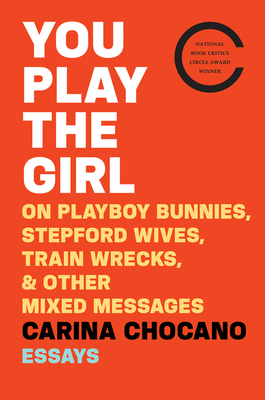 You Play the Girl
On Playboy Bunnies, Stepford Wives, Train Wrecks, & Other Mixed Messages
Paperback

* Individual store prices may vary.
Other Editions of This Title:
MP3 CD (12/31/2019)
Compact Disc (12/31/2019)
Description
WINNER OF THE NATIONAL BOOK CRITICS CIRCLE AWARD FOR CRITICISM
A FINALIST FOR THE PEN/DIAMONSTEIN-SPIELVOGEL AWARD FOR THE ART OF THE ESSAY

"If Hollywood's treatment of women leaves you wanting, you'll find good, heady company in You Play the Girl."—ELLE

As a kid in the 1970s and 80s, Carina Chocano was confused by the mixed messages all around her; messages that told her who she could be—and who she couldn't. Dutifully absorbing all the conflicting information the culture has to offer on how to be a woman, Chocano grappled with sexed up sidekicks, princesses waiting to be saved, and morally infallible angels who seemed to have no opinions of their own. She learned that "the girl" is not a person, but a man's idea of what a woman should be—she's whatever the hero needs her to be in order to become himself. It wasn't until she spent five years as a movie critic, and was laid off just after her daughter was born, however, that she really came to understand how the stories the culture tells us about what it means to be a girl limit our lives and shape our destinies. She resolved to rewrite her own story.

In You Play the Girl, Chocano blends formative personal stories with insightful and emotionally powerful analysis. Moving from Bugs Bunny to Playboy Bunnies, from Flashdance to Frozen, from the progressive '70s through the backlash '80s, the glib '90s, and the pornified aughts—and at stops in between—she explains how growing up in the shadow of "the girl" taught her to think about herself and the world and what it means to raise a daughter in the face of these contorted reflections. In the tradition of Roxane Gay, Rebecca Solnit, and Susan Sontag, Chocano brilliantly shows that our identities are more fluid than we think, and certainly more complex than anything we see on any kind of screen.
Praise For You Play the Girl: On Playboy Bunnies, Stepford Wives, Train Wrecks, & Other Mixed Messages…
Winner of the National Book Critics Circle Award for Criticism
A Finalist for the PEN/Diamonstein-Spielvogel Award for the Art of the Essay 
One of Amazon's "Best Books of 2017: Nonfiction"
One of iBook's "Best Books of August"
One of Publishers Weekly's "Books of the Week"

"Carina Chocano's You Play the Girl reads like a war cry. With dazzling clarity, her commentary exposes the subliminal sexism on our pages and screens."
—O, THE OPRAH MAGAZINE 

"If Hollywood's treatment of women leaves you wanting, you'll find good, heady company in Carina Chocano's essay collection, You Play the Girl. Why, Chocano asks, does the ingenue have to choose between marriage and death?"
—ELLE

"In Carina Chocano's whip-smart new book You Play The Girl: On Playboy Bunnies, Stepford Wives, Train Wrecks, & Other Mixed Messages, she analyzes the 'girls' of pop culture across the decades, from Bewitched to contestants on The Bachelor (and its fictional counterpart, UnREAL) to the princesses of Frozen. Through cultural commentary mixed with personal reflections, Chocano explores the ways on-screen women have influenced her life and the way she sees the world. A-."
—ENTERTAINMENT WEEKLY, "Best New Books"

"Brilliant and insightful...You Play the Girl stands apart from others in the genre [...] by dissecting pop culture through the lens of a mother watching her young girl try to make sense of the world. The result is a heartfelt look at the complicated messages women receive, and argues that gut feelings about these messages should be carefully examined. Chocano persuades the reader that the media we absorb around us does matter, and shapes how we feel about ourselves. And she deftly shows how books, TV, and film that have been labeled "empowering" for women [...] often have hidden agendas."
—PLAYBOY

"The cultural formulas that Chocano identifies are frustrating, but her readings don't deny them their fun…In the tradition of a long line of women writers, Chocano wants to make sense of this sort of enchantment and understand what kind of education it is offering up, and to whom."
—NEW YORK TIMES BOOK REVIEW

"Three sentences into You Play the Girl I already felt like cheering. Carina Chocano is a first-rate cultural critic whose specialty is constructing dead-on feminist analyses of such sinister artifacts as the relentless 'Frozen' and the various horrifying iterations of Barbie. Chocano is unusually skilled at dismantling the toxic underpinnings of such pop-culture mainstays, motivated in part by her desire to help her young daughter confront 'a world that literally never stops yelling at her that her primary value is sexual.' And Chocano demolishes the dismal shibboleth that feminists can't be funny, wielding abundant wit with a devastating sardonic edge."
—WASHINGTON POST

"Reading Carina Chocano is like listening to a smart friend think out loud [...] [You Play the Girl is] a ruefully funny collection."
—FILM QUARTERLY

"Chocano's book is funny and exasperating and full of revelations and epiphanies...If being a woman means being obligated to play a game you can't win because the rules keep changing (and not arbitrarily), Chocano's book is something you'd be behooved to read while you catch your breath between rounds of disorienting blows to the head."
—LA WEEKLY 

"Pop-culture critic Carina Chocano's smart, colorful, and compelling collection of essays, You Play the Girl, unpacks the ways movies, TV, and advertising sculpt perceptions of who and what women can and cannot be. Chocano achieves the right mix between personal essay and clear-eyed criticism, between high culture and low (discussion of Virginia Woolf leads into the 'Ghostbusters' reboot and the attendant trolls). We get a sense of her formative pop-culture experiences ('The Philadelphia Story'; 'Bewitched'; 'Flashdance') as well as dips into feminist history and the tension between being yourself and being a person people are comfortable with. 'You could choose to be a person or you could choose to be loved,' Chocano writes. It is not a pessimistic collection, but it shows that the myths and narratives of female identity are still in place and largely shaped by men."
—THE BOSTON GLOBE

"[A] memoir/pop culture takedown of the way women are characterized by the media...The author is both a brilliant, funny analyst, and a terrific yarn-spinner...razor-sharp."
—LOS ANGELES REVIEW OF BOOKS

"If you're ever at a party with author and former BUST columnist Carina Chocano, sit down next to her. In her first book of essays, the pop-culture critic tells her story of girlhood through the lens of the films and TV shows that made her realize she never actually wanted to play 'the girl'...Chocano's life advice doubles as a recommendations list....What makes Chocano so enjoyable to read is that, for better or worse, she revels in what she watched as a kid, and she'd like other women to do the same."
—BUST

"Pop culture critic Carina Chocano understands that how women are represented in movies, TV shows, books, memes, and music is reflective of how they're treated in real life. That's the driving force of her witty essay collection...In You Play the Girl, Chocano examines everything from Pretty Woman to Frozen to I Dream of Jeannie, and makes it clear that although women are bombarded with imagery that may be warped, we have the fortitude to dictate who we are outside of who we're told to be."
—BITCH MAGAZINE, "10 Books You Must Read in August"

"A look at how popular culture depicts women through the eyes of a critic looking out for her daughter. You'll never see Alice in Wonderland, My Best Friend's Wedding or Frozen the same way."
—JAKE TAPPER, for PARADE, "JAKE TAPPER PICKS 3 BOOKS HE LOVES"

"One of the smartest collections of essays in a year where smart essays were queen of writing, Chocano examines the mixed messages that are a part of every American woman's upbringing. Whether analyzing the appellation 'train wreck' to a number of female celebrities who have been through public mental health issues, to the constant presence of the madonna/whore complex adapted for new times, Chocano provides much to chew on in this thoughtful series of essays on gender."
—SIGNATURE READS,  "24 Best Books to Gift to the Strong Feminist in Your Life"

"Chocano brings to bear her experience as a widely published journalist and critic (of books and film) in this collection of essays examining what it has meant to be the 'girl' through decades of pop culture, from Playboy magazine to Thelma and Louise to Frozen. It's not exactly news that women are most often relegated to secondary character status - reactors rather than actors - but Chocano's mix of memoir, humor, and insight nevertheless strikes chords."
—OMNIVORACIOUS (The Amazon Book Review), "The Best Nonfiction of August"

"'The girl' is not something that Chocano will abide without a fight, which is exactly why she's written the book on why it's time for the trope to retire. You Play The Girl rattles the cage of how female characters have long been typecast within inherently sexist plot lines. Over the pages of Chocano's essay collection, she digs into the stories we're used to seeing Hollywood produce, year after ear, and applies a critical lens to the subject matter that will make you, dear reader, see it in a way that you never have before."
—REFINERY 29

"In You Play the Girl: On Playboy Bunnies, Stepford Wives, Train Wrecks, & Other Mixed Messages, Carina Chocano expertly dissects the identity of 'the girl.' Chocano shows us how from the second we're born, we're told what girls are and aren't — and how those messages shape our identity whether we want them to or not. Come for the pop culture references, stay for the deep discussion about how complex women actually are IRL vs. on the screen."
—HELLO GIGGLES, "8 new memoirs that you need on your nightstand"

"Longtime arts critic Carina Chocano's incisive, hilarious, and timely take on the depiction of women and girls in pop culture manages to be both deeply personal and universally relevant. With keen insight and biting humor, Chocano assesses the relative impact of various female archetypes—and delivers an explosive critique of sexism and the power of mass media. You Play the Girl: On Playboy Bunnies, Stepford Wives, Train Wrecks & Other Mixed Messages  is like a long talk with your smartest, most impassioned friend."
—iBOOKS, Best Books of August 

"Chocano draws out brilliant insights from across the decades...witty and sharp...[Chocano] weaves her observations into a fascinating history of women's economic and social progress."
—THE SUNDAY TIMES (UK)

"Whip-smart...Remarkably comprehensive and enjoyably associative, the essays move quickly from the haunting performances of French actress Isabelle Adjani to The Real Housewives of Beverly Hills, Bewitched, and I Dream of Jeannie as allegories for the potential of powerful women to 'wreck civilization'...Incisive and witty...these essays will appeal to anyone interested in how women's stories are told."
—PUBLISHERS WEEKLY, starred review

"[Chocano] interweaves relevant personal stories from her childhood and adult experiences with and entertaining and insightful review of female characters from the last 50 years of pop culture, including television, film and literature. Chocano not only looks back at her own experiences, she also writes emotionally about the realities of the world that her young daughter faces today. Each piece combines numerous, well-connected examples from the author's extensive knowledge of pop culture, with an analysis of a theme related to the various aspects of women's lives: work, relationships, marriage, sexuality, motherhood, and even math. As a result, the essays have a sound research foundation and are well documented. VERDICT: This entertaining, engaging, enlightening tour of the portrayal of women in pop culture will appeal to general readers and researchers in a variety of cross-disciplinary fields."
—LIBRARY JOURNAL, starred review

"A sharply perceptive look at the myths that constrain women."
—KIRKUS REVIEWS

"You Play the Girl by Carina Chocano blew my mind. Like a goldfish realizing that water existed, I instantly came alive to the air and the atmosphere of how my Otherness informed my girlhood. Each and every message of being asked to stand still so that I could be seen by the cultural product of male-made entertainment made me scream with recognition. In particular, the Flashdance chapter time-travelled me back to my youth, but holding hands with a clear-eyed, brilliant, hilarious friend. Re-looking at Stepford Wives, I Dream of Jeannie, Bewitched and all of the other hypnotic suggestions about my supposed woman-hood made me feel alive and energized and ready to topple the patriarchy. The world is changing for women and girls and here is one of the first steps—going back to do archaeology about what the heck happened to us, how we got colonized. If information is power, You Play the Girl is a superpower."
—JILL SOLOWAY, writer, director, and creator of "Transparent"

"Carina Chocano is a brilliant thinker, a dazzling stylist and an intellectual in the truest sense of the word. An important critical work as well as an entertaining personal story, You Play the Girl looks at old archetypes in new and often astonishingly insightful ways and establishes Chocano as a unique talent and crucial voice in the cultural conversation."
—MEGHAN DAUM, author of The Unspeakable: And Other Subjects of Discussion

"Carina Chocano unearths the little horrors of our culture's pervasive, insidious sexism in essays so brilliant and witty you'll wish her book would never end. Chocano is one of our sharpest, most original cultural observers, and You Play the Girl is as engrossing as it is unforgettable."
—HEATHER HAVRILESKY, author of How to Be a Person in the World
Mariner Books, 9780544648944, 304pp.
Publication Date: August 8, 2017
About the Author
CARINA CHOCANO is a frequent contributor to the New York Times Magazine and Elle, and her writing has appeared in The New Yorker, Vulture, Rolling Stone, and others. She worked as a staff film and TV critic at the Los Angeles Times, a TV and book critic at Entertainment Weekly, and a staff writer at Salon. Her humor book, Do You Love Me, or Am I Just Paranoid?, was published in 2004. She lives in Los Angeles.