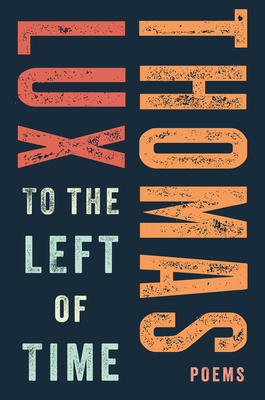 To The Left Of Time
Paperback

* Individual store prices may vary.
Description
A brilliant new collection of poems by Kingsley Tufts Award–winning poet Thomas Lux

With To the Left of Time, Thomas Lux adds more than fifty new poems to his celebrated oeuvre. Broken into three sections, these include semi-autobiographical poems, odes, and a final section that delves into a variety of subjects reflective of Lux's imaginative range. Full of his characteristic satire and humor, this new collection promises laughter and profound insight into the human condition.

To the Left of Time is a powerful addition to the work of one who has been widely praised for his ability to offer image- and metaphor-driven visions as well as lines of plain language and immediacy. This collection proves that Lux's work will continue to inspire readers for decades to come.

Praise For To The Left Of Time…
"After a long career, the multi-award-winning Lux luxuriates in a chance to weigh the past ('What we were thinking/ was bombing the cows with dirtballs') against the present ('Always nervous around the cheerful,/ though drawn to them, always leery/ of the happy, I now find myself cheerful,/ and that makes me nervous'). After a first section loaded with unsentimentalized rural images—there's snow-covered manure and a string of small tragedies from a putative horse poisoner to a cousin's scarlet fever—we arrive at a selection of tongue-in-cheek or modestly touching odes ('I never meant to confuse/ those who thought—without malice/ and with some concern—otherwise: I was average'). A third section acutely observes the world ('Everything I hear is overviolined') as a sense of quiet acceptance threads its way throughout. VERDICTAn accessible collection that will have broad appeal."—Library Journal —
Ecco, 9780544649651, 96pp.
Publication Date: April 5, 2016
About the Author
THOMAS LUX holds the Bourne Chair in Poetry and is the director of the McEver Visiting Writers Program at Georgia Institute of Technology. He has been awarded three NEA grants and the Kingsley Tufts Award and is a former Guggenheim Fellow. He lives in Atlanta.