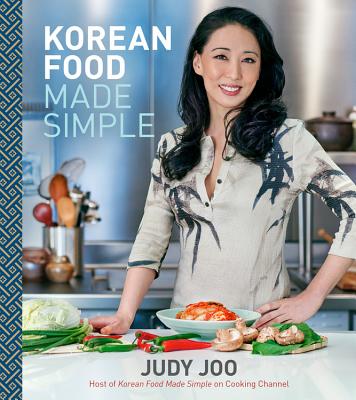 Korean Food Made Simple (Hardcover)
Houghton Mifflin Harcourt, 9780544663305, 288pp.
Publication Date: May 3, 2016
* Individual store prices may vary.
Description
125 simple Korean recipes from the host of the Cooking Channel television show of the same name

In Korean Food Made Simple, Judy Joo, host of the Cooking Channel's show of the same name and Food Network regular, brings Korean food to the masses, proving that it's fun and easy to prepare at home. As a Korean-American, Judy understands how to make dishes that may seem exotic and difficult accessible to the everyday cook. The book has over 100 recipes including well-loved dishes like kimchi, sweet potato noodles (japchae), beef and vegetable rice bowl (bibimbap), and Korean fried chicken, along with creative, less-traditional recipes like Spicy Pork Belly Cheese Steak, Krazy Korean Burgers, and Fried Fish with Kimchi Mayo and Sesame Mushy Peas. In addition, there are chapters devoted to sauces, desserts, and drinks as well as a detailed list for stocking a Korean pantry, making this book a comprehensive guide on Korean food and flavors. Enjoying the spotlight as the hot Asian cuisine, Korean food is on the rise, and Judy's bold and exciting recipes are go-tos for making it at home.
 
About the Author
JUDY JOO is a French-trained Korean-American chef, writer, and restaurateur whose culinary expertise spans the globe. Ushering Korean flavors into home kitchens, Judy hosts Cooking Channel's Korean Food Made Simple and is a regular on Food Network.
Praise For Korean Food Made Simple…
"This is a stunning book. Forget for a moment it's about the food of Korea. It's just so impressive on many levels. I already crave the Disco fries and Korean eggplant and I won't rest until I have the Korean fried chicken! Judy has written a beautiful, timely, and truly impressive tome, both mouthwatering and so very informative. Julia Child just got a new and wonderful neighbor on my bookshelf."
—Geoffrey Zakarian, Iron Chef
 
"The tantalizing flavors and techniques of Korean food are just beginning to find their way into our home kitchens. Judy Joo is the perfect teacher to lead us into this exciting new world. Get ready for fireworks on your taste buds."
—Bobby Flay, chef and author
 
"For those of us not lucky enough to have been raised by a Korean mom whom we can rely on to give us a tight recipe for a childhood favorite, there is Judy Joo's Korean Food Made Simple. Informative explanations of the Korean pantry, easy to follow recipes, and beautiful photographs will make this your go-to book for Korean cooking."
—Andy Ricker
 
"Judy Joo is an authority on authentic Korean and American-Korean food. My wife is half Korean so it's important we celebrate the culture and traditions together and with our kids. Judy's new book is a refreshing source of inspiration and information that's open on our bench top every time we cook Korean food."
—Chef Curtis Stone, internationally known chef and chef/owner of Maude Restaurant, Beverly Hills

"From kimchi to bibimbap, Joo—who hosts a show on the Cooking Channel—breaks down intimidating dishes."
—Entertainment Weekly

"Korean American chef Joo's debut shares a name with her TV show on the Cooking Channel. After introducing familiar and exotic pantry staples, from nutty toasted sesame oil to fiery Korean chile paste, Joo presents 130 recipes that blend traditional Korean home cooking with contemporary and fusion fare. Assorted kimchi and pickles (cubed radish kimchi) can have long fermentation times, but they're easy to prepare, as are quick stir fries (pork belly and kimchi stir-fry with tofu), soups (instant noodles with spicy rice cakes and fish cakes), and desserts (red bean ice pops). The book also features chapters on sauces, breads, and drinks.VERDICT Like Maangchi's Real Korean Cooking, this cookbook is an approachable gateway to a popular cuisine. Comparatively, Joo's recipes are fancier, with more nods to Western palates (think: cheesecakes, ­cheesesteaks, wings, and tacos). Highly recommended." —Library Journal

"Joo, host of the Cooking Channel's Korean Food Made Simple, brings her unique style to Korean cuisine in this delightful and original book. Joo was raised in New Jersey by Korean parents and trained at the French Culinary Institute, and her recipes reflect this fusion of cultures and flavors. Her main focus remains on Korean cuisine, but she adds her own modern twists to reflect her complex palate. Kimchi pulled-pork disco fries, ultimate KFC (Korean fried chicken), and kimchi and bacon brioche are just a few examples of her appealing innovations. She provides a useful section on pantry staples and includes recipes for essential components of many Korean meals, including kimchi, pancakes, and dumplings. Crispy anchovies, kimchi fried rice, and "krazy" Korean burgers (made with ginger, pancetta, soybean paste, and seltzer) exemplify the wide range of combinations that Joo embraces. Soy-glazed tofu salad, "magical" chicken ginseng soup, and spicy pork belly cheesesteak are all big on flavor and use easy-to-find ingredients. Joo notes that traditional Korean desserts don't translate well to a Western palate, so she's revamped traditional offerings to create tempting combinations such as caramel doenjang ice cream, spicy molten chocolate lava cakes, seaweed shortbread, and Korean coffee brownies. Cooks looking to make a first foray into Korean cooking or those wishing to enhance their knowledge will delight in Joo's uncommon approach and her tasty creations."
—Publishers Weekly

"Judy Joo's Korean Food Made Simple is going to be a big cookbook this year... Joo's book, available in May from Houghton Mifflin Harcourt, is attractive, accessible, and full of great food that doesn't take itself too seriously."
—Departures Magazine