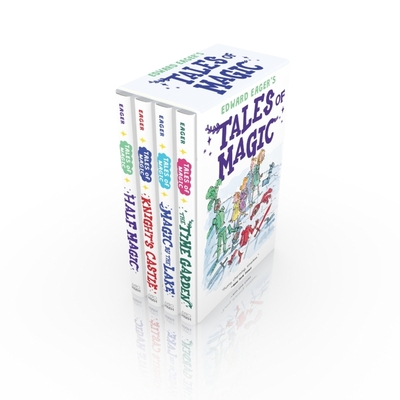 Tales of Magic Boxed Set (Multiple copy pack)
HMH Books for Young Readers, 9780544671669, 896pp.
Publication Date: October 18, 2016
Other Editions of This Title:
Multiple copy pack (10/1/2000)
* Individual store prices may vary.
Description
For over sixty years, Edward Eager's Tales of Magic have been favorites with readers of all ages. Now his four most popular stories—Half Magic, Knight's Castle, Magic by the Lake, and The Time Garden—are available in one handsome package. Perfect for gift-giving or for introducing eager new readers to a whole world of wit and magic, this collection will brighten every child's library!
About the Author
Edward Eager (1911–1964) worked primarily as a playwright and lyricist. It wasn't until 1951, while searching for books to read to his young son, Fritz, that he began writing children's stories. His classic Tales of Magic series started with the best-selling Half Magic, published in 1954. In each of his books he carefully acknowledges his indebtedness to E. Nesbit, whom he considered the best children's writer of all time—"so that any child who likes my books and doesn't know hers may be led back to the master of us all."
Praise For Tales of Magic Boxed Set…

"These are wonderful books, all filled with the power of the imagination and the possibility that anything can happen at any time, to anyone. Eager's style is funny, wise, and entertaining."
—Alice Hoffman, author of Aquamarine and Practical Magic

"Few people understand the delicious lure of everyday magic like Edward Eager did. He understood so well the promise of the impossible and the delight of wishing—but he also understood that no kid wants magic to be too easy. Timelessly honest, dangerously funny. I'm thrilled that modern kids will find all the best there is in this collection."
—Linda Urban, author of A Crooked Kind of Perfect



 
"These are wonderful books, all filled with the power of the imagination and the possibility that anything can happen at any time, to anyone. Eager's style is funny, wise, and entertaining."
— Alice Hoffman, author of Aquamarine and Practical Magic
"Few people understand the delicious lure of everyday magic like Edward Eager did. He understood so well the promise of the impossible and the delight of wishing—but he also understood that no kid wants magic to be too easy. Timelessly honest, dangerously funny. I'm thrilled that modern kids will find all the best there is in this collection."
— Linda Urban, author of A Crooked Kind of Perfect