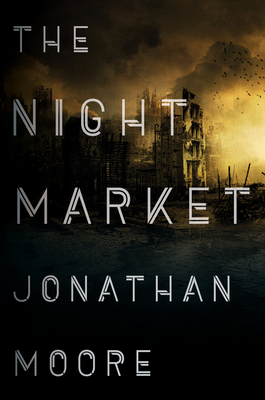 The Night Market
Hardcover

* Individual store prices may vary.
Other Editions of This Title:
Paperback (1/8/2019)
Compact Disc (1/16/2018)
Description
From an author who consistently gives us "suspense that never stops" (James Patterson), a near-future thriller that makes your most paranoid fantasies seem like child's play.
 
It's late Thursday night, and Inspector Ross Carver is at a crime scene in one of the city's last luxury homes. The dead man on the floor is covered by an unknown substance that's eating through his skin. Before Carver can identify it, six FBI agents burst in and remove him from the premises. He's pushed into a disinfectant trailer, forced to drink a liquid that sends him into seizures, and then is shocked unconscious.

On Sunday he wakes in his bed to find his neighbor, Mia—who he's barely ever spoken to—reading aloud to him. He can't remember the crime scene or how he got home; he has no idea two days have passed. Mia says she saw him being carried into their building by plainclothes police officers, who told her he'd been poisoned. Carver doesn't really know this woman and has no way of disproving her, but his gut says to keep her close.

A mind-bending, masterfully plotted thriller that will captivate fans of Blake Crouch, China Miéville, and Lauren Beukes, The Night Market follows Carver as he works to find out what happened, soon realizing he's entangled in a web of conspiracy that spans the nation. And that Mia may know a lot more than she lets on.
Praise For The Night Market…
Praise for The Night Market
Named an Exciting Mystery/Thriller of Winter 2018 by Bookish
Named an iBooks Most Anticipated Mystery/Thriller of Winter 2018
Named a Best Mystery of 2018 by Maxim Jakuboswki, CrimeTime

"A grim and gripping tale of well-earned paranoia…Moore, an attorney, uses his tight-lipped prose to fine effect… The book's tone is Chandleresque, the conspiracy worrying Carver and Jenner expands to Pynchonean proportions, and the physical ick they encounter might have oozed out of a Cronenberg movie. But on the whole, I'll wager, 'The Night Market' and its predecessors, 'The Poison Artist' and 'The Dark Room,' are like nothing you've ever read. In his acknowledgments, Moore sums up the novels as 'a three-panel painting of San Francisco.' As done, he might have added, by Hieronymus Bosch." — Washington Post

"Are you one of the many who have cleared their Netflix queue of good television crime drama? Still trying to scratch that sci-fi itch as you wait for 'Westworld' to return? Well, Jonathan Moore's latest thriller The Night Market will satiate both desires and satisfy both itches immediately...It's "Miami Vice" meets "The Matrix," and George Orwell is hosting the party. What keeps The Night Market chugging along are those Crockett and Tubbs moments between Carver and Jenner. Mr. Moore's handling of the partnership exemplifies the chemistry that you'd expect from two battle-scarred vets. The chapters that revolve around their relationship are ones that you won't want to end...The reader is invested in every little moment of Carver's detective work. Mr. Moore does such smooth work when describing Ross' deductive mind that you buy that he's been on the force as long as his five years from mandatory retirement indicates. His self-confidence along with how he handles himself in every situation creates a protagonist one can easily get behind...In between the melding of sci-fi and crime noir, the glue that holds it all together is the engaging relationship between Carter and Mia. Their budding romance isn't forced or mushy, but is developed very organically throughout the book. It never interferes with the looming mystery and helps to cultivate more questions." —Pittsburgh Post-Gazette

"As upsetting and revealing a book as you are likely to read in this or any year...Mystery and thriller readers will find much to love here, but fans of science fiction also should embrace this incredible work." — Bookreporter.com

"If you're looking for a good book to curl up with and lull you to sleep, don't read Jonathan Moore's The Night Market—it'll keep you awake all night... In the vein of stories by Blake Crouch or China Mieville, The Night Market completes what Moore calls a 'three-panel painting of San Francisco—a single work, loosely connected.' Reading the other books in Moore's series—The Poison Artist andThe Dark Room—isn't necessary, but once you've read this one, you'll be compelled to seek them out anyway. Just be prepared to lose some sleep while reading them." — Bookpage

"In THE NIGHT MARKET, Jonathan Moore is masterful at sustaining cutting-edge suspense. The undertones of conspiracy and speculative science fiction blend perfectly with that suspense to make this a phenomenal thriller." — FreshFiction.com

"A sharp and scary near-future thriller that delivers a dark message about society's love affair with technology...Unsettling, stylish noir...[The] utterly shocking revelations in the third act are the stuff of nightmares. You'll never look at a flock of sparrows the same way again." —Kirkus, starred

"Outstanding...Moore smoothly fills Carver's quest for the truth with equal parts hidden menace and outright strangeness. This mystery feels like Blade Runner as if it were written by Charles De Lint or Neil Gaiman."  —Publishers Weekly, starred

"A chilling near-future thriller that could be described as Blade Runner meets Raymond Chandler. The conspiratorial plot at the center of this dark, gritty novel will make anyone feel paranoid. The meandering pace serves to keep the reader wanting more as each clue unearthed leads the characters closer to a frightening, all-pervasive truth...Readers of noir mysteries as well as lovers of near-futuristic sf will adore this title and will probably want to pick up the other two novels in this loosely connected yet interrelated trilogy." —Library Journal

"A futuristic conspiracy with horrifying implications...Thought-provoking." —Booklist

"What a talent this author has for creating setting and atmosphere...Clever, unique, and unpredictable." —A Book and a Cup of Tea

"[Moore] has a knack for evoking the stuff of nightmares which has me hooked from the first page." —Maxim Jakubowski,  CrimeTime

Praise for Jonathan Moore's The Dark Room
A Library Journal "Essential Thriller" of January 2017
An iBooks Best Book of January 2017
A Northern Virginia Magazine Best New Release of January 2017

"Moore channels the moody intensity of Raymond Chandler's crime fiction and saturates The Dark Room with the brooding cinematic qualities of the mid-20th century's black-and-white film noir genre...The Dark Room will prompt readers unfamiliar with Moore to seek out his other works, including The Poison Artist, which Stephen King describes as electrifying. " — The Washington Post

"Smart plotting.  Nary a false note.  Suspense that never stops.  If you like Michael Connelly's novels, you will gobble up Jonathan Moore's The Dark Room." —James Patterson 

"Complex, well-crafted thriller... Moore—an attorney and author of three previous novels, including The Poison Artist and Redheads, which was short-listed for the Bram Stoker Award—infuses the complicated tale with richly detailed forensic facts and procedural expertise that would make [Kathy] Reichs proud. At the same time, he makes a concerted effort to craft characters you can care about." —BookPage

"An engaging and thoroughly contemporary mystery...The Dark Room is a worthy introduction to Moore's work, and will soon have you seeking out his earlier titles (like The Poison Artist or Redheads) while waiting for his next crime novel." —Bookgasm

"Exuding noirish elements and utilizing the city's mean streets to their full, atmospheric effect, The Dark Room oozes dastardly deeds from blackmail to murder – and beyond." —The Seattle Review of Books

"The Dark Room is a complex, edgy, elegant novel that is at once macabre, menacing and mesmerizing. Moore calls this book "the center panel in a triptych" that started with The Poison Artist. The third, The Night Market is scheduled for 2018. I can't wait." —Open Letters Monthly

"The Dark Room is one of those books that when you think you know what happened, it veers directions and plunges into another stream of questions and doubt...[it] will lure you in from the first chapter and then capture your attention until the very last page....a great crime novel that I won't forget anytime soon." —Latte Nights Reviews

"Complex and often deeply disturbing crime noir...Moody and macabre with an Edgar Allan Poe feel to it, this book leaves an uncomfortable, indelible impression that can't be shaken by simply putting it down. The featureless Cain and his search for the woman in the casket are irresistible. San Francisco has never been so menacing." —Kirkus, STARRED review

"Moore calls this book "the center panel in a triptych" that started with The Poison Artist. With this second electrifying noir thriller, readers won't want to wait until 2018, when the third, The Night Market, is scheduled for publication." —Booklist, STARRED review

"Intricate thriller... Moore, a terrific stylist, provides telling procedural details (a computer-expert friend helps identify the clothing and jewelry in the decades-old photos) and makes good use of the Bay Area setting." —Publishers Weekly

Selected Praise for The Poison Artist
"The Poison Artist is an electrifying read, building from shock to shock. I read the last one hundred pages in a single sitting. The final chapter is an absolute stunner. I haven't read anything so terrifying since Red Dragon."  —Stephen King

"Patient, stylish and incredibly suspenseful." —Lee Child

"A magnificent, thoroughly unnerving psychological thriller written in a lush, intoxicating style.  I dare you to look away." —Justin Cronin
 
"The Poison Artist is a rare thing: a totally new take on the mystery-thriller genre...Jonathan Moore's story of a scientist helping the police investigate a femme fatale serial killer using poison is totally fresh and unpredictable. The writing is top-notch, wonderfully evoking a dark and foggy San Francisco where ghosts of the past color the bloody events of the day. Grade: A"—The Cleveland Plain Dealer

"The Poison Artist takes place in a fog-bound, rain-drenched version of San Francisco, which becomes, in Moore's telling, almost a city from a dream, where truths and realities slip in and out of focus somewhere between the long nights and the constantly filled glasses...It's genuinely scary, in the very best way, and nastily twisty, also in the very best way. Just like the clashes between Caleb's day and night existences, Moore's hypnotic, rich prose shifts and jars from seductive bars at night to the gruesome way fingerprints have to be taken from a body that has been underwater for days. Spiralling down from dream into nightmare, The Poison Artist is thoroughly unnerving and classily executed." —The Guardian
 
"Moore has a great gift for the macabre and creepy." —The Times
 
"This is a cinematic and phantasmagoric treat... Obsession and violent death collide in an elegantly written thriller." —The Independent

"With crisp dialogue and skilled plotting, this atmospheric novel—fittingly set in a dark and foggy December in San Francisco—is an engrossing thriller by an author to watch. Give this one to readers who like forensic thrillers but would also be drawn in by the creepy mood."—Booklist, starred review
 
"Exquisite...The sympathetic, though brutally flawed hero and the shocking, Hitchcock-esque finale make this psychological thriller a must-read."—Publishers Weekly, starred review

 
Houghton Mifflin Harcourt, 9780544671898, 304pp.
Publication Date: January 16, 2018
About the Author
JONATHAN MOORE lives in Hawaii with his wife and son, and is the author of five books. Before completing law school in New Orleans, he was an English teacher, a bar owner, a raft guide, a counselor at a Texas wilderness camp for juvenile delinquents, and an investigator for a criminal defense attorney in Washington, D.C.
or
Not Currently Available for Direct Purchase