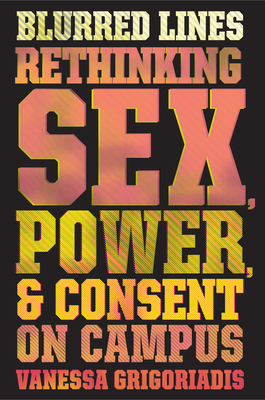 Blurred Lines
Rethinking Sex, Power, and Consent on Campus
Hardcover

* Individual store prices may vary.
Other Editions of This Title:
Paperback (10/2/2018)
MP3 CD (11/14/2017)
Compact Disc (11/14/2017)
Description
   A new sexual revolution is sweeping the country, and college students are on the front lines. Few places in America have felt the influence of #MeToo more intensely. Indeed, college campuses were in many ways the harbingers of #MeToo. Grigoriadis captures the nature of this cultural reckoning without shying away from its complexity. College women use fresh, smart methods to fight entrenched sexism and sexual assault even as they celebrate their own sexuality as never before. Many "woke" male students are more open to feminism than ever, while others perpetuate the cruelest misogyny. Coexisting uneasily, these students are nevertheless rewriting long-standing rules of sex and power from scratch.
      Eschewing any political agenda, Grigoriadis travels to schools large and small, embedding in their social whirl and talking candidly with dozens of students, as well as to administrators, parents, and researchers.  Blurred Lines is a riveting, indispensable illumination of the most crucial social change on campus in a generation.  
Praise For Blurred Lines: Rethinking Sex, Power, and Consent on Campus…
"Blurred Lines is a meticulous and complex analysis of sexual assault." - The New Yorker

"[Grigoriadis's writing] is so vivid, you just want to keep hanging out with her on the page and listen to what she's thinking about. But what's most refreshing is that Grigoriadis isn't afraid to untangle the hairball that is college sex, even though someone — whether it's the hardcore feminists or the Men's Rights bros — will rip apart any idea that falls outside of party lines. Yet Grigoriadis dives in because, as she says in the book, she believes that to actually understand why there are so many reports of sexual assault on campus, you have to actually, explicitly, and finally, figure out what is going on in these bedrooms, and talk it about it candidly." –New York Magazine
 
"Grigoriadis [is] the ideal observer and analyst of sexual assault and consent on campus. Starting from the famous case of Columbia mattress carrier Emma Sulkowicz, she spoke to hundreds of students — victims, activists, and the accused — as well as parents and administrators, coming away with something like a clear picture of generational confusion. Avoiding both easy answers and ideological rubrics, she advocates vigilance, moderation, fairness, and good faith." – Vulture
 
"Grigoriadis spent the past three years interviewing hundreds of students, student-activists, researchers, and administrators to go beyond the salacious headlines (though there are plenty of those covered in her book) and instead focus on the underlying cultural forces that not only drive sexual assault on campus but have also catapulted it into the spotlight in recent years." – Refinery29
 
"An in-depth look at the new sexual revolution that's been taking place on college campuses and the confusion surrounding it." – New York Post
 
"A deep dive into the millennial generation's cultural proclivities, confusions, musical tastes and lingo (in which being "woke" represents a state of heightened consciousness and "catching feelings" is one presumably regrettable effect of casual sex)…. [Grigoriadis] points out perceptively that the bedroom is one place where today's otherwise strong, self-confident young women still too often feel pressured and unable to advocate for their own interests." –Chicago Tribune
 
"Remarkable….The new sexual assault spotlight is changing our thinking about consent, blame and responsibility, a shift that shouldn't be dismissed." —Washington Post

"Vanessa Grigoriadis... engages the complexities of sexual statistics in Blurred Lines, a richly complicated and beautifully written chronicle that offers a...nuanced and responsibly researched panorama of student life." - Jacobin Magazine
 
"Grigoriadis has pulled off something truly remarkable — a nuanced and deeply compassionate account of one of the most convulsive chapters in recent American culture. Blurred Lines pushes beyond the sensationalist headlines and political rhetoric to reveal the complicated stories underneath. This book has given me a whole new understanding of how we got into this mess — and how we might get out." —Sarah Hepola, Blackout: Remembering the Things I Drank to Forget
 
 "An essential handbook for college students who must navigate the hazards of social media, online porn, gender fluidity, and mind-altering substances while peeling the onion layers of "consent." It's also required reading for any parent of college-bound children who wants to protect them from making mistakes that can ruin their lives."  —John Seabrook, author of The Song Machine: Inside the Hit Factory

"With rigorous reporting, brilliant observations and a rare absence of bias, Grigoriadis has written a fascinating and moreover an important book about a complex, controversial phenomenon. Blurred Lines is poised to become the definitive work about sex, consent, and campus life in our era." —Meghan Daum, author of The Unspeakable: And Other Subjects Of Discussion.

  "The definitive book on contemporary campus sexual culture. With daring and elegance, Grigoriadis explores the myriad factors—alcohol, gender, privilege, hormones, and politics, to name a few—that converge in the sex lives of teenagers who are set free for the first time, Blurred Lines is a fascinating and nuanced account of what constitutes "ethical sex" for students, and the implications for the rest of us." —Ariel Levy, author of The Rules Do Not Apply

 "This important, incisive book brings clarity and a fresh perspective to an incredibly complex issue. BLURRED LINES is a must-read for anyone heading to college, anyone who has a daughter —or a son." —Jancee Dunn, author of How to Not Hate Your Husband After Kids

"In this brilliant, surprising book, a master of you-are-there reportage untangles the web of sex, power, and politics that's fueling debates from college campuses to Capitol Hill." —Gabriel Sherman, author of The Loudest Voice in the Room: How the Brilliant, Bombastic Roger Ailes Built Fox News

"This book is important, maddening, deeply unsettling and wildly entertaining. Even, or maybe especially, if you think you already know what's happening in sexual culture, you need to read this!" —Emily Gould, author of Friendship and co-founder of Emily Books.
 
"Grigoriadis covers the often lecherous, always treacherous landscape of campus sex as nobody else has or could. She throws bright, fresh light on an array of collegiate characters who are sometimes appalling, sometimes appealing, and sometimes a bit of both—from Baylor's out-of-control football stars to Columbia's so-called Mattress Girl to a Syracuse student who dubs herself "Blackout Blonde". She brings rare empathy and discernment to all sides of this fray. Oh, and she writes like a dream." —John Heilemann, co-author of Game Change and Double Down
 
"Grigoriadis goes gonzo on the sex- and drug-drenched world of modern campus life, navigating the war-zone politics of rape with rare courage and intelligence." —Joe Hagan, author of Sticky Fingers: The Life and Times of Jann Wenner and Rolling Stone magazine
 
"The temptation is to say college was never like this in my day. But it probably was. We just didn't see it. Generations of male American students didn't see it. Vanessa Grigoriadis pulls the wool off that willful blindness in this sharp-eyed but humane disclosure of the politics of sex, and sex of politics, on campus circa today." —Mark Jacobson, author of American Gangster
Eamon Dolan/Houghton Mifflin Harcourt, 9780544702554, 368pp.
Publication Date: September 5, 2017
About the Author
VANESSA GRIGORIADIS is a contributing editor at the New York Times Magazine and Vanity Fair, specializing in pop culture, youth movements, and crime reporting. She is a National Magazine Award winner and has been featured on MSNBC, CNN, Dateline, and Investigation/Discovery shows.

 
Coverage from NPR
or
Not Currently Available for Direct Purchase