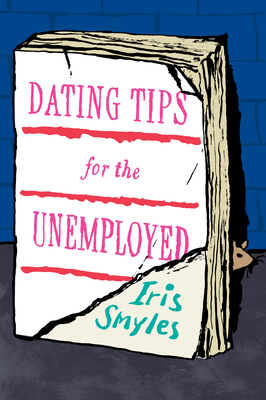 Dating Tips For The Unemployed
Paperback

* Individual store prices may vary.
Other Editions of This Title:
Digital Audiobook (6/27/2016)
Compact Disc (6/28/2016)
MP3 CD (6/28/2016)
Description
One of The Believer's Best Books of the Year: One woman's journey "[flailing] at art, love, and friendship" with absurd yet improbably poignant results. (O, The Oprah Magazine)

In twenty-four absurd, lyrical, and louche episodes, "Iris Smyles" weaves a modern odyssey of trying to find one's home in the world amid the pitfalls and insidious traps of adult life.

A wickedly funny picaresque touching on quantum physics, the Donner Party, arctic exploration, Greek mythology, Rocky I, II, V, IV, VI, and III respectively, and literary immortality, Dating Tips for the Unemployed is a wistful if wry ode to that awkward age—between birth and death—when you think you know what you want but aren't quite sure what you're doing.
Praise For Dating Tips For The Unemployed…
Thurber Award for American Humor, Semi-Finalist One of the Believer's "Best Books of the Year" One of the Nervous Breakdown's "Best Books of the Year" "The prodigiously inventive Smyles melds novel, autobiography, and all manner of asides as she flails at art, love, and friendship with the wry intelligence of someone just wise enough to realize they have no idea what they're doing. A flat-out joy to read." —O, The Oprah Magazine "Dating Tips for the Unemployed is a charming (yes, charming!), bravura performance by a writer whose comic chops, literary inventiveness, and crisp prose produce the smoothest of literary smoothies, something like a cocktail of Dorothy Parker, James Joyce, and Philip Roth iced, sweetened, and blended." —The Nervous Breakdown "Especially if you power through it in one sitting—or one 'lounging'—this collection of rambling and loose-jointed vignettes perfectly encapsulates the feeling of being mired in the strange muck of the late '20s and early '30s, stuck between 'fake adult' and 'actual adult.' Interspersed with amusingly bizarre vintage advertisements for books like Crafting With Cannoli Box String, Smyles' book feels like leafing through an extraordinary personal diary, at times both blunt and lyrical." —Elle, "8 Next-Level Beach Reads" "Whimsy, satire, and rollicking social commentary… Ms. Smyles is a misanthrope-of-the-people, a standout on the order of Fran Lebowitz." —East Hampton Star "The title isn't just a cuteness, this is a practical book for impractical people. In this chronicle of one woman's navigation through the creeping normalnesses of 21stcentury life, you will find helpful tips like 'Never date someone more or less miserable than you,' translations of party talk, and ideas for board games amid advertisements for home courses in snake handling, dream interpretation guides, and a novelization of Weekend at Bernie's 2. And yet, there's so much more than novelty at the heart of Dating Tips, which is ultimately a classical reckoning with modern love and a sure way to turn a disappointing day around or find solitary delight while fully clothed." —Believer, "Our Favorite Books from 2016" "Structured in small episodes like Homer's Odyssey, which serves as an epigraph for the book, Smyles' adventuress calls to mind a Jane Bowles heroine who's read Ulysses while scrolling in despair through 10 open apps on her iPhone. Smyles' portrayal of Iris in all her weirdness offers much to recognize, fear, and embrace. Walking the line between self-obsession and thoughtful portraiture, Smyles explores an inextricable link between sex and loneliness, self-loathing and self-acceptance in contemporary New York." —Kirkus Reviews  "In engaging episodes, Iris-the-character neurotically navigates dating in New York City, smokes pot on Greek islands with hapless lovers, drinks too much, deals with disapproving family, and eats a lot of cannoli. Smyles's surreal, lyrical voice elevates these every day scenarios into the realm of the fantastic and absurd. Included in the book are hilariously stylized advertisements full of false promises, such as 'Health Secrets of the Roman Empire' and 'Have Your Portrait Painted By An Elephant!' all for a price. Smyles is sharp, melancholy, and wickedly funny. She is unafraid to reveal and revel in her character's flaws because it is what makes them so achingly, relatably human." —Interview Magaz —
Harper Paperbacks, 9780544703384, 320pp.
Publication Date: June 28, 2016
About the Author
IRIS SMYLES's stories and essays have appeared in the Atlantic, the New York Times, BOMB, the New York Observer, Best American Travel Writing 2015, and other publications. Her first novel, Iris Has Free Time, was published in 2013. She lives in New York and Greece. Visit her at www.IrisSmyles.com.
 
or
Not Currently Available for Direct Purchase