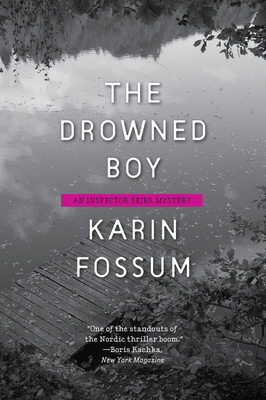 The Drowned Boy (Inspector Sejer Mysteries)
Paperback

* Individual store prices may vary.
Other Editions of This Title:
Hardcover (8/25/2015)
Prebound (8/9/2016)
Description
 "Sensitive and shocking." — Wall Street Journal

"In the end, the novel isn't about willful murder or even accidental death, but the psychological aftershocks for the living." — New York Times Book Review
 
"Fossum's descriptive prose is a reminder, for criminals and readers alike, that the details that damn us are likely to be the ones that escaped us." — Washington Post
 
Carmen and Nicolai found their son, Tommy, floating in their garden pond, but it was too late to save him. Inspector Skarre arrives on the scene, and Carmen says that Tommy, a healthy toddler with Down syndrome, was playing alone and drowned. But an autopsy reveals that Tommy's lungs are full of soap, prompting Skarre and his trusted colleague Inspector Sejer to revisit the couple. When they return, Carmen, an epileptic, changes her story: she had a seizure while bathing Tommy, came to, and found him dead in the tub. Terrified, she threw him into the pond. But Skarre and Sejer are skeptical. What could Carmen be hiding? And what lengths will she take to cover her guilt?
 
"[The Drowned Boy] will keep readers guessing. Grade: A–." — Cleveland Plain Dealer
 
"Simple but gripping story, balanced, believable and compassionate." — Guardian
 
Praise For The Drowned Boy (Inspector Sejer Mysteries)…
"When a young boy is found drowned in a pond near his home, it is explained away as an accident. Insp. Konrad Sejer suspects there is more to the story, however. As the mother, Carmen, changes her story to fit new evidence and the father spirals down into depression, Sejer pursues the evidence, even as it looks like the truth may never be known. The story is unraveled slowly, intermingling Sejer's dogged investigation with diary entries written by the young mother. The real strength of the book lies in the characters Fossum has crafted. Sejer is not the typical unhappy, unhealthy Scandinavian detective; instead, he's a widower who is kind to his suspects and colleagues alike. ­Verdict ­Fossom's 12th Sejer installment doesn't disappoint. Her writing style keeps the reader guessing to the final page. This title will appeal to mystery readers of all stripes."--Library Journal


"You really should at least be reading, if not collecting, the works of Karin Fossum. Not only is she the queen of Scandinavian detective fiction (or Nordic noir) she is one of the prime novelists working today in the mystery genre."--Bookgasm

"The drowning of 16-month-old Tommy Brandt sets the mournful tone for Fossum's powerful and disturbing 11th Insp. Konrad Sejer mystery (after The Caller). Tommy's hysterical mother, Carmen Zita, insists that the toddler wandered away from her on a hot day after she suffered an epileptic seizure; she later found his body in a pond near the house that she shares with the child's reticent father, Nicolai. Sejer assumes at first that the drowning is just a tragic accident, but the mother's odd demeanor—she's so eager to move on—makes him suspect foul play. The subsequent autopsy proves that Tommy, who had Down syndrome but was otherwise healthy and happy, was indeed murdered. Fossum explores the aftershocks of the boy's death for Carmen and Nicolai in a riveting tale that's more psychological study than police procedural."--Publishers Weekly, STARRED

"Norway's Inspector Konrad Sejer, back from his hiatus (I Can See in the Dark, 2014, etc.) and feeling his mortality more acutely than ever, leads the inquiry into the death of a toddler with Down syndrome. It might not even seem like a suspicious death. Carmen Cesilie Zita, whose father owns the fast-food place where her husband, Nicolai Brandt, works, has gone and left their 16-month-old son, Tommy, alone in the room (Nicolai's in the basement repairing a bicycle) just long enough for him to stagger outside and tumble into a pond 50 meters away. But Sejer's friend and colleague Jacob Skarre thinks there's something off about Carmen, who weeps copiously but seems curiously detached and eager to get on with her life, getting rid of all Tommy's clothing and furniture with undue haste and asking Nicolai if they can get a dog now. The grieving father tells Sejer, "that's just how she is all the time….She's just pretending." There's little enough the police can do with a witness so artlessly determined to shrug them off, and readers who've followed Sejer's cases will know better than to expect a triumph of sweetness and light. Instead, they'll be asked to agonize along with Tommy's parents about whether it would have been better if Carmen had had an abortion and asked to hope along with Sejer that he isn't quite as decrepit as his mysterious spells of dizziness would suggest. Minimalist but compelling work from the author who seems to have inherited the late Ruth Rendell's gift of spinning the darkest complications out of what might seem like nothing at all."--Kirkus Reviews
Mariner Books, 9780544704848, 240pp.
Publication Date: August 9, 2016
About the Author
KARIN FOSSUM is the author of the internationally successful Inspector Konrad Sejer crime series. Her recent honors include a Gumshoe Award and the Los Angeles Times Book Prize for mystery/thriller. She lives in Norway.