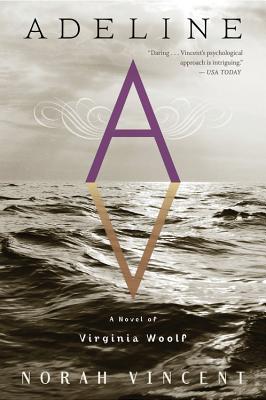 Adeline (Paperback)
A Novel of Virginia Woolf
Mariner Books, 9780544704855, 288pp.
Publication Date: April 12, 2016
Other Editions of This Title:
Digital Audiobook (4/6/2015)
Hardcover (4/7/2015)
MP3 CD (4/7/2015)
Compact Disc (4/7/2015)
* Individual store prices may vary.
Description
"Daring . . . Vincent's psychological approach is intriguing." — USA Today

"Vincent is a sensitive recorder of a mind's movements as it shifts in and out of inspiration, and as it fights before submitting to despair." — New York Times Book Review
With poetic precision and psychological acuity, Norah Vincent's
Adeline
reimagines the events that brought Woolf to the banks of the River Ouse, offering us a denouement worthy of its protaganist. Channeling Virginia and Leonard Woolf, T. S. and Vivienne Eliot, Lytton Strachey, and Dora Carrington, Vincent lays bare their genius and their blind spots, their achievements and their failings, from the inside out. And haunting every page is Adeline, the name given to Virginia Stephen at birth, which becomes the source of Virginia's greatest consolation, and her greatest torment.
Intellectually and emotionally disarming,
Adeline—
a vibrant portrait of Woolf and her social circle, the storied Bloomsbury group, and a window into the darkness that both inspired and doomed them all—is a masterpiece in its own right by one of our most brilliant and daring writers.
"Skillfully rendered and emotionally insightful." — Publishers Weekly

"[An] electrifyingly good novel . . . by a master of discomfort." — New Statesman
About the Author
NORAH VINCENT is the New York Times best-selling author of Self-Made Man, as well as two other books. Formerly an op-ed columnist for the Los Angeles Times, she has also contributed regularly to Salon, the Advocate, and the Village Voice. She lives in New York City.
Praise For Adeline: A Novel of Virginia Woolf…
"Skillfully rendered and emotionally insightful." — Publishers Weekly

"Vincent is a sensitive recorder of a mind's movements as it shifts in and out of inspiration, and as it fights before submitting to despair." — Carlene Bauer, New York Times Book Review

"Adeline is a moving . . . portrait of what it means to be brilliant and tormented. Understanding Woolf's darkness is as difficult as understanding some of her work, but Vincent rises to the challenge, creating something beautiful in the process." — City Journal

"Daring . . . [Vincent's] psychological approach is intriguing." — USA Today 

"Readers in search of a crash course on the Bloomsbury circle and the machinations of Woolf's fevered mind will appreciate Vincent's attempts to illuminate both, but her dark portrait of Woolf's agonizing journey through a life marked by psychic pain will hold the most appeal for those already familiar with this sad story of genius and madness." — Kirkus Reviews

"[An] electrifyingly good novel . . . by a master of discomfort." — New Statesman

"Norah Vincent's new novel, Adeline, is a bold portrait of Virginia Woolf from her conception of To the Lighthouse in 1925 to her suicide in 1941 . . . The reader comes to understand Virginia's complex artistic process and her lifelong struggle with mental illness." — Historical Novel Society

"Adeline is an intimate portrait of a sister, a wife, a woman, and most importantly, an artist. In this vivid, deeply moving novel, Vincent brings us beyond the world of legend directly into the passions, the struggles, the ambitions, and finally the genius that is Virginia Woolf."— Alison Smith, author of Name All the Animals

"Adeline deftly walks the fine line between story and scholarship—an entirely fresh reading of Woolf's work, brought alive by a writer of considerable imagination, insight, and skill." — Marya Hornbacher, author of Wasted and Madness
 
"Spare, exacting, deeply imagined, Adeline brings us as close as we are likely to get to the secret negotiations that fed Woolf's art." — Kathleen Hill, author of Who Occupies This House
 
"Adeline is a singular feat of the creative imagination in which the reader is taken inside the consciousness of a major artist in a way that is both completely believable and commandingly compelling. It is wholly worthy of its great subject." — Terry Teachout, author of Duke: A Life of Duke Ellington
Virginia's alter ego, Adeline, appears twice in the novel, at the beginning (p. 18) and at the end (p. 277), though Virginia thinks of her often when talking with others. What purpose does Adeline, as a narrative device, serve in this book? Why do you think Vincent chose to create this kind of character?
When we first meet Adeline, she describes an incident that took place when Virginia was a child, when she appeared to have a kind of seizure witnessed by a visiting mathematician named Wolstenholme (p. 21). How does this story set the tone for the rest of the novel? Do you see a parallel between Adeline's tale and Virginia's later experiences as an adult?
How do you interpret Leonard's relationship with Virginia? He is her caretaker, editor, creative partner, and intellectual sparring partner; sex has never been a part of their marriage, though Virginia has had an affair with Vita Sackville-West. Do you see theirs as an equal partnership? Do you think that either one is being taken advantage of?
In her long conversation with her friend Lytton Strachey (p. 91-107), Virginia offers a criticism of his biographical work and of biography in general as a method of capturing reality, even with the insights of Sigmund Freud. She says, "Fiction is all there is, and all of my fiction has been, more or less, the stories of real people's lives" (pg. 106). Do you agree with her assessment of the limitations of biography? How well do you think this particular work of biographical fiction succeeds in representing its subject's reality?
In "Early March 1932," Virginia and Leonard visit Dora Carrington, who is mourning the recent death of Lytton and has become suicidal. Virginia and Carrington have a conversation about suicide that foreshadows Virginia's own decision a decade later. What is Virginia's attitude towards Carrington's emotional state? How does it differ from how she defines her own state of mind when she is deeply depressed?
The novel presents us with key figures from Virginia's life and gives us a nuanced picture of each: Nessa, her patient and protective older sister, Leonard, her devoted husband, her dryly affectionate friend Lytton, the sage-like Yeats, and finally her practical, frustrated doctor Octavia Wilberforce. Among these, who did you find the most sympathetic as a character?
Virginia's conversation with her doctor Octavia can be seen as a disquisition on the arguments for and against suicide for a person suffering from mental illness. Did you find yourself agreeing more with Octavia or Virginia?
In "October 1934" Virginia has an intimate, intellectually stimulating conversation with the poet W. B. Yeats (p. 173-187), during which he expounds on his theories of "waves." What was the significance of this conversation, in your opinion. Do you think Yeats (as a character in Norah Vincent's work) understands the extremes Virginia experiences?
At several points throughout the novel Virginia reflects on her childlessness. The convention of her time insisted that motherhood was essential to women's happiness, but Virginia and Leonard clearly believe that it would be unsafe, given her fragile health, to have children, and also that for many members of the Bloomsbury group their creative output was the legacy they left the world. Do you think Virginia regrets not having children or wishes that she safely could have? Or is she relieved that it was deemed impossible?
Today, Virginia Woolf would probably be diagnosed with bipolar disorder. How do you think her life would differ if she were living now?
The last line of the novel contains a reference to the Greek philosopher Heraclitus who wrote, "No man ever steps into the same river twice, for it's not the same river and it's not the same man." What do the words "never twice," spoken by Virginia as she steps into the river to drown herself, mean to you in this context?