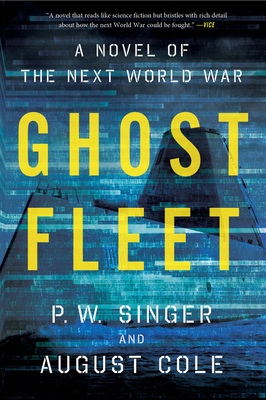 Ghost Fleet
A Novel of the Next World War
Paperback

* Individual store prices may vary.
Other Editions of This Title:
Digital Audiobook (6/29/2015)
Compact Disc (6/30/2015)
Hardcover (6/30/2015)
Description
"A novel that reads like science fiction but bristles with rich detail about how the next World War could be fought." —Vice

"A modern-day successor to tomes such as The Hunt for Red October from the late Tom Clancy." –USA Today
 
What Will World War III Look Like?
 
Ghost Fleet is a page-turning imagining of a war set in the not-too-distant future. Navy captains battle through a modern-day Pearl Harbor; fighter pilots duel with stealthy drones; teenage hackers fight in digital playgrounds; Silicon Valley billionaires mobilize for cyber-war; and a serial killer carries out her own vendetta. Ultimately, victory will depend on who can best blend the lessons of the past with the weapons of the future. But what makes the story even more notable is that every trend and technology in book—no matter how sci-fi it may seem—is real.
 
The debut novel by two leading experts on the cutting edge of national security, Ghost Fleet has drawn praise as a new kind of technothriller while also becoming the new "must-read" for military leaders around the world.
 
"A wild book, a real page-turner."—The Economist
 
"Ghost Fleet is a thrilling trip through a terrifyingly plausible tomorrow. This is not just an excellent book, but an excellent book by those who know what they are talking about. Prepare to lose some sleep."—D. B. Weiss, writer of HBO's Game of Thrones
 
"It's exciting, but it's terrifying at the same time."—General Robert Neller, commandant of the U.S. Marine Corps
 
Praise For Ghost Fleet: A Novel of the Next World War…
"Ghost Fleet is what Call of Duty would be like if it put on a tie and went to Capitol Hill."--Playboy "A harrowing, realistic future of world war...Ghost Fleet also comes with hundreds of footnotes explaining how every single military technology, 'sci-fi' weapon and geopolitical trend mentioned in the book is grounded in reality. That's why, rather than simply a good read, Ghost Fleet can come across as a 400-page warning."--Wired "Ghost Fleet brings back memories of Tom Clancy's technical savvy with the human touch of Herman Wouk."--Max Brooks "If you've been looking for a smart update to Tom Clancy, this is for you." —Foreign Policy "When two experts on modern warfare get together to write fiction I get in line to read it...summer is fading fast and August approaches. Get Ghost Fleet to read on the beach."--Forbes "Its often jaw-dropping explorations of how new technologies might be used should make this book required reading for all military personnel...Ghost Fleet is the best techno-thriller since Red Storm Rising."--War on The Rocks "A ripped from the headlines novel about war that's just around the corner...Exciting."--Buzzfeed "If colleges ever decide to offer courses on first-person shooter video games like Call of Duty and Battlefield, they should use the novel Ghost Fleet as the primary textbook."--Forbes "It's easy to see why "Ghost Fleet" has captured the imaginations of foreign policy experts in the U.S. and abroad. The techno-thriller, by P.W. Singer and August Cole, not only tells a crackling-good story but also casts light on the warnings that have come from many quarters about the risks of offshoring U.S. defense procurement....A perfect summer read. If what you like is edge-of-the-seat action, you'll have trouble putting it down. And even if thrillers aren't your thing, the book will well repay a read, if only for the disturbing questions it raises."--BloombergView "Ghost Fleet is a strangely satisfying blend of storytelling and strategy, of fiction and non-fiction. In an era where most people prefer not to think about all the horrible things that could go wrong in the world, it's good to know that there are writers like Singer and Cole who not only think about them, but also do so in a readable and enjoyable style."--Huffington Post "Beyond fast and fun reading, Ghost Fleet's biggest draw is its unified, multi-domain vision of future warfare...the result is a vibrant vision of conflict in the information age—and hopefully the closest we'll get to the real thing."--Business Insider "A highly realistic portrayal...a tremendous book"--Defense News "The First 'Post Snowden' Technothriller"--the Intercept "Fascinating...Though it is fiction, the authors have taken great pains to keep their storytelling realistic....Ghost Fleet has a certain weight. Cole and Singer are so steeped in future wars that they depict the fighting — on the ground, in space and on the Internet –with an air of indisputable authority....Ghost Fleet is full of wonderful moments. It's got space pirates, drug-addled hackers out of a William Gibson novel and American insurgents fighting occupation in Hawaii. Cole and Singer make these fantastical elements work, and weave them into the story."--Reuters "Its like the Battlestar Galactica reboot meets Band of Brothers meets Hunt for Red October meets Call of Duty."--Yahoo! News "A novel
William Morrow Paperbacks, 9780544705050, 416pp.
Publication Date: May 24, 2016
About the Author
P. W. SINGER is an expert on twenty-first-century warfare. His award-winning nonfiction books include the New York Times bestseller Wired for War.
AUGUST COLE is a writer and analyst specializing in national security issues and a former defense industry reporter for the Wall Street Journal.