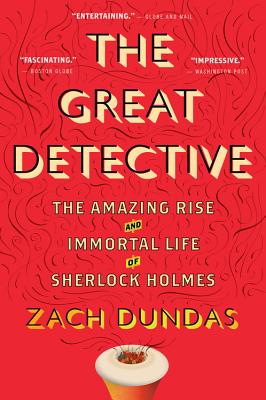 The Great Detective (Paperback)
The Amazing Rise and Immortal Life of Sherlock Holmes
Mariner Books, 9780544705210, 336pp.
Publication Date: June 14, 2016
Other Editions of This Title:
Hardcover (6/2/2015)
* Individual store prices may vary.
Description
"Fascinating." — Boston Globe

"Entertaining." — Globe and Mail

"Impressive." — Washington Post

"For all who enjoy the company of Sherlock Holmes, in any of his many forms, reading Dundas's book will be hours well spent." — Los Angeles Review of Books

More than a century after Sherlock Holmes first capered into our world, Arthur Conan Doyle's peculiar creation continues to fascinate us, and in The Great Detective, journalist and lifelong Sherlock fan Zach Dundas sets out to learn why. Through sparkling new readings of the original stories, he unearths the inspirations behind Holmes and his indispensable companion, Dr. John Watson, and reveals how Conan Doyle's tales laid the groundwork for an infinitely remixable myth. This investigation leads Dundas on travels into the heart of the Holmesian universe, from a Fifth Avenue mansion and the boozy annual gathering of one of the world's most exclusive Sherlock fan societies; to a freezing Devon heath out of The Hound of the Baskervilles; to sunny Pasadena, where Dundas chats with the creators of the BBC's Sherlock and finagles a cameo appearance by Benedict Cumberbatch himself. Along the way, Dundas discovers and celebrates the ingredients that have made Holmes go viral — then, now, and as long as the game's afoot.

"[A] sprightly, riveting exploration." — Mental Floss

"Incisive, well informed, and slyly witty (like Holmes himself)." — Shelf Awareness, starred review
About the Author
ZACH DUNDAS is co-executive editor of Portland Monthly magazine, a longtime journalist, and the author of The Renegade Sportsman.He is a member of the Sherlock Holmes Society of London and the Diogenes Club.
Praise For The Great Detective: The Amazing Rise and Immortal Life of Sherlock Holmes…
A Los Angeles Times Summer Reading Selection

"For even the casual fan, the history of this deathless character is fascinating. Dundas does a fine job of tracing the roots of Holmes . . . [and] writes in a jovial, casual way that invites the reader to take part." — Boston Globe

"Find[s] fresh ground . . . [Dundas's] scholarship is impressive . . . He's an amiable guide, placing more than a century of Sherlockiana into an appealing, modern frame." — Daniel Stashower, Washington Post

"Dundas weaves fascinating parallel histories of Holmes as literary creation, Holmes as broader cultural phenomenon, and the character's larger-than-life creator, Sir Arthur Conan Doyle . . . Incisive, well-informed, and slyly witty (like Holmes himself), Dundas's book provides entertaining and irrefutable evidence that the game is still—and is likely to remain—afoot." — Shelf Awareness, starred review

"The author of this wonderful book has crammed it with enough research — Holmesean, Watsonian, Doylean — to bulge the seams . . . [But] Dundas's matey writing style makes the details easy to absorb . . . A delight for Baker Streeters." — Booklist, starred review

"A lively look at the enduring detective . . .  A cheerful romp . . . A bright read for Sherlock's fans." — Kirkus Reviews

"Sherlock Holmes means different things to different people: to die-hard readers, Sir Arthur Conan Doyle's original (who cracked his first case in 1887); to older filmgoers, Basil Rathbone and Peter Cushing; to children of the 1970s and pretty much no one else, Nicol Williamson and Robert Stephens; and to younger fans, Robert Downey, Jr. and Benedict Cumberbatch. All of them turn up in The Great Detective, in which Zach Dundas traces Sherlock's evergreen celebrity. Such is Dundas's enthusiasm that one almost forgets Doyle's wary role in the legend. The author's resigned response to an extraordinarily rich $45,000 offer from Collier's Weekly to resurrect Holmes in 1903: 'Very well.'" — Vanity Fair

"The game is afoot! Like Sherlock Holmes himself, Dundas's pursuit of his quarry spans centuries, genres, and continents—and it's a delightful journey into the mythology and meaning of an icon that everyone knows, many are obsessed by, and nobody has ever quite topped." — Paul Collins, author of The Murder of the Century and NPR's Weekend Edition "literary detective"

"The Great Detective is a moving study, capturing as I've never before seen our interest in the quintessential sleuth and his stalwart biographer. Sherlock Holmes will never fade, and this book proves it." — Lyndsay Faye, author of Dust and Shadow: An Account of the Ripper Killings by Dr. John H. Watson

"Sherlock Holmes is both immortal and immaterial—and the inspired deductions and ratiocinations of Zach Dundas bring us closer to understanding why we've spent over a hundred years trying to claim Doyle's detective from the fictional world and give him a home in our own. The best and wisest Holmes book that I have ever known." — Matthew Sweet, author of Inventing the Victorians