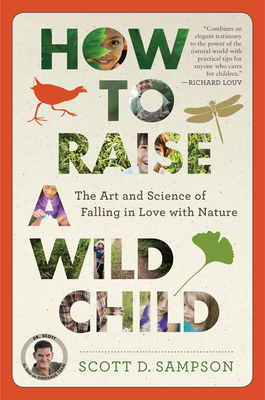 How to Raise a Wild Child (Paperback)
The Art and Science of Falling in Love with Nature
Mariner Books, 9780544705296, 352pp.
Publication Date: June 21, 2016
Other Editions of This Title:
Hardcover (3/24/2015)
* Individual store prices may vary.
Description
"This timely, significant work carries a far-reaching message for families and the planet."—Publishers Weekly 

"In a time when the connection between humans and the rest of nature is most vulnerable, Scott offers parents and teachers a book of encouragement and knowledge, and to children, the priceless gift of wonder."—Richard Louv, author of Last Child in the Woods and The Nature Principle
 
The average North American child now spends about seven hours a day staring at screens and mere minutes engaged in unstructured play outdoors. Yet recent research indicates that experiences in nature are essential for healthy growth. Regular exposure to nature can help relieve stress, depression, and attention deficits. It can reduce bullying, combat obesity, and boost academic scores. Most critical of all, abundant time in natural settings seems to yield long-term benefits in kids' cognitive, emotional, and social development. How to Raise a Wild Child is a timely and engaging antidote, offering teachers, parents, and other caregivers the necessary tools to engender a meaningful, lasting connection between children and the natural world.
 
"With wisdom, intellect, and empathy, [Sampson] provides us with a bounty of simple yet profound ways we can enter this natural world, oftentimes starting in our very own backyards."—Lili Taylor, actor, mom, and board member of the American Birding Association
 
"[Sampson] makes a cogent case for the importance of cultivating a 'nature connection' in children and offers thoughtful guidance on how to do so amid today's pressures of hectic, high-tech, increasingly urbanized life."—Scientific American MIND
About the Author
SCOTT SAMPSON is a dinosaur paleontologist and science communicator. He serves as vice president of research and collections at the Denver Museum of Nature and Science and, as "Dr. Scott the Paleontologist," hosts the PBS KIDS television series Dinosaur Train.
Praise For How to Raise a Wild Child: The Art and Science of Falling in Love with Nature…
"Scott Sampson is one of the leaders of the emerging new nature movement, which places great focus on human health and well-being, particularly for children. In How to Raise a Wild Child, he combines an elegant testimony to the power of the natural world with practical tips for anyone who cares for children. In a time when the connection between humans and the rest of nature is most vulnerable, Scott offers parents and teachers a book of encouragement and knowledge, and to children, the priceless gift of wonder." — Richard Louv, author of Last Child in the Woods and The Nature Principle
 
"We all know by now that nature is good for kids, but crossing the threshold into the natural world can seem daunting and overwhelming. Don't despair, because Scott Sampson has provided us with an instruction manual on how to help our children fall in love with nature. With wisdom, intellect, and empathy, he provides us with a bounty of simple yet profound ways we can enter this natural world, oftentimes starting in our very own backyards. And if we can take the first step of simply going outside with them, he will help us with the rest." — Lili Taylor, actor, mom, and board member of the American Birding Association

"Scott Sampson makes a powerful case that connecting people with nature is one of the most pressing issues of our time. Becoming a nature mentor to the kids in our lives is critical not just for the health of youngsters, but also for the places we love and live in. In the end, saving nature—indeed, navigating a sustainable path into the future—demands that we find paths to help kids connect and fall in love with nature. With How to Raise a Wild Child, Sampson offers us a map to help us on this journey. And the best part is that we're going to have a lot of fun along the way!" — Dr. M. Sanjayan, host of PBS's Earth: A New Wild and senior scientist and executive vice president at Conservation International