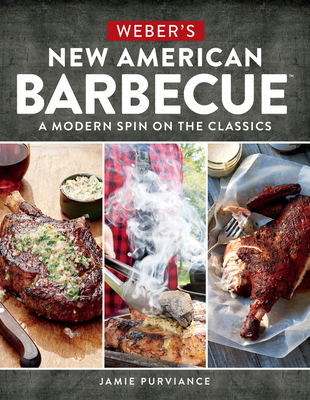 Weber's New American Barbecue™
A Modern Spin on the Classics
Paperback

* Individual store prices may vary.
Description
From the most trusted name in grilling, the new definitive guide that that blends traditional techniques and modern recipes

To define American barbecue as "ribs and roasts cooked low and slow in the Southern style" doesn't do it justice. Traditional barbecue, in all its delicious glory, is a foundation—an idea to be built upon. And all across the country, home grillers and restaurant chefs alike are doing just that. In this big melting-pot of a nation, we all bring something different to the table—flavors, spices, perspectives—and each time we do, the meaning of barbecue changes a little.

Through stories and essays, hundreds of photos, crystal-clear techniques, and 100 exceptional and fool-proof recipes, Weber's New American Barbecue™ celebrates what's happening at the grill today. From chefs creating new classics to everyday backyard heroes melding flavors to pitmasters setting new standards of excellence at competitions, this book explores the delicious evolution of our true American pastime—barbecue.

Praise For Weber's New American Barbecue™: A Modern Spin on the Classics…
"Summer means grilling and, just as often as not, a new book on outdoor cooking by Jamie Purviance for the Weber-Stephen Products, makers of the iconic Weber kettle grill. "New" is emphasized here, in essays on Chicago's evolving barbecue restaurant scene, the South's "Nouveau 'Cue" chefs and Korean barbecue of Los Angeles. The recipes are as global as America today: Chicken thighs with a sweet apricot-hoisin sauce are followed by thighs with a black cherry barbecue sauce and then a thigh and sausage gumbo. Purviance cleverly uses the grill at multiple points in a recipe. A warm artichoke dip, for example, calls for grilling the artichoke hearts and then baking the dip in a cast-iron skillet on the grill." —The Chicago Tribune "Rather than rehashing barbecue recipes that have already been done to death, Purviance sought out fresh takes on cooking meat with fire. There's hardcore Southern barbecue in there like beef ribs from Wayne Mueller and brisket fundamentals from Aaron Franklin, but there's plenty of grilling too (it is from Weber, after all). It's nice to get more than a couple recipes for grilled and smoked seafood, and this book delivers there, but the best thing is that these recipes all have an originality to them. There are no throwaway recipes in here." —Daniel Vaughn, Texas Monthly BBQ "Using essays, stories, photos, and 100 recipes, New American Barbecue's goal is to take barbecue beyond its Southern tradition of long, slow cooking of ribs and roasts and puish it into new territory. Purviance values barbecue's heritage, but he sees it as a foundation to be expanded on by chefs, suburban pitmasters, and even urbanites through spices, flavors, and other innovations. The book lays this out in ample detail, with easy-to-follow recipes and sumptuous photography. The history of barbecue is celerated succinctly and beautifully, but New American Barbecue isn't about the past. It's about opening up new possibilities for any amateur chef. And it does that very well."—Smooth magazine —
Harvest, 9780544715271, 304pp.
Publication Date: May 3, 2016
About the Author
JAMIE PURVIANCE is one of America's top grilling experts and Weber's master griller. He graduated from Stanford University and the Culinary Institute of America before launching a career as a food writer for publications such as Bon Appetit, Better Homes and Gardens, Fine Cooking, Town & Country, and the Los Angeles Times. He is the author of numerous cookbooks including Weber's Way to Grill, a James Beard Award nominee and New York Times best seller. Purviance has appeared as a grilling authority on numerous television shows including Today, The Early Show, Good Morning America, and The Oprah Winfrey Show. He lives in Sacramento, California.

WEBER GRILL: The year was 1952. Weber Brothers Metal Works employee George Stephen Sr. had a crazy idea. Using as a model the marine buoys made by his company, he concocted a funky dome-shaped grill with a lid to protect food and keep in rich barbecue flavor. From those humble beginnings, an international grilling revolution was born. Today, Weber has grown to become the leading brand of charcoal and gas grills and accessories, and George's kettle has become a backyard icon.