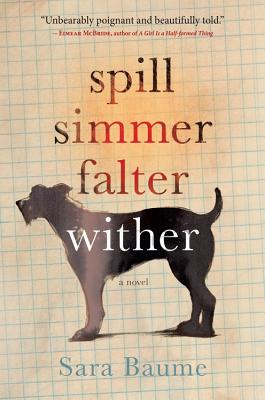 Spill Simmer Falter Wither
Hardcover

* Individual store prices may vary.
Other Editions of This Title:
Paperback (3/14/2017)
MP3 CD (6/7/2016)
Hardcover, Large Print (9/21/2016)
March 2016 Indie Next List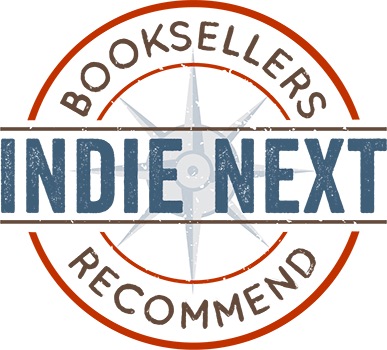 "Baume's debut novel is a heartbreaking story of loneliness and friendship, depression and pure joy, as revealed through the relationship between a man and the dog he rescues. Baume's transcendent use of language and utterly original voice had me stopping to read whole sentences -- even entire paragraphs -- aloud. Spill Simmer Falter Wither is an amazing achievement by a writer who makes her work seem effortless."
— Mary Wolf (M), Collected Works Bookstore & Coffeehouse, Santa Fe, NM
View the List
Description
A debut novel already praised as "unbearably poignant and beautifully told" (Eimear McBride) this captivating story follows — over the course of four seasons — a misfit man who adopts a misfit dog.
It is springtime, and two outcasts — a man ignored, even shunned by his village, and the one-eyed dog he takes into his quiet, tightly shuttered life — find each other, by accident or fate, and forge an unlikely connection. As their friendship grows, their small, seaside town suddenly takes note of them, falsely perceiving menace where there is only mishap; the unlikely duo must take to the road. 
Gorgeously written in poetic and mesmerizing prose, Spill Simmer Falter Wither has already garnered wild support in its native Ireland, where the Irish Times pointed to Baume's "astonishing power with language" and praised it as "a novel bursting with brio, braggadocio and bite." It is also a moving depiction of how — over the four seasons echoed in the title — a relationship between fellow damaged creatures can bring them both comfort. One of those rare stories that utterly, completely imagines its way into a life most of us would never see, it transforms us not only in our understanding of the world, but also of ourselves.
Praise For Spill Simmer Falter Wither…
Winner of the Rooney Prize for Irish Literature for 2015
Winner of theSunday Independent Newcomer of the Year Award (Bord Gáis Energy Irish Book Awards 2015)
Winner of the Geoffrey Faber Memorial Prize​
Finalist for the LA Times Book Prize—Art Seidenbaum Award for First Fiction
Short-listed for the Costa First Novel Award
Long-listed for the Desmond Elliott Prize 
Long-listed for The Guardian First Book Award 2015, A Readers' Choice
Long-listed for the Warwick Prize for Writing 2015
Long-listed for 2015 Edinburgh First Novel Award
​Nominated for the International Dublin Literary Award 2017
One of NPR's "Best Books of 2016"
One of the Wall Street Journal's "Best Books of 2016"
Barnes & Noble Spring 2016 Discover Great New Writers
March 2016 Indie Next Pick
2016 Winter/Spring Indies Introduce Pick

"A tour de force.... No writer since JM Coetzee or Cormac McCarthy has written about an animal with such intensity. This is a novel bursting with brio, braggadocio and bite. Again and again it wows you with its ambition…At its heart is a touching and inspiriting sense of empathy, that rarest but most human of traits. Boundaries melt, other hearts become knowable…This book is a stunning and wonderful achievement by a writer touched by greatness."—Joseph O'Connor, for The Irish Times

"This book is like a flame in daylight: beautiful and unexpected. It packs a big effect for something that seems so slight, and almost hard to see."—Anne Enright

"Unbearably poignant and beautifully told."—Eimear McBride, author of A Girl is a Half-formed Thing

"For language that sounds like music, there's Sara Baume's Spill Simmer Falter Wither, about a lonely Irish outcast and his one-eyed rescue dog."—Anne Tyler, New York Times Book Review, "The Year in Reading"

"A deeply attuned portrait of the human mind…An unsettling literary surprise of the best sort. This first novel's voice is singular in its humility and imaginative range…Baume's novel revels in aesthetic leaps and dives, embracing the poetry of sensory experience in all its baffling beauty from the title onward…Baume's prose makes sure we look and listen. Her book insists we take notice."—The Atlantic

"[Baume] has a way with words...As you sink into the rhythms of Baume's prose, you can almost smell the salt air and feel the sting of a small town that can be unforgiving to those who are different."—NPR, "Best Books of 2016"

"Lonely man adopts unloved dog and both their lives are changed: You've heard this story before, but you've never seen it described with such transfiguring beauty and intensity. Sara Baume does with language what the dog does for her wayward loner of a hero: She makes the world appear new."—Wall Street Journal, "The 20 Books That Defined Our Year – The Best Fiction and Nonfiction of 2016"

"Extraordinary . . . Spill Simmer Falter Wither is a heartbreaking read, and heralds Baume as a major new talent." —Independent on Sunday

"A deft and moving debut...To capture this constrained setting and quiet character requires specific skills, which Baume has in spades...It's not easy to tell such a sparse tale, to be so economic with story, but the book hums with its own distinctiveness, presenting in singing prose an unforgettable landscape peopled by two unlikely Beckettian wanderers, where hope is not yet lost."—The Guardian

"A man-and-his-dog story like no other."—San Francisco Chronicle, "Recommendations from Book Passage"

"[A] lovely book…destined to become a small classic of animal communion literature."—Wall Street Journal

"Captivating...Rich with incident and gorgeously depicted through Baume's precise, lapidary prose...[Baume] displays wisdom beyond her years in this compassionate tale."—BookPage

"[Baume's] rhythmic, intimate prose abounds with startling sights, smells and sounds...[Her] sympathy for her 'wonkety' characters is infectious and their relationship – in all its drama and ordinariness – beautifully conveyed. Places and smells, plants and animals are conjured with loving attention, the narrative propelled by a striking linguistic intensity...Baume's capacity for wonder turns this portrait of an unusual friendship into a powerful meditation on humanity."—New Statesman

"Sara Baume is a novelist to watch."—Daily Mail

"Ambitious and impressive . . . Baume's engaging, intriguing and brightly original first novel may mark a comparably significant debut."—Times Literary Supplement
 
"Told in splendid prose, with lyrical descriptions of the landscape, it's an involving story and possibly the best first novel to emerge from Ireland since Eimear McBride's debut."—The Herald UK

"One of the most quietly devastating books of the year…With Spill Simmer Falter Wither she has created a dark, tender portrait of what it's like to live life on the margins."—Sydney Morning Herald

"[A] joltingly original debut … Baume charts the growing dependency between these two stray souls with remarkable deftness and almost unbearable poignancy."—Mail on Sunday UK

"Sara Baume's exquisite debut has a simple plot: an outcast man and his dog One Eye take to the road in a ramshackle car and watch the world, weather and seasons change as they drive through the highways and byways of Ireland. But the prose is full of wonder, inventive, poetic and dazzling, concerned with the smallest detail of the natural landscape and the terrain of human emotion, as Baume heartbreakingly describes how an ordinary life can falter and stall."—Sunday Express UK, "The best books about memories, misfits and mysteries"

"[A] fine debut...Baume succeeds in reawakening her reader's capacity for wonder...so much so that the book and its one-eyed dog became companions I was loathe to leave."—Observer (The Guardian)

"A mesmerising debut."—Telegraph, Featured at #8 in the "Autumn Arts Preview"

"Every so often a book comes along that is so perfect it takes your breath away, and leaves your heart hammering with the beauty of the writing and the sadness of the story.  Sara Baume's debut, Spill Simmer Falter Wither, is such a book…Baume's prose is full of wonder – inventive, poetic and dazzling, concerned with the smallest details of the natural landscape and the terrains of human emotion.  Absolutely astounding."—Psychologies, "Book of the Month"

"A vivid debut that shows that Baume is a talent to keep an eye on…a sweepingly poetic and heartbreaking meditation on life after grief that I won't quickly forget."—Times Educational Supplement

"An important and quite brilliant new Irish writing talent."—Irish Independent

"An ambitious stylist with an astonishing eye for detail and a clear passion for language. But it is the beautifully measured control of plot and the authenticity of the narrative voice that most impresses."—Irish Examiner
 
"A subtle and powerful story about a man and his dog … Baume is in terrific control of her prose … her portrayal of her characters and her setting leap off the page … I look forward to whatever she writes next."—Big Issue UK

"A touching tale about a misfit man finding a misfit dog provides lots of opportunity for exploring what it is to be lonely and outcast, what friendship means, the nature of family."—Western Morning News (UK), "Best books to curl up with"

"A quietly wonderful book."—Good Housekeeping UK

"In a relentlessly inventive language that, it seems, can maneuver anywhere and describe anything, Baume's story of a man and his dog examines and elegizes the myriad strange, ramshackle, and ephemeral worlds locked deep inside the world. An exceptional, startling, and original book."—Colin Barrett, author of Young Skins
 
"Powerful, heartbreaking, told with great control. The writing is superb . . . I had an image of all language standing to attention, eager to serve this writer." —Mary Costello, author of Academy Street
 
"Touching and weird and sometimes comical and sometimes heartbreaking…Sad, Solid, Fragile, Witty."—Kjersti Skomsvold, author of The Faster I Walk, the Smaller I Am

"Elegant, heartbreaking, and inspiring. . . The lyric, lilting style of Baume's voice will endear even animal non-lovers to her thrilling and transformative story. With echoes of Mark Haddon's narrative style and a healthy dose of empathy for the lost and lonely among us, Spill Simmer Falter Wither is a superlative first novel."—Booklist, starred review

"The second novel by the award-winning author of Spill Simmer Falter Wither is as tender and luminous as her debut."—Mail on Sunday
 
"Baume's sophomore effort is a masterclass in the power of prose . . . A brilliant work that will likely resonate with anyone who's ever felt a little lost in their twenties and beyond."—The Herald
 
"This tour-de-force follow-up to Spill Simmer Falter Wither is a celebration of the extraordinary in the everyday, and Baume's prose elevates the ordinary and finds inspiration in the strange."—Irish Times
 
"This is an extraordinarily compelling novel in which nothing really happens but everything changes ... What makes it so gripping is that the reader is trapped in Frankie's mind as much as she is; every tiny detail is magnified into metaphysical significance that she cannot understand and that the reader cannot parse ... Almost every page has a sentence or an observation that made me wish I had a commonplace book to transcribe Frankie's - or Baume's - precisely opaque and fleeting thoughts."—Spectator
 
"[Baume's] vivid apprehension of the natural world connects to her appreciation of artworks and her mapping of the psyche, a sensibility that puts her in company with writers such as Melissa Harrison, Helen Macdonald and Olivia Laing ... [A Line Made by Walking is] a piece of raw invention."—Guardian 

"Baume's mixing of the visual arts and fiction is as satisfying as Ali Smith's … [A Line Made by Walking] is, beautifully, about finding accommodation with the ordinary … [Baume] deserves to feel wholly satisfied with this raw-nerved and wonderful novel."—New Statesman
 
"Baume has once again proven that even the smallest lives can unveil the biggest truths ... A Line Made by Walking may be a very sad, very quiet book, but it is an inexplicably powerful work of art."—Irish Independent
Houghton Mifflin Harcourt, 9780544716193, 288pp.
Publication Date: March 8, 2016
About the Author
SARA BAUME studied fine art before earning a master's in creative writing. Her first novel, Spill Simmer Falter Wither, won the Rooney Prize for Irish Literature, the Sunday Independent Newcomer of the Year Award, the Geoffrey Faber Memorial Prize, and was short-listed for the Costa First Novel Award. She is also the recipient of the Davy Byrnes Short Story Award and the Hennessy New Irish Writing Award, and lives in Cork, Ireland.
Coverage from NPR
or
Not Currently Available for Direct Purchase