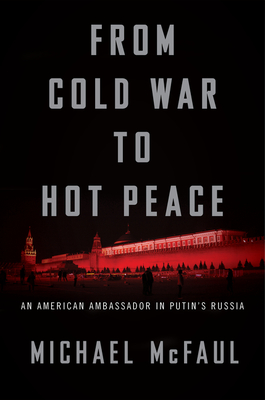 From Cold War To Hot Peace
An American Ambassador in Putin's Russia
Hardcover

* Individual store prices may vary.
Other Editions of This Title:
Digital Audiobook (6/11/2018)
Paperback (5/14/2019)
Compact Disc (6/12/2018)
MP3 CD (6/12/2018)
Compact Disc (6/12/2018)
Compact Disc (6/12/2018)
Description
NEW YORK TIMES BESTSELLER | From the diplomat Putin wants to interrogate—and has banned from Russia—comes a revelatory inside account of US-Russia relations across the three decades following the Cold War.
In 2008, when Michael McFaul was asked to leave his perch at Stanford and join an unlikely presidential campaign, he had no idea that he would find himself at the beating heart of one of today's most contentious and consequential international relationships.
As President Barack Obama's adviser on Russian affairs, McFaul helped craft the United States' policy known as "reset" that fostered new and unprecedented collaboration between the two countries. And then, as US ambassador to Russia from 2012 to 2014, he had a front-row seat when this fleeting, hopeful moment crumbled with Vladimir Putin's return to the presidency.
This riveting inside account combines history and memoir to tell the full story of US-Russia relations from the fall of the Soviet Union to the new rise of the hostile, paranoid Russian president. From the first days of McFaul's ambassadorship, the Kremlin actively sought to discredit and undermine him, hassling him with tactics that included dispatching protesters to his front gates, slandering him on state media, and tightly surveilling him, his staff, and his family.
From Cold War to Hot Peace is an essential account of the most consequential global confrontation of our time.
Praise For From Cold War To Hot Peace: An American Ambassador in Putin's Russia…
"A fascinating and timely account of the current crisis in the relationship between Russia and the United States."
— New York Times Book Review

 "McFaul succeeds, shedding needed light on the most geopolitically competitive relationship of the last 75 years and attempting to explain the 'why and what' of Russian interference in the 2016 presidential election."
— The Guardian

"Careful about providing evidence for his hard-earned opinions, [McFaul] is always clear and successfully assesses the level of complexity we lay-readers need to understand academic theories about revolutions and economics."
— Christian Science Monitor

"An invaluable memoir." 
— David Remnick  

"Vigorously argued." 
— Washington Post

"An expert political chronicle that often reads like a fast-paced thriller." 
— Booklist (starred review)

"Mike McFaul has lived history. In this terrific book, he recounts a pivotal time in U.S.-Russian relations, bringing the perspective of a central participant and one of America's finest scholars of Russian politics. This book will be valued by students, experts, historians and diplomats for years to come. It is a good read and an invaluable contribution at a crucial time."
— Condoleezza Rice, former Secretary of State under George W. Bush (2005-2009)

"[McFaul] provides useful insights into the changing relationship between America and Russia in this smart, personable mix of memoir and political analysis... an essential volume for those trying to understand one of the U.S.'s most significant current rivals." 
— Publishers Weekly

 "Of interest to observers of the unfolding constitutional crisis as well as of Russia's place in the international order."
— Kirkus Reviews

 "As both a first-hand observer and a key participant in many of the recent events that have shaped US-Russia relations, Ambassador McFaul has an important story to tell. From Cold War to Hot Peace is a gripping and intensely personal account of one of the most complex and consequential geopolitical developments of our time."
— Madeleine Albright, former Secretary of State under Bill Clinton (1997-2001)  

 "Mike McFaul gives us a broad, thoughtful analysis of a critical shift in world affairs. Read From Cold War to Hot Peace for timely, informative, and intriguing insights on changing US-Russia relations."
— George P. Shultz, former Secretary of State under Ronald Reagan (1982-1989)  


"This is an indispensable book for understanding the threat our country faces from Vladimir Putin's Russia. McFaul is a candid and insightful guide to the history, personalities, and politics that continue to shape one of America's most consequential relationships."
— Hillary Rodham Clinton, former Secretary of State under Barack Obama (2009-2013)
Mariner Books, 9780544716247, 528pp.
Publication Date: May 8, 2018
About the Author
MICHAEL McFAUL is professor of political science, director and senior fellow at the Freeman Spogli Institute for International Studies at Stanford University, and a senior fellow at the Hoover Institution. He served for five years in the Obama administration, first at the White House as special assistant to the president and senior director for Russian and Eurasian affairs at the National Security Council, then as U.S. ambassador to the Russian Federation. Dr. McFaul is also an analyst for NBC News and a contributing columnist to the Washington Post. He has authored or coauthored several books, including Russia's Unfinished Revolution: Political Change from Gorbachev to Putin. Dr. McFaul was born and raised in Montana. He received his B.A. in international relations and Slavic languages and his M.A. in Soviet and East European studies from Stanford University, then completed his D. Phil. in international relations at Oxford University as a Rhodes Scholar.
Coverage from NPR