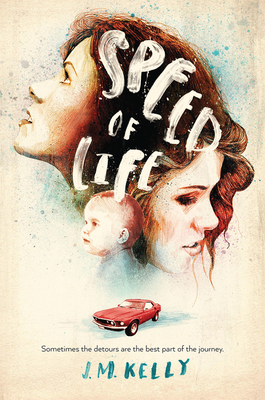 Speed of Life
Hardcover

* Individual store prices may vary.
Description
Twins Crystal and Amber have the same goal: to be the first in their family to graduate high school and make something of their lives. When one gets pregnant during their junior year, they promise to raise the baby together. It's not easy, but between their after-school jobs, they're scraping by.
     Crystal's grades catch the attention of the new guidance counselor, who tells her about a college that offers a degree in automotive restoration, perfect for the car buff she is. When she secretly applies—and gets in—new opportunities threaten their once-certain plans, and Crystal must make a choice: follow her dreams or stay behind and honor the promise she made to her sister.
 
Praise For Speed of Life…
"Kelly presents a realistic, yet hopeful, portrayal of teen pregnancy... the characters' struggles to rise up, discover their identities, and raise a baby remains emotional and utterly believable." — Booklist "...Crystal is a sympathetic and original protagonist, and readers hanging in for the possible revelation of secrets may be pleased to find more than expected." —Bulletin "...the book remains a believable portrait of blue-collar teens struggling to make it work against tough odds." —Publishers Weekly "The subject and the teen's efforts to succeed make this a good purchase for libraries, especially those looking for realistic fiction that addresses class disparity." —School Library Journal "Crystal's struggles with independence and identity are realistic and palpable. Feminist readers in particular will appreciate this strong young woman who doesn't conform to gender norms." —Kirkus "I loved this book. I wanted to invite Crystal and Amber over to my house where I could make them a nice dinner and then help them figure out their lives while we enjoyed pie. Speed of Life grabs ahold of your heart on page one and doesn't let go even after you've turned the final page." —Eileen Cook, author of With Malice   —
Clarion Books, 9780544747821, 352pp.
Publication Date: October 11, 2016
About the Author
J.M. Kelly loves the rain, which is good because she was born and raised in Portland. She spent her childhood with her nose in a book, often in the backseat of whatever old car her dad had at the time. She's worked as an actress, a Minor League Baseball souvenir hawker, Snow White at birthday parties, and various other not-so-odd jobs. Now she mostly writes novels, but she still dabbles in sketch comedy, nonfiction articles, and teaching writing to both kids and adults. She wrote and starred in a full-length play, along with her husband and his guitar.
or
Not Currently Available for Direct Purchase