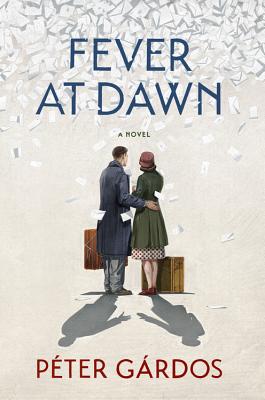 Fever at Dawn (Hardcover)
Houghton Mifflin Harcourt, 9780544769793, 240pp.
Publication Date: April 12, 2016
Other Editions of This Title:
Digital Audiobook (4/11/2016)
Paperback (4/18/2017)
Compact Disc (4/12/2016)
* Individual store prices may vary.
Description
In this improbably joyous novel about two recovering concentration camp survivors, love is the best medicine.
July 1945. Miklos is a twenty-five-year-old Hungarian who has survived the camps and has been brought to Sweden to convalesce. His doctor has just given him a death sentence — his lungs are filled with fluid and in six months he will be gone. But Miklos has other plans. He didn't survive the war only to drown from within, and so he wages war on his own fate. He acquires the names of the 117 Hungarian women also recovering in Sweden, and he writes a letter to each of them in his beautiful cursive hand. One of these women, he is sure, will become his wife. 
In another part of the country, Lili reads his letter and decides to write back. For the next few months, the two engage in a funny, absurd, hopeful epistolary dance. Eventually, they find a way to meet. 
Based on the true story of Péter Gárdos's parents, and drawn from their letters, Fever at Dawn is a vibrant, ribald, and unforgettable tale, showing the death-defying power of the human will to live and to love.
About the Author
PÉTER GÁRDOS is an award-winning Hungarian film director. Fever at Dawn is his first novel and is based on the true story of his parents.
 ELIZABETH SZÁSZ is a freelance literary translator based in Budapest.
Praise For Fever at Dawn…
"Fever at Dawn has the sweetness of The Rosie Project and the pathos of The Fault in our Stars. Better still, it is based on a true story, that of the author's parents who found love in the aftermath of the Holocaust and the horrors of World War II….Verdict: a book to fall in love with." —The Herald Sun

"On the surface Fever at Dawn may seem a harrowing tale of survival and suffering, but in this remarkable book the Holocaust merely provides the backdrop for the most improbable of true-life love stories….There is a timeless quality to Fever at Dawn, a kind of classical romanticism….Gardos's fascinating novel is sure to become a staple in book clubs." —The Australian
 
"Through this charming novel, the remarkable Miklós and Lili are immortalized — their pluck, their determination, their insistence on saying yes to life after so much death."—Minneapolis Star Tribune

"Will make you like life more when you've finished." —The Bookseller (UK)

"At once heartrending and lighthearted, this romance covers enormous ground in love and war, joy and tragedy, humor and pathos. Fever at Dawn, with its historical backdrop, will win over many readers."—Shelf Awareness, starred review

"A riveting and high-spirited journey from the brink of death toward life, a novel that asserts the power of love in a world newly devastated by unspeakable hate.  With courage, humor, and unfailing emotional honesty, Peter Gardos illuminates the incredible power of the human will—the drive not just to stay alive, but to fight for a life worth celebrating." —Julie Orringer, author of The Invisible Bridge

"Fever at Dawn belongs to the canon of extraordinary true stories about love and war and the power of letters. Dramatic, compassionate and deeply moving, this unforgettable story reminds us that the Holocaust is not only history it's a warning."—Jennifer Clement, author of Prayers for the Stolen
 
"The impossibly moving story of two damaged youths who forge from their amour fou a love that will light the decades ahead. With playfulness and charm, with iron conviction, Fever at Dawn will convince you that it's possible not only to survive the worst of human hell, but to transcend it."—Francisco Goldman, author of Say Her Name
 
"Books don't make me cry. Fever At Dawn did. Drawing you in with pathos and playful wit, it squeezes the heart with sorrow and leaves it expanded with joy and love."—Gabor Maté M.D., author of In the Realm of Hungry Ghosts

"A magnificent novel, tonally flawless, its humor defiant in the face of vast tragedy."—Joan London, author of Gilgamesh and The Good Parents
Discuss the author's decision to narrate the novel from Miklós's son's perspective. Why does the son narrate from his father's perspective? At what point do you know who the narrator's mother is? What kind of narrative distance does this create and how did it affect your reading?
The events of the novel are based on a true story. Did you know this before you started reading? If so, how did it affect your reading of the story? Why do you think the author chose to write this as a novel instead of as nonfiction?
Did you learn anything new historically from reading this novel? What surprised you?
Why did Miklós persist in writing his letters? What did they mean to him?
The opening chapter depicts "an army of women" on bicycles delivering freshly baked biscuits for the survivors arriving in Sweden. What other random acts of kindness are described in the novel? How do these contribute to the novel as a whole?
The author, Péter Gárdos, is also a filmmaker. Where could you see evidence of this in the writing?
The doctor gives Miklós very specific measures to guide him toward health: weight, temperature, X-ray results. How does this contrast with Miklós's nature as a poet? What does his temperature each morning come to mean to him — i.e., why is the novel called Fever at Dawn?
What are Miklós's politics before and after the war? Does Lili share these views? Do his fellow Hungarians or the Swedes? (Does it matter?)
Talk about the idea of hope. What does it do for Miklós and Lili? How does hope help (or harm) us as humans in such extreme situations? Are there any other stories of hope that this story reminded you of?
After Lili and Miklós finally meet, the author writes, "But they never spoke about certain important things. Neither then, nor later." Why do you think they both silently, but mutually, agreed to do this? What do you think avoiding these topics meant for them and their relationship?
Lili and Miklós each have their own group of friends whom they confide in about the letters. How did these friendships affect their letter-writing and relationship? And how were Lili and Miklós's friends influenced by their love story?
Why do you think Judit betrayed Lili to the rabbi? Why didn't she want Lili and Miklós to get together? Were you sympathetic to her at all? How do you think the traumatic events she's suffered affect her choices here? How did their experiences of the war change — or not — all of these characters?
What role do you think humor plays in Lili and Miklós's relationship?
or
Not Currently Available for Direct Purchase