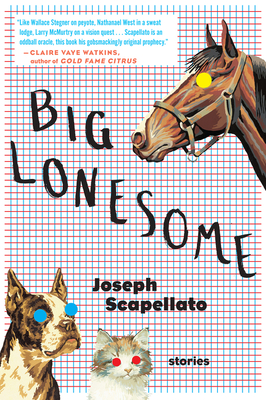 Big Lonesome
Paperback

* Individual store prices may vary.
Description
An inventive, ranging debut story collection from a writer hailed by Charles Yu as "a stunningly original voice—warm, bleak, dark, ecstatic, full of silences and power and life"

Reinventing a great American tradition through an absurdist, discerning eye, Joseph Scapellato uses these twenty-five stories to conjure worlds, themes, and characters who are at once unquestionably familiar and undeniably strange. Big Lonesome navigates through the American West—from the Old West to the modern-day West to the Midwest, from cowboys to mythical creatures to everything in between—exploring place, myth, masculinity, and what it means to be whole or to be broken. 
Though he works in the tradition of George Saunders and Patrick deWitt—writing subversive, surreal, and affecting stories that unveil the surprising inner lives of ordinary people and the mythic dimensions of our everyday lives—"Scapellato's Big Lonesome is unlike anything else you've ever read" (Robert Boswell).
Praise For Big Lonesome…
"Vividly recasting many Western archetypes, Scapellato's inventive, hallucinatory prose dazzles...Normally quotidian encounters become epic in Scapellato's worlds, and the sentences [...] exquisitely fashion routine encounters into much more...A timely dose of his absurdism could prove an antivenom to our problematic times."—New York Times Book Review 

"Rich with refined poeticism and imagination...Original and gripping, with several exceptional entries towards the end that reveal Scapellato as a masterful storyteller...Big Lonesome [is] a noteworthy collection cumulatively, [and its best stories] highlight the promise of Scapellato's next project."—PopMatters   

"Often amusing, thoughtful and poetic, Big Lonesome is a weird and wildly inventive collection of 25 uniquely imagined short stories focused on the mythologies of the American West and the archetypal nomadic characters who roam the vast, pockmarked, barren landscape...Affecting and utterly unique, Scapellato's absurd reimagining of the roughed-up, Stetson-wearing cowboy who once inhabited the American West will startle and surprise those accustomed to Western fiction. Big Lonesome is an impressive debut story collection by a canny, poetically talented storyteller."—Lancashire Evening Post

"The stories in the first section update the Western tall tale as post-modern trickster narrative. The spirit of Sut Lovingood, George Washington Harris's Old Southwestern version on Huck Finn, which inspired Twain and Faulkner, returns to disrupt rather than instruct. Whereas Sut concocted revenge pranks to satirize preachers, politicians, and other targets of regional scorn, Scapellato's unnamed cowboys raise their pistols to all before locking eyes on themselves...Scapellato's gift is to convey the collapse of his characters with the sparest language and thrift of detail...[He] defies genre expectation...The trajectory of redemption suggests Flannery O'Connor at her best."—Brooklyn Rail 

"Scapellato's first collection of short fiction means to bust the mythologies of the American West. In these 25 stories, Scapellato moves from the allegorical to the (almost) natural, traversing the territory with a fluid grace...Scapellato's debut is unpredictable, witty, and self-aware while remaining heartfelt in the most unexpected ways."—Kirkus Reviews

"Scapellato's refreshing stories engage at every point and are capped off with perfect endings. Scapellato is an exceptional surrealist, and he seems to have a firm handle on his own exuberance and quirkiness, his characters reminiscent of familiar archetypes but served with a twist. His subjects never wander far from cowboys, cowgirls, and the myths of the cinematic West. His short stories have a lean trajectory and economy. ..This debut collection is bracing and delightful."—Publishers Weekly

"These 25 stories range from the mythic and bizarre to the modern and incisively realistic...genre-blending."—Booklist

"Through a careful give and take between familiar imagery and surrealist flourishes, Joseph Scapellato's debut collection Big Lonesome is a subversive love letter to The Wild West...[with] a Saunders-like sense of compassion and empathy."—Various Small Flames

"Joseph Scapellato's collection is a lot of things: risky, honest, and romantic. Big Lonesome will turn your idea of the Western genre on its head, creating new thoughts, before turning again, and again. Cowboys and Indians and horses and the dust of the Old West and the New. And the weird. Especially the weird...We have a very vivid image of what the West was, and is, and seeing Scapellato tear down the walls of that reality was nothing short of beautiful. Many of the stories in this collection resemble scenes of those old Westerns like The Searchers, My Darling Clementine, and countless others we thought about in our televised dreams. It's hard to stop reading all of the stories due to their magnificently crafted hooks of first sentences. Scapellato wastes no time, there's a sense of urgency to get us to the heart of every story. In a collection solely dedicated to the old frontier, Scapellato impresses by drawing us into this world again and again... All of these stories hit different nerves...It would be easy to make some kind of Westworld reference here, as it is fresh in the collective mind. But I'd argue that Big Lonesome does it better—it has a pulse here...Scapellato brings the best of the genre and pumps Hulk inspired gamma radiation into every line...Big Lonesome is something we should read with open eyes and a fresh imagination. It might just get us through the day. I sure hope it can."—Heavy Feather Review

"A stunningly original voice—warm, bleak, dark, ecstatic, full of silences and power and life. This collection will stay with me for good, and I'll be eagerly awaiting Scapellato's next book."—Charles Yu, author of Sorry Please Thank You 
 
"In his brilliant, heartbreaking debut story collection, Big Lonesome, Joseph Scapellato offers up the only kind of cowboy I hunger for: mythic and flawed and nameless and timeless and horribly, unsettlingly modern. These stories are fantastic."—Manuel Gonzales, author of The Regional Office is Under Attack!

"The range of virtuosity that Joseph Scapellato displays in Big Lonesome is simply astonishing. You want dazzling wordplay? It's here. You want the Old West and the New West, and tales that make myths, break myths, and mock myths? They're here. You want straightforward, realistic fiction in the form of a heart-breaking death-of-love story? Here. A desert race-for-life adventure? Here. So cinch your saddle tight and keep a firm hold on the reins—Big Lonesome is a hell of a ride."—Larry Watson, author of Montana 1948

"If this is what the future sounds like, we have something to celebrate, after all. Joseph Scapellato's Big Lonesome is quick and sharp and funny and unlike anything else you've ever read." —Robert Boswell, author of Tumbledown, Mystery Ride, Crooked Hearts, & The Heyday of the Insensitive Bastards
 
"Joseph Scapellato's Big Lonesome is an accomplished debut, a collection of tall tales and campfire stories that create a Wild West unlike any other. With a voice like Barry Hannah channeling Larry McMurtry, Scapellato has updated the cowboy—one of the great American protagonists—into a newly complex, audacious, and utterly contemporary character." —Matt Bell, author of In the House upon the Dirt between the Lake and the Woods

"The stories in Joseph Scapellato's Big Lonesome are terrifically funny and haunting accounts of people shedding their self-mythologizing ways. On this open range of wrecked memories and dreamscapes, the characters come to terms with their own experiences of pure truth and poisonous truth and humanizing and debasing shame and dirty love and duty love. They learn to live with the many old lonesomenesses dying in them and the new ones trying but failing to kill them. You know that one marvelous tale that has never left you since you first heard it, the one that makes you laugh-cough bloody glass and bright stars every time it comes to your mind? Joseph Scapellato's brilliant Big Lonesome offers you twenty-five of them!"—Kevin McIlvoy, author of Little Peg, Hyssop, and The Complete History of New Mexico and Other Stories
Mariner Books, 9780544769809, 192pp.
Publication Date: February 28, 2017
About the Author
JOSEPH SCAPELLATO is a visiting assistant professor of English at Bucknell University. His fiction has appeared in Kenyon Review Online, Gulf Coast, Post Road, Puerto Del Sol, PANK, and Lumina, as well as other journals, and has been anthologized in Harper Perennial's Forty Stories, Gigantic Books' Gigantic Worlds: An Anthology of Science Flash Fiction and & NOW's The Best Innovative Writing anthology.