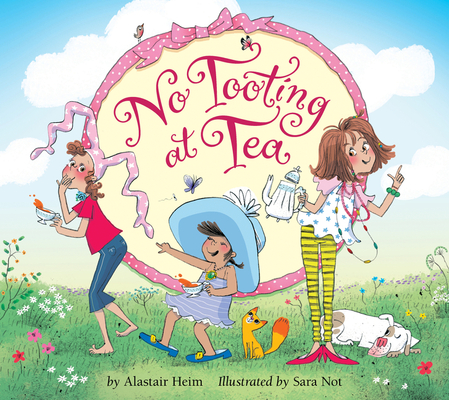 No Tooting at Tea (Hardcover)
Clarion Books, 9780544774742, 40pp.
Publication Date: April 4, 2017
* Individual store prices may vary.
Description
Tea parties have certain rules. You must lay your napkin carefully in your lap, say "please" and "thank you," and sip, not slurp, your tea. But SOMEONE at this tea party keeps breaking a very important rule—NO TOOTING! Will this tea party be ruined? And WHO keeps tooting, anyway? A charming and hilarious take on sibling dynamics that plays against gender expectations and has huge kid appeal. An afterword includes information on tea and all the wonderful and delicious ways it can be served.
About the Author
Alastair Heim is the author of  No Tooting at Tea and Love You Too (little bee books). He lives with his wife and three children in Missouri. Visit him online at alastairheim.com and on Twitter @alastairheim.
Sara Not is the illustrator of No Tooting at Tea, Fairy's First Day of School, as well as several European picture books. She lives in Trieste, Italy, with her family. Visit her online at saranot.com.
Praise For No Tooting at Tea…
"The text is clever enough, featuring a cheekily informative if Eurocentric afterword. The endlessly entertaining theme of flatulence, a satisfying portrayal of an imperious friend getting her just deserts (and desserts?), and the delightfully indelicate alliteration of the titular tooting should invite a wide audience."
—Kirkus Reviews