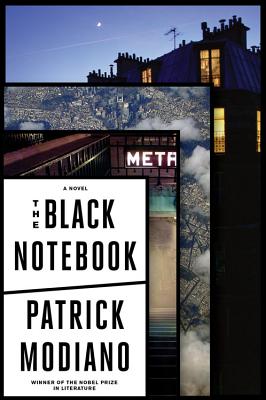 The Black Notebook (Paperback)
Mariner Books, 9780544779822, 144pp.
Publication Date: September 27, 2016
* Individual store prices may vary.
Description
A writer's notebook becomes the key that unlocks memories of a love formed and lost in 1960s Paris.

In the aftermath of Algeria's war of independence, Paris was a city rife with suspicion and barely suppressed violence. Amid this tension, Jean, a young writer adrift, met and fell for Dannie, an enigmatic woman fleeing a troubled past. A half century later, with his old black notebook as a guide, he retraces this fateful period in his life, recounting how, through Dannie, he became mixed up with a group of unsavory characters connected by a shadowy crime. Soon Jean, too, was a person of interest to the detective pursuing their case--a detective who would prove instrumental in revealing Dannie's darkest secret.

The Black Notebook bears all the hallmarks of this Nobel Prize–winning literary master's unsettling and intensely atmospheric style, rendered in English by acclaimed translator Mark Polizzotti (Suspended Sentences). Once again, Modiano invites us into his unique world, a Paris infused with melancholy, uncertain danger, and the fading echoes of lost love.
About the Author
PATRICK MODIANO was born in 1945 in a suburb of Paris and grew up in various locations throughout France. In 1967, he published his first novel, La Place de l'étoile, to great acclaim. Since then, he has published over twenty novels—including the Goncourt Prize−winning Rue des boutiques obscures (translated as Missing Person), Dora Bruder, and Les Boulevards des ceintures (translated as Ring Roads)—as well as the memoir Un Pedigree and a children's book, Catherine Certitude. He collaborated with Louis Malle on the screenplay for the film Lacombe Lucien. In 2014, he was awarded the Nobel Prize in Literature. The Swedish Academy cited "the art of memory with which he has evoked the most ungraspable human destinies and uncovered the life-world of the Occupation," calling him "a Marcel Proust of our time."
MARK POLIZZOTTI has translated more than forty books from the French, including Patrick Modiano's Suspended Sentences, and is director of the publications program at the Metropolitan Museum of Art in New York.
Praise For The Black Notebook…
"1960s Paris, a mysterious girl, a group of shady characters, danger ... Modiano's folklore is set out from the beginning ... and sheer magic follows once more." — Vogue

"The prose — elliptical, muted, eloquent — falls on the reader like an enchantment ... No one is currently writing such beautiful tales of loss, melancholy, and remembrance." — Independent

"Sublime ... [A] magnificent novel that reawakens days long past, illuminating them with a dazzling light." — Elle (France)

"Never before has Modiano written a novel as lyrical as this ... Both carefully wrought and superbly fluid, sustained by pure poetry." — Le Monde

"A compelling existential quasi-mystery ... A powerful examination of individual guilt and responsibility." — Toronto Star

"Every bit as absorbing and beguiling as anything else Modiano has written ... Awash in a seductive atmosphere." — Electric Literature

"A short but potent novel that's as elegant as Claude Rains and as sinister as Peter Lorre ... It's good that American publishers are catching up to Modiano's recent works ... An atmospheric, smoky, sepia-toned whodunit." — Kirkus Reviews

"Classic Modiano sure to engage sophisticated readers, yet the noir sensibility and hint of crime could attract a larger audience." — Library Journal