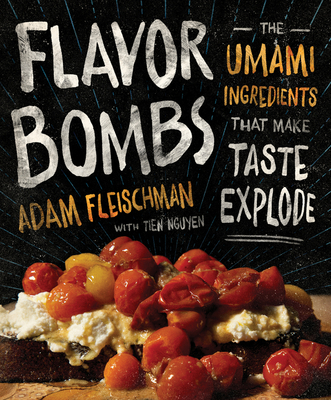 Flavor Bombs (Hardcover)
The Umami Ingredients That Make Taste Explode
Rux Martin/Houghton Mifflin Harcourt, 9780544784895, 256pp.
Publication Date: May 15, 2018
* Individual store prices may vary.
Description
The founder of the national empires Umami Burger and 800 Degrees Pizza shows how to detonate flavor in beloved dishes using ordinary ingredients high in umami
 
Why does everyone love burgers and pizza? When Adam Fleischman investigated, he discovered what they—and many other ultra-flavorful dishes—have in common: umami. A renegade self-taught cook, Fleischman deployed this savory "fifth dimension of taste" to ratchet up flavor using ingredients naturally rich in umami, such as Parmesan, tomatoes, caramelized onions, and anchovy paste. In so doing, he created ultimate versions of icons, including Umami Burger with Port and Stilton, Sweet and Savory Brisket, and Parmesan Fondue. All the recipes are made from the same "umami pantry" ably explicated in the front of the book.
About the Author
ADAM FLEISCHMAN is the creative force behind Umami Burger and 800 Degrees Neopolitan Pizza, restaurants with more than 40 locations in California, Chicago, Las Vegas, Dubai, and Japan. He has been profiled in The New Yorker, the New York Times, Wired, and the Wall Street Journal.
Wendy Sue Lamm is an internationally published photographer. Mostly known for her photojournalism, portraiture, and war coverage, she had her beginnings as a food photographer and has continued with it throughout her career. After earning a BA from the University of California at Berkeley, Ms. Lamm accepted photographic assignments throughout North America, Europe, Asia, and the Middle East for more than twenty years. Acclaim for her work includes World Press Photo Awards, and her photographs were part of the Los Angeles Times coverage awarded a Pulitzer Prize for the 1994 Northridge earthquake. Her award winning first monograph, From the Land of Miracles, was published in three translations in 2005. Her photographs are exhibited in museums and galleries in more than 40 countries.

 
Praise For Flavor Bombs: The Umami Ingredients That Make Taste Explode…
"In the introduction to this excellent collection, Fleischman, founder of the popular Umami Burger and 800 Degrees Pizzeria chains, discloses the revelation behind his success: "What people crave isn't a burger or a pizza. What people crave is within the burger or the pizza"—that is, savory condiments, cheeses, and vegetables. Furthermore, he realizes, while one tangy ingredient is good, multiple tangy ingredients are exponentially better. His signature burger is topped with shiitake mushrooms, a homemade ketchup with a dash of fish sauce, caramelized onions, oven-dried tomatoes, and a Parmigiano-Reggiano cheese crisp. Fleischman extends his repertoire far above the realm of his restaurants' menus. In an international sampling of main dishes there is a Puerto Rican mofongo; a marmite sweet-and-sour pork from Australia; and a Roquefort and mushroom fondue, perfect for dipping charcuterie or fingerling potatoes. Among the dozen vegetable side dishes, the worldwide tour continues with Japanese-style collards bathed in miso and sake, and cabbage norcina with black truffles and Italian sweet sausage. Even mixed drinks get the umami treatment, with a mezcal truffle cocktail that employs truffle honey and pineapple syrup. Photographer Wendy Sue Lamm, known for her international scope, provides the luscious visuals. The so-called fifth taste is elevated to star status in this mouth-watering debut."
—Publishers Weekly, STARRED review