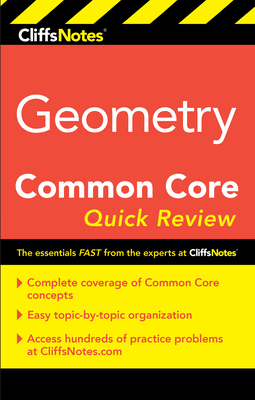 CliffsNotes Geometry Common Core Quick Review (Paperback)
Cliffs Notes, 9780544785083, 256pp.
Publication Date: June 13, 2017
* Individual store prices may vary.
Description
A quick in, quick out review of Geometry Common Core math

Relevant to high school students enrolled in their Geometry class in those states adhering to the Common Core math standards, this quick review provides targeted chapter-level reviews of topics aligned to the Geometry Common Core math standards. The lessons are reinforced with practice problems throughout each chapter as well as chapter-end quizzes.

This quick review is supplemented with 300+ multiple-choice questions available on CliffsNotes.com.
About the Author
M. SUNIL R. KOSWATTA, Ph.D. Mathematics, has been an educator and mathematics curriculum writer for 25 years. Dr. Koswatta has mentored K–12 teachers on the Common Core Standards and was a member of the EngageNY Common Core curriculum writing team. He has conducted Teacher Training Institutes at the University of California at Berkeley for over 12 years, and has coordinated presentations on the Common Core Standards for the Illinois Mathematics Association of Community Colleges. He is currently a mathematics professor at Harper College in Illinois.