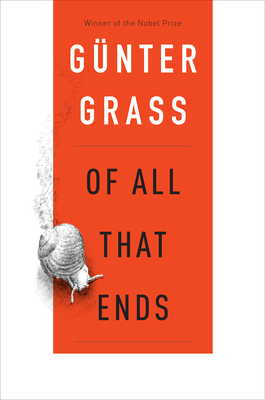 Of All That Ends (Hardcover)
Houghton Mifflin Harcourt, 9780544785380, 176pp.
Publication Date: December 6, 2016
* Individual store prices may vary.
Description
The final work of the Nobel Prize winner Günter Grass—a witty and elegiac series of meditations on writing, growing old, the world

In spite of the trials of old age, and with the end in sight, suddenly everything seems possible again: love letters, soliloquies, scenes of jealousy, swan songs, social satire, and moments of happiness crowd onto the page.
 
Only an aging artist who has once more cheated death can set to work with such wisdom, defiance, and wit. A wealth of touching stories is condensed into artful miniatures. In a striking interplay of poetry, lyric prose, and drawings, the Nobel Prize-winning author creates his final major work of art.
 
A moving farewell gift, a sensual, melancholy summation of a life fully lived.
About the Author
GÜNTER GRASS (1927–2015), Germany's most celebrated contemporary writer, attained worldwide renown with the publication of his novel The Tin Drum in 1959. A man of remarkable versatility, Grass was a poet, playwright, social critic, graphic artist, and novelist. He was awarded the Nobel Prize for literature in 1999.
BREON MITCHELL is Professor of Germanic Studies and Comparative Literature at Indiana University, where he is also Director of the Lilly Library. A Rhodes Scholar, he received his Ph.D. in Comparative Literature from Oxford University. His areas of specialization include literary translation, Anglo-German literary relations, literature and the visual arts, James Joyce, Franz Kafka, and Samuel Beckett.
Praise For Of All That Ends…
USA Today "New and Noteworthy" 

"[A] beautifully produced assemblage of drawings, poems, recollections, laments, asides, diatribes and paeans to love …There is a lovely diversity to these pieces…A sharp sensuality is at play here too. Grass celebrates as he mourns, be it the diminishing of taste — his beloved offal! — or the cessation of physical love. Against these deficits, his intelligence and intellectual engagement remain fiercely undimmed."—THE FINANCIAL TIMES

"Grass's wit is on full display as he explores not just what he is losing — his teeth, his beloved friends — but in how the approach of death and the writing process itself spur him to live as fully as he can… The book provides a quirky final portrait of this beloved and controversial writer. Grass knows how to balance his interior and exterior worlds and how to tell stories in miniature; scattered throughout are tight, fragmentary poems that provide lovely bursts of imagery."—THE WASHINGTON POST

"Günter Grass contemplates his mortality and the fate of a world he's soon to depart. He does so with morbid wit and more than a trace of sorrow… The message of this moving collection is clear: life ends, but assuming you're in control of the matter, that's no reason to limp across the finish line."—SHELF AWARENESS

"Nobel Prize winner Günter Grass's final work demonstrates how Of All That Ends, his legacy lives on."—VANITY FAIR, "The Must-Read Books of the Holiday Season" 

"Always thinking, always musing, reflecting on the ordinary and the familiar, above all on the defining beauty of nature, the inimitable German fabulist Günter Grass, multi-talented artist, storyteller and witness, never tired of the business of living, not even as the end approached. Here is a final book like no other; there is no sorrow, no self-pity, just a rueful, yet characteristically, exuberant acceptance that for him time has almost run out and the message is clear – he has not quite finished with looking at the world, nor has he lost interest in expressing his opinions. This posthumous collection of meditations and snatches of memory is touching and witty, at times unnervingly philosophical. The master prepares to take his leave and, as always with Grass, not without an element of surprise and rakish panache, always the subversive aside…The graceful soft pencil drawings accompanying his poems and prose pieces are as simple and direct as the thoughts expressed… It is a tactile book aware of mortality, but it is also conversational in tone and rich in playful, blunt humour, which is lovingly conveyed by Breon Mitchell… There is a vibrant physicality about this book; it offers an insight into a sensual artistic imagination which was fully three-dimensional. It is similar to experiencing the late works of Picasso with their aura of defiant energy… As subtle and as delicate as the many feathers depicted through its pages, Of All That Ends is a glorious gift, a final salute true to the singular creativity of the most human, and humane, of artists…Grass was an original and this beguiling leave taking most brilliantly testifies to that."—IRISH TIMES

"A series of absorbing meditations on growing old, looking back and preparing to move on…Grass's swansong now appears in English (superbly translated by Breon Mitchell), enabling a wider audience to marvel at a unique talent reflecting on individual concerns, worldly issues and universal mysteries…His book comes filled with his pencil drawings of nature at the end of its cycle (rotting fruit, withering leaves, dead birds) and a range of elegiac, impressionistic short-form writing, encompassing prose, poetry and striking fusions of the two…Many of Grass's written pieces read like ruminative diary entries or contemplative personal notes…we can't help but smile at his Luddite principles or his curmudgeonly rant against the worldwide web…satisfying… this special book will remain a last hurrah and a lasting reminder of a great writer."—Malcom Forbes, for THE NATIONAL (UAE)

"Only an aging artist who has once more cheated death can set to work with such wisdom, defiance and wit. A wealth of touching stories is condensed into artful miniatures. In a striking interplay of poetry, lyric prose and drawings, Nobel Prize-winning author Günter Grass creates his final major work of art."—BOOK REPORTER

"A thoughtful, uncompromising meditation on death and aging... He describes loss, change, and memory with a combination of melancholy and wit; and occasionally with defiance." —PUBLISHERS WEEKLY

"Elegant musings on dying and, most poignantly, living." —KIRKUS REVIEWS
 
"Some pieces are prose, some sway into poetry, some others feel like the contemplative diary entries of a man who knows the end is near. . . . Many sentences retain a defiant energy admirers of this literary lightning-rod will instantly recognize, but Grass's drawings of dead birds, crumpled leaves, mutilated hands, and various vegetative material point in a more musing direction." —BOOKLIST

"Grass's wit is on full display as he explores not just what he is losing — his teeth, his beloved friends — but in how the approach of death and the writing process itself spur him to live as fully as he can… The book provides a quirky final portrait of this beloved and controversial writer. Grass knows how to balance his interior and exterior worlds and how to tell stories in miniature; scattered throughout are tight, fragmentary poems that provide lovely bursts of imagery."—HOUSTON CHRONICLE