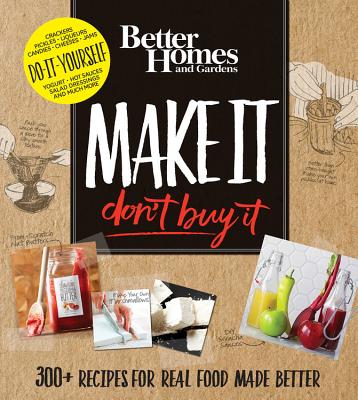 Better Homes and Gardens Make It, Don't Buy It (Loose-leaf)
300+ Recipes for Real Food Made Better
Better Homes & Gardens, 9780544800861, 448pp.
Publication Date: September 13, 2016
Other Editions of This Title:
Paperback (8/4/2015)
* Individual store prices may vary.
Description
The complete book for the DIY kitchen: Enjoy homemade alternatives to store-bought staples including condiments, cheese, pretzels, jerky, liqueurs, marshmallows—and more.

Make It, Don't Buy It is the complete compendium for a new generation of cooks who want to make wholesome food at home instead of purchasing mass-produced items made with artificial ingredients. From cocktail mixes to pizza sauce to beef broth, everything tastes better made at home, and allows for the ultimate in personalization. Make Sriracha with just the right heat, your own herb blends, Sweet Pickle Relish that's not too sweet, and Garden Vegetable Soup from your backyard, not a can.

More than 300 recipes and 200 photographs cover the entire pantry—beverages, breads, candy, soups, sauces, condiments, salad dressings, cheeses, jams, basic pantry items such as flavored vinegars and oils, syrups, desserts, and vegetable blends. Learn freezing, preserving, canning, pickling, drying, and more, to be a whiz in the kitchen. Whether your aim is to capture seasonal bounty, avoid additives, or enjoy homemade food, you'll find everything for the DIY kitchen here.
About the Author
The iconic BETTER HOMES AND GARDENS brand is one of America's most trusted sources for information on cooking, gardening, home improvement, home design, decorating, and crafting. Today, the brand encompasses books, magazines, and digital media.