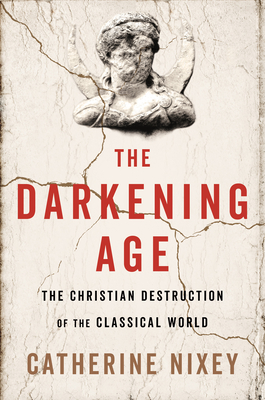 The Darkening Age (Hardcover)
The Christian Destruction of the Classical World
Houghton Mifflin Harcourt, 9780544800885, 352pp.
Publication Date: April 17, 2018
Other Editions of This Title:
Paperback (4/16/2019)
* Individual store prices may vary.
Description
A New York Times Notable Book of 2018

"Searingly passionate…Nixey writes up a storm. Each sentence is rich, textured, evocative, felt…[A] ballista-bolt of a book." —New York Times Book Review
 
In Harran, the locals refused to convert. They were dismembered, their limbs hung along the town's main street. In Alexandria, zealots pulled the elderly philosopher-mathematician Hypatia from her chariot and flayed her to death with shards of broken pottery. Not long before, their fellow Christians had invaded the city's greatest temple and razed it—smashing its world-famous statues and destroying all that was left of Alexandria's Great Library.
 
Today, we refer to Christianity's conquest of the West as a "triumph." But this victory entailed an orgy of destruction in which Jesus's followers attacked and suppressed classical culture, helping to pitch Western civilization into a thousand-year-long decline. Just one percent of Latin literature would survive the purge; countless antiquities, artworks, and ancient traditions were lost forever.  
 
As Catherine Nixey reveals, evidence of early Christians' campaign of terror has been hiding in plain sight: in the palimpsests and shattered statues proudly displayed in churches and museums the world over. In The Darkening Age, Nixey resurrects this lost history, offering a wrenching account of the rise of Christianity and its terrible cost.
About the Author
CATHERINE NIXEY is a journalist and a classicist. Her mother was a nun, her father was a monk, and she was brought up Catholic. She studied classics at Cambridge and taught the subject for several years before becoming a journalist on the arts desk at the Times (UK), where she still works. The Darkening Age, winner of a Royal Society of Literature Jerwood Award, is her first book. She lives in London.
Praise For The Darkening Age: The Christian Destruction of the Classical World…
A New York Times Notable Book, 2018
A New York Times Book Review Editors' Choice
Named a Book of the Year by the Telegraph, the Spectator, the Observer, and BBC History Magazine
Winner of the Royal Society of Literature Jerwood Award for Nonfiction

"A searingly passionate book… Nixey writes up a storm. Each sentence is rich, textured, evocative, felt…. Nixey delivers this ballista-bolt of a book with her eyes wide open and in an attempt to bring light as well as heat to the sad story of intellectual monoculture and religious intolerance." 
—New York Times Book Review

"Nixey paints with a wide brush...a fine history that is surely controversial in its view of how victims become victimizers and how professions of love turn to terror."
—Kirkus Reviews

"Nixey clearly but untendentiously summarizes phenomena that led up to the elimination of classical polytheism."
—Booklist

"Captivating and compelling, The Darkening Age challenges our whole understanding of Christianity's earliest years and the medieval society that followed. A remarkable fusion of riveting narrative and acute scholarly judgment, this book marks the debut of a formidable classicist and historian."
—Dan Jones, best-selling author of The Plantagenets and The Templars

"Catherine Nixey has written a bold, dazzling and provocative book that challenges ideas about early Christianity and both how – and why – it spread so far and fast in its early days. Nixey is a witty and iconoclastic guide to a world that will be unfamiliar, surprising and troubling to many."
—Peter Frankopan, best-selling author of The Silk Roads

"Engaging and erudite, Catherine Nixey's book offers both a compelling argument and a wonderful eye for vivid detail. It shines a searching spotlight onto some of the murkiest aspects of the early medieval mindset. A triumph."
—Edith Hall, author of Introducing the Ancient Greeks

"A devastating book, written in vivid yet playful prose. Catherine Nixey reveals a level of intolerance and anti-intellectualism which echoes today's headlines but is centuries old."
—Anita Anand, author of Sophia and coauthor (with William Dalrymple) of Koh-i-Noor
 
"Nixey's elegant and ferocious text paints a dark but riveting picture of life at the time of the 'triumph' of Christianity, reminding us not just of the realities of our own past, but also of the sad echoes of that past in our present."
—Michael Scott, author of Ancient Worlds

"[An] impassioned account… Nixey acutely and thunderously reminds us that many used the Christian project as an excuse to destroy rather than to love."
—BBC History Magazine, "Books of the Year"

"A book for the 21st century...Nixey has a great story to tell, and she tells it exceptionally well. As one would expect from a distinguished journalist, every page is full of well-turned phrases that leap from the page. She has an expert eye for arresting details, and brings characters and scenarios to life without disguising anything of the strangeness of the world she describes. Most of all, she navigates through these tricky waters with courage and skill...A finely crafted, invigorating polemic against the resilient popular myth that presents the Christianisation of Rome as the triumph of a kinder, gentler politics...[The Darkening Age] succeeds brilliantly."
—Tim Whitmarsh, Guardian(UK)

"A vigorous account...Nixey paints with a wide brush, but her point is well-taken...A fine history that is surely controversial in its view of how victims become victimizers and how professions of love turn to terror." 
—Kirkus Reviews

"The Darkening Age by Catherine Nixey looks at the rise of Christianity, showing how its early radical followers ravaged vast swathes of classical culture, sending the West into an era of dogma and intellectual decline."
—Publishers Weekly, "Spring 2018 Announcements: History"

"[A] vivid and important new book… Nixey is a funny, lively, readable guide through this dark world of religious oppression…. The book is also an essential reminder, in the age of Brexit and Donald Trump, that intolerance, ignorance and hostility to cultural diversity are sadly nothing new."
—The New Statesman (UK)

"Exceptionally well written...[a] clever, compelling book."
—Thomas W. Hodgkinson, The Spectator (UK)
 
"Sardonic, well-informed and quite properly lacking in sympathy for its hapless target ... The Darkening Age rattles along at a tremendous pace, and Nixey brilliantly evokes all that was lost with the waning of the classical world."
—Peter Thonemann, The Sunday Times (UK)

"Nixey has done an impressive job of illuminating an important aspect of late-antique Christianity."
—Levi Roach, Literary Review (UK)
 
"A delightful book about destruction and despair. Nixey combines the authority of a serious academic with the expressive style of a good journalist. She's not afraid to throw in the odd joke amid sombre tales of desecration. With considerable courage, she challenges the wisdom of history and manages to prevail. Comfortable assumptions about Christian progress come tumbling down."
—Gerard de Groot, The Times (UK)
or
Not Currently Available for Direct Purchase