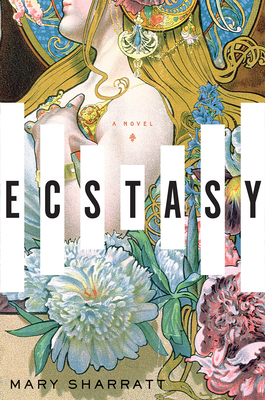 Ecstasy (Hardcover)
A Novel
Houghton Mifflin Harcourt, 9780544800892, 400pp.
Publication Date: April 10, 2018
Other Editions of This Title:
Paperback (4/9/2019)
Compact Disc (4/10/2018)
MP3 CD (4/10/2018)
MP3 CD (4/1/2018)
Compact Disc (4/1/2018)
* Individual store prices may vary.
Description
In the glittering hotbed of turn-of-the-twentieth-century Vienna, one woman's life would define and defy an era

Gustav Klimt gave Alma her first kiss. Gustav Mahler fell in love with her at first sight and proposed only a few weeks later. Bauhaus founder Walter Gropius abandoned all reason to pursue her. Poet and novelist Franz Werfel described her as "one of the very few magical women that exist." But who was this woman who brought these most eminent of men to their knees? In Ecstasy, Mary Sharratt finally gives one of the most controversial and complex women of her time the center stage. 

Coming of age in the midst of a creative and cultural whirlwind, young, beautiful Alma Schindler yearns to make her mark as a composer. A brand-new era of possibility for women is dawning and she is determined to make the most of it. But Alma loses her heart to the great composer Gustav Mahler, nearly twenty years her senior. He demands that she give up her music as a condition for their marriage. Torn by her love and in awe of his genius, how will she remain true to herself and her artistic passion?
 
Part cautionary tale, part triumph of the feminist spirit, Ecstasy reveals the true Alma Mahler: composer, author, daughter, sister, mother, wife, lover, and muse.
About the Author
MARY SHARRATT, the author of seven critically acclaimed novels, is on a mission to write strong women back into history. Her novels include Daughters of the Witching Hill, the Nautilus award-winning Illuminations: A Novel of Hildegard von Bingen,The Dark Lady's Mask: A Novel of Shakespeare's Muse, and Ecstasy, about the life, loves, and music of Alma Mahler. She is an American who lives in Lancashire, England.
 
Praise For Ecstasy: A Novel…
Named a "Must-Read" book by The New York Post

"Mary Sharratt has made an impressive career fleshing out the lives of women rendered one-dimensional in the pages of history...With this fine work, [Sharratt] has us wanting more."—Minneapolis Star Tribune

"Alma Mahler is certainly worthy of joining the remarkable women about whom Sharratt has previously written."—St. Paul Pioneer Press

"This winning historical novel offers an enjoyable portrait of an ambitious woman whose struggles are as relevant today as they were a century ago."—Publishers Weekly

"[Sharratt] has in-depth knowledge of classical music and turn-of-the-20th-century Vienna…Recommended for readers who like the peaks and valleys of nonstop drama."—Library Journal
 
"Thought-provoking [and]…bracing."—Kirkus

"A novel with surefire appeal for fans of romantic women's fiction."—Booklist

"Terrific…An intimate, absorbing portrait of a complicated woman whose talents and passions propelled her to the center of fin de siècle Vienna."
—Christina Baker Kline, #1 New York Times best-selling author of Orphan Train and A Piece of the World

"In Ecstasy, Mary Sharratt plunges the reader into the tumultuous and glamorous fin de siècle era, bringing to life its brilliant and beguiling leading lady. Finally, Alma Mahler takes center stage, surging to life as so much more than simply the female companion to the brilliant and famous men who loved her. Sharratt's portrait is poignant and nuanced, her novel brimming with rich historic detail and lush, evocative language."
—Allison Pataki, New York Times best-selling author of The Accidental Empress

"Sharratt has composed a passionate symphony for Alma Mahler, a woman who was more than a muse to the greats. She was also a talent in her own right, stifled by society and the passions of the many men who pursued her. This heartfelt, feminist tribute makes for a compelling and sophisticated tale!"
—Stephanie Dray, New York Times best-selling author of America's First Daughter

"Evocative and passionate, Ecstasy illuminates through its tempestuous and talented heroine a conundrum that resonates across the centuries: how a woman can fulfill her destiny by being both a lover and an artist."
—Jenna Blum, New York Times best-selling author of Those Who Save Us and The Stormchasers

"A tender, intimate exploration of a complicated woman, Mary Sharratt's Ecstasy renders in exquisitely researched detail and fiercely imagined scenes the life of Alma Mahler — daughter, wife, mother, lover, and composer — and the early 20th Century Vienna and New York in which she came of age. I loved this inspiring story of an early feminist standing up for her art."
—Meg Waite Clayton, New York Times best-selling author of The Race for Paris

"Alma Mahler's unexpected, often heartbreaking journey from muse to independence comes to vivid, dramatic life. Sharratt skillfully evokes turn-of-the-century Vienna and the musical genius of the era, returning Alma to her rightful place in history as both the inspiration to the men in her life and a gifted artist in her own right."
—C.W. Gortner, best-selling author of Mademoiselle Chanel 

"Mary Sharratt has more than done justice to one of the most interesting, shocking, and passionate women of the 20th century. Overflowing with life and lust, Ecstasy explores this flawed but fascinating woman."
—M.J. Rose. New York Times best-selling author of The Library of Light and Shadow

"A deeply affecting portrait of the woman rumored to be the most notorious femme fatale of turn-of-the-century Vienna. Mary Sharratt's Ecstasy is as heartbreaking and seductive as Alma Mahler herself."
—Kris Waldherr, author of Doomed Queens and Bad Princess