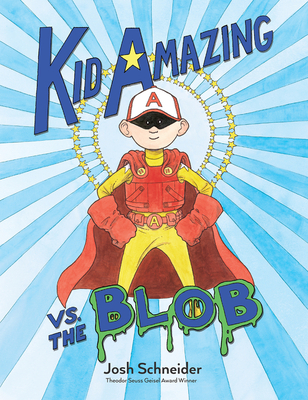 Kid Amazing vs. the Blob (Hardcover)
Clarion Books, 9780544801257, 32pp.
Publication Date: June 6, 2017
* Individual store prices may vary.
Description
Kid Amazing's secret base is equipped with every gadget a superhero needs to defeat evil, but there is one villain who remains elusive—the Blob (a.k.a. his baby sister). Will Kid discover the superpower needed to defeat her before the entire city succumbs to her stink and slime? From Theodor Seuss Geisel Award winner Josh Schneider, this reassuring take on a common childhood issue proves that laughter can defuse even the most epic sibling rivalries.
About the Author
Josh Schneider is the Theodor Seuss Geisel Award-winning creator of Tales for Very Picky Eaters and many popular picture books, including Princess Sparkle-Heart Gets a Makeover, Everybody Sleeps (But Not Fred), and Kid Amazing vs. The Blob. His first book, You'll Be Sorry, was named "Book That Provides Best Ammunition to Parents Weary of Warning Their Kids About Socking Their Siblings" by Publishers Weekly magazine. Josh lives in Chicago with his wife, Dana.
Praise For Kid Amazing vs. the Blob…
★ "Full of comedy ideal for the target audience and dynamic, tongue-in-cheek artwork packed with detail, this is destined to get kids rolling in the aisles." —Booklist, starred review

"Schneider's take on the new-baby syndrome is fun and inventive. Kid is admirably willing to help his mom with this blobby creature and applies great care and cunning in his machinations, all cleverly depicted in lively pen-and-ink-and-watercolor illustrations...  Imaginative new-sibling fun." —Kirkus Reviews

"Schneider's (Everybody Sleeps [But Not Fred]) jaunty illustrations give this sly superhero story an extra goose of irreverence and theatricality. Extra kudos to the author for refraining from a reconciliation between Kid Amazing and his nemesis, although the Commissioner does admonish him to "please stop calling your sister the Blob" in a nice throwaway line." —Publishers Weekly