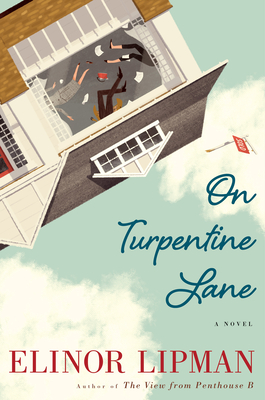 On Turpentine Lane (Hardcover)
Houghton Mifflin Harcourt, 9780544808249, 320pp.
Publication Date: February 14, 2017
Other Editions of This Title:
Paperback (1/9/2018)
MP3 CD (2/28/2017)
Compact Disc (2/28/2017)
* Individual store prices may vary.
Description
An endearing romantic comedy from the beloved best-selling author of The Family Man and The View from Penthouse B
At thirty-two, Faith Frankel has returned to her claustro-suburban hometown, where she writes institutional thank-you notes for her alma mater. It's a peaceful life, really, and surely with her recent purchase of a sweet bungalow on Turpentine Lane her life is finally on track. Never mind that her fiancé is off on a crowdfunded cross-country walk, too busy to return her texts (but not too busy to post photos of himself with a different woman in every state). And never mind her witless boss, or a mother who lives too close, or a philandering father who thinks he's Chagall.
When she finds some mysterious artifacts in the attic of her new home, she wonders whether anything in her life is as it seems. What good fortune, then, that Faith has found a friend in affable, collegial Nick Franconi, officemate par excellence . . .
Elinor Lipman may well have invented the screwball romantic comedy for our era, and here she is at her sharpest and best
. On Turpentine Lane
is funny, poignant, and a little bit outrageous. 
About the Author
ELINOR LIPMAN is the award-winning author of eleven novels, including The View from Penthouse B and The Inn at Lake Devine; one essay collection, I Can't Complain; and Tweet Land of Liberty: Irreverent Rhymes from the Political Circus. She lives in New York City.
Praise For On Turpentine Lane…
New York Times Paperback Row

"Light and tight, 'On Turpentine Lane' is constructed with an almost scary mastery. Not a single thread dangles, not a single character is left without a place in Faith's world.  The story folds out and back in as neatly as an origami flower, and Faith recounts it all with a raised eyebrow and plenty of cheek.  . . . Lipman seems to have the most fun writing ridiculous characters, which may be why the novel's worst people are so enjoyable . . .  A neat bourbon swapped for the usual rom-com grenadine."
—New York Times Book Review

"When a restless woman impulsively buys a dilapidated cottage, she winds up with problems she didn't anticipate: love trouble, family disarray, even a murder investigation. The cleverly tangled plot—along with some snappy dialogue and a wry, likeable heroine—makes Lipman's latest a diverting delight."
—People

"When there's already too much darkness in the world and a cheering respite is in order, we can all be glad for Elinor Lipman's On Turpentine Lane, a romantic comedy with just enough sly wit to keep it from turning sugary...We can trust that like her foremothers Jane Austen and Laurie Colwin, Lipman will find a way to make the world right for her heroine. Would that she could do so for the rest of us!"
—O, The Oprah Magazine

"The novel's fast, funny dialogue keeps things light. Yes, that's the Lipman way: alerting us to cultural wrongs even while entertaining us with her cultural zingers . . . Lipman has taken lessons from our great chroniclers of the quotidian, from Geoffrey Chaucer to Jane Austen. The result, in 'On Turpentine Lane,' provides a light but serious antidote to what ails us all these days."
—The Washington Post

"Genuine, deft and witty, Lipman's On Turpentine Lane, doesn't skewer American contemporary life as much as roast it . . . Lipman's neat plot twists and smart repartee propel the novel, but it is its sharp social observations and far-ranging curiosity that elevate it beyond the traditional romantic comedy, into a work of real heft and charm."
—The National Book Review

"[Lipman] has a way of crafting books so utterly charming that you want to set up residence inside them. And yet, in a seemingly effortless balance, she's never saccharine, but writes in a wry, warm, we're-all-friends-here-so-let's-have-a-drink tone . . . Like all of Lipman's books, 'On Turpentine Lane quickly becomes a friend."
—The Seattle Times

"A breezy beaut that is swift and smart . . . It will appeal to someone looking for a cheerful escape and at the same time feed a sophisticated reader without feeling like empty calories."
—The Lowell Sun

"Delightful! I read it in one day—truly a peak reading experience. Every page was packed with wonders." 
—Maria Semple, author of Where'd You Go, Bernadette?

"A new Elinor Lipman novel is always a cause for celebration. And her newest will not disappoint: the story of 32-year-old Faith Frankel, who returns to her suburban hometown, where she takes a job as a professional thank you note writer for her alma mater and buys a charming bungalow home. Little does she know, the house might contain some secrets. On Turpentine Lane is another pitch-perfect, delightful romantic comedy from the beloved author of The Inn at Lake Devine."
—PopSugar, "Out Favorite Books of the Year"

"With a witty cast of characters and her usual delightful dialogue and insightful observations of human behavior, Lipman (The Inn at Lake Devine) captures the complications of modern love." 
—Publishers Weekly

"Lipman . . . is known for her dialogue, so snappy, funny, and real . . . [On Turpentine Lane] is warm, clever, and a lot of fun." 
—Kirkus Reviews

"As loyal Lipman readers have come to expect, there are messages of hope, resilience, and discovery tucked behind the frothy rom-com scenes Lipman draws oh so well." 
—Booklist

"Readers will be more than satisfied with Lipman's drive down this lane." 
—Library Journal

"A new Elinor Lipman novel is always a cause for celebration. And her newest will not disappoint . . . On Turpentine Lane is another pitch-perfect, delightful romantic comedy from the beloved author of The Inn at Lake Devine." 
—Pop Sugar

"Tartly observational wit and a deep understanding of all-too-human foibles." 
—Buffalo News

"Any day can be vastly improved with a little Elinor Lipman. This book is a gem!"
—Laura Cummings, White Birch Books

"Faith Frankel enjoys her low-stress private-school job, waits patiently for her ambivalent fiancé, and is delighted with her affordable fixer-upper.  But 10 Turpentine Lane seems to hold a macabre secret, and Faith's investigations lead to surprises.  Typical of Elinor Lipman's endearing heroines, Faith's madcap adventures and slow-blooming romance lead to happily-ever-afters." 
—Cheryl McKeon, Book Passage 

"A love story with Elinor Lipman's signature wit, charm and zaniness, On Turpentine Lane is a pure delight!  Faith's ho-hum life is upended after she buys a bungalow. What follows is a tale only Lipman could invent: a philandering father in the midst of mid-life crisis painting commissioned Chagall knock-offs for the uber-wealthy, an apparently sweet little home that appears to be host to past murders and disappearing babies, and a whole cast of characters beginning and ending unlikely relationships.  Woven through it all is a family who lovingly supports one another, and the unfolding of a delightful romance." 
—Isabel Berg, BookEnds

"On Turpentine Lane is a delight: all bubbly effervescence! Elinor Lipman's latest reminds me of all the reasons I loved her in the past: the young love, the snappy dialogue, the twisty plot. I hope she writes ten more like this one." 
—Francesca De Stefano, Books Inc.

"When I first moved to Milwaukee, I learned after signing my lease that the previous tenant had died in the bathtub. So I was particularly amused by the setup of Elinor Lipman's newest novel, wherein one Faith Frankel purchases a fixer upper and learns that something fishy was going on in the house previous to her tenancy. Faith's engaged, but her fiancé Stuart is on a spiritual journey while she stays behind in small-town Massachusetts, writing thank-you notes for a small private school's development fund. Filled with the familial complications we come to expect, I'm not giving anything away by calling On Turpentine Lane a romantic comedy of the highest order, with the delight not just in the classic joy of seeing the two people meant for each other get it right, but in the myriad ways that other couples can get it completely, hilariously wrong."
—Daniel Goldin, Boswell Book Company