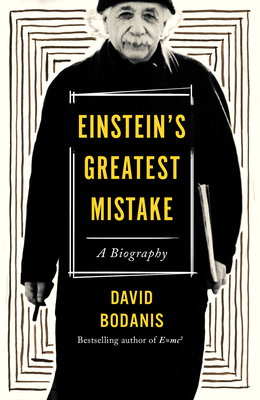 Einstein's Greatest Mistake (Hardcover)
A Biography
Houghton Mifflin Harcourt, 9780544808560, 304pp.
Publication Date: October 18, 2016
Other Editions of This Title:
Paperback (10/17/2017)
Compact Disc (10/18/2016)
Compact Disc (10/18/2016)
MP3 CD (10/18/2016)
* Individual store prices may vary.
Description
From the best-selling author of E=mc2, a brisk, accessible biography of Albert Einstein that reveals the genius and hubris of the titan of modern physics

Widely considered the greatest genius of all time, Albert Einstein revolutionized our understanding of the cosmos with his general theory of relativity and helped lead us into the atomic age. Yet in the final decades of his life, he was ignored by most working scientists, and his ideas were opposed by even his closest friends.
 
How did this happen? Einstein's imagination and self-confidence served him well when he was young. But when it came to the new field of quantum mechanics, the same traits undermined him. Bestselling biographer David Bodanis traces Einstein from the skeptical, erratic student to the world's most brilliant physicist—and then to the desolate, fallen-from-grace celebrity.
 
An intimate biography touching on the romances and rivalries of the celebrated physicist, as much as on his scientific goals, Einstein's Greatest Mistake reveals what we owe Einstein today—and how much more he might have achieved if not for his all-too-human flaws.
About the Author
DAVID BODANIS studied mathematics, physics, and history at the University of Chicago, and for many years taught the "Intellectual Tool-Kit" course at Oxford University. The author of many books—including the New York Times bestseller The Secret House and E=mc2, which was adapted into the PBS NOVA documentary Einstein's Big Idea—he is also a futurist and business advisor who has worked for the Royal Dutch Shell Scenario Prediction unit, modelling economic futures, as well as for the future planning unit at the World Economic Forum. He has been a popular speaker at TED conferences and at Davos, and most recently helped run an international study for the UK Treasury on the future of high-frequency trading. Bodanis's work has been published in the Financial Times, the Guardian, and the New York Times. He lives in London.
Praise For Einstein's Greatest Mistake: A Biography…
A Sunday Times "Science Book of the Year" (UK)
One of ABC News' "Top Five Science Books of 2016" (Australia) 

"Einstein's Greatest Mistake is a pleasure... Bodanis gives voice to the women in Einstein's life, reflecting on their perspectives and quoting them when possible. Bodanis is nonjudgmental, albeit wistful that Einstein didn't accomplish more... [he] achieves a thoroughly engaging and illuminating read. " 
—Shelf Awareness

"An intimate biography touching on the romances and rivalries of the celebrated physicist, as much as on his scientific goals, Einstein's Greatest Mistake reveals what we owe Einstein today – and how much more he might have achieved if not for his all-too-human flaws." 
—Bookreporter

"The most fascinating aspect of London-based journalist David Bodanis' biography Einstein's Greatest Mistake is in revealing just how much of Einstein's early success was related to his own dogged perseverance... [Bodanis] recounts the details of Einstein's inspiration and work on the General Theory of Relativity in clear terms and with more historical context than what is usually found in textbooks." 
—Forbes

"This perceptive biography shows how a genius fell out of favour with the scientific world."
—Sunday Times (UK), "Science Book of the Year" 

"While we now remember Einstein for his early success and have reinvented him as a meme with crazy hair and sticking his tongue out, [Einstein's Greatest Mistake] reminds us to go beyond the cliché and remember the human — flawed, hubristic and alone — but no less the greatest genius of the modern age."
​—ABC News (Australia), "Top Five Science Books of 2016"

"The author's style is highly entertaining. The composition of the manuscript, interweaving stories of people, of scientific principles, of Einstein's forward vision and troubling challenges, form a narrative that science readers will admire. For anyone interested in the greatest scientist of our time, this book should be required reading." 
—Astronomy Magazine

"What Bodanis does brilliantly is to give us a feel for Einstein as a person. I don't think I've ever read a book that does this as well... Whenever there's a chance for storytelling, Bodanis triumphs."
—Popular Science

"A wonderful exposition of the life of Einstein... It comes... with Bodanis' talent for explaining the maths and science of Einstein's work. But the best part is the real feel it gives of Einstein the man, and his thinking."
—Cosmos

"I urge you to buy David Bodanis's new book Einstein's Greatest Mistake...it's a wonderful, fresh and readable take on one of the most fascinating lives in science."
—Tim Harford, bestselling author of The Undercover Economist 
 
"An admiring but critical biography finds the great genius guilty of inflexible thinking in his later years."
—The Observer

"Bodanis has… [an] extraordinary ability to explain complicated physics… Bodanis is a lot like Einstein—minus the great mistake.  Both see fun in physics, both love simplicity and brevity. In this book, theories of the universe morph into theories of life."
—The Times (London)

"Writer and futurist Bodanis (Passionate Minds) imparts fresh insight into the genius—and failures—of the 20th century's most celebrated scientist...This provocative biography illuminates the human flaws that operate subtly in the shadows of scientific endeavor."
—Publishers Weekly

"Bodanis explores Einstein's all-too-human traits, from inflexibility to professional frustrations and the complications of his two marriages. By also explaining the theories that made Einstein Einstein, Bodanis crafts an accessible introduction to this iconic genius."
—Booklist

"A brief biography of 'the greatest mind of the modern age' and his revolutionary ideas... Engaging and with more emphasis on the difficulties the scientist faced when physics moved away from the classical view he never abandoned."
—Kirkus Review

"Bodanis makes Einstein's theories graspable. . . . [His] biography offers a window onto Einstein's achievements and missteps, as well as his life—his friendships, his complicated love life (two marriages, many affairs) and his isolation from other scientists at the end of his life." 
—BookPage

"Einstein's greatest mistake was not his introduction of the Cosmological Constant in his famous equation of General Relativity, but rather his stubborn unwillingness to accept the reality of quantum mechanics.  Once he divorced his thinking from the experimental forefront, his contributions to physics waned.  David Bodanis gently describes Einstein's growing detachment from modern physics, shedding light on both Einstein the man and on several of his theories that did change our concept of the Universe."
—Lawrence M. Krauss, best-selling author of The Physics of Star Trek and A Universe from Nothing
or
Not Currently Available for Direct Purchase