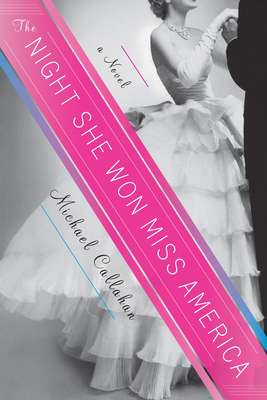 The Night She Won Miss America
Hardcover

* Individual store prices may vary.
Description
Inspired by a true story, a young woman is swept up in the glamour and excitement of chasing the title of Miss America 1950—only to vanish the night she wins.

Betty Jane Welch reluctantly enters the Miss Delaware contest to make her mother happy, only to surprisingly find herself the judges' choice. Just like that, she's catapulted into the big time, the Miss America Pageant in Atlantic City.

Luckily, her pageant-approved escort for the week is the dashing but mercurial Griffin McAllister, and she falls for him hard. But when the spirited Betty unexpectedly wins the crown and sash, she finds she may lose what she wants most: Griff's love. To keep him, she recklessly agrees to run away together. From the flashy carnival of the Boardwalk to the shadowy streets of Manhattan to a cliffside mansion in gilded Newport, the chase is on as the cops and a scrappy reporter secretly in love with the beauty queen threaten to unravel everything-and expose Griff's darkest secret.
Praise For The Night She Won Miss America…
"Inspired by a true story, this delightful novel is like an old black-and-white movie translated to the page, perfectly capturing the era as it serves up breathless romance and a heart-pounding plot."—People Magazine 

"The latest from Searching for Grace Kelly author (and former T&C editor) Michael Callahan, The Night She Won Miss America, follows a reluctant beauty queen as she falls in love with her pageant escort and finds herself on the run from ho-hum Delaware to Manhattan, Newport, and beyond. Expect glamour, grit, and some truly unpredictable twists and turns."—Town & Country

"A cinematic tale in the tradition of a Douglas Sirk movie, and the perfect book to pack away in your beach bag."—Adweek

"Callahan transports us back to post-war America, nailing the politics, fashion, cars and social mores. As real as this story of Betty's brief and scandalous reign is, it's the best kind of fiction; so believable that I was wondering about its authenticity until the author's note."—Newark Star-Ledger

"Callahan clearly enjoys the camp, loading his book with period details and midcentury slang."—New York Times Book Review

"Callahan nimbly guides the reader from the rounds of the Miss America competition to Times Square to a climax on a seaside cliff during a masquerade ball. The Night She Won Miss America is a delightfully dramatic and fast-paced summer read, with just the right amount of darkness to balance out the fluff."—BookPage

AVanity Fair  "Hot Type"  selection, April 2017

"A must-read"—The New York Post

"Highly recommended"—New York Journal of Books 
 
"Truth plus fiction equals an entertaining read"—Philadelphia Magazine
 
"A page-turner"—New Jersey Monthly

"A wild tale ... Early in her pageant experience, Betty muses that 'Miss America does odd things to people.' Clearly, she had no idea. Callahan creates a story that is brisk-paced and fluid."—Kirkus Reviews

"Callahan has crafted an intriguing suspense story marrying the frothy, fashion-fueled pageant world with the secrets people have to live with."—​Booklist

"This plot-driven story blends aspects of romance, mystery, and thriller... Fans of mid-century drama, beauty queens, and gripping romance will enjoy this adventurous read." —School Library Journal

"Romance, intrigue, suspense—Michael Callahan's latest has it all, and that's not even counting the glorious, heady world of the Miss America pageant in its heyday.  Loosely inspired by real events, The Night She Won Miss America grabs you from the first chapter and takes you on a wild journey beginning in Atlantic City and ending in a showdown on a rocky cliff worthy of Hitchcock.  But the heart of the book always remains its remarkable protagonist, a naïve young woman whose passions come to the surface with remarkable ferocity the moment the crown is placed on her head and never really let her—or us—go."—Melanie Benjamin, New York Times best-selling author of The Swans of Fifth Avenue

"I can't remember the last time I got so caught up in a novel. Michael Callahan's gorgeous prose brings to life an intoxicating world of beauty queens and thwarted dreams that will sweep you away in a whirlwind of intrigue, passion, and secrets."—Matthew Pearl, best-selling author of The Dante Club and The Last Bookaneer

"A heady whirl of gowns, gloves, chaperones, lipstick, escorts, cocktails, and romance. This engaging tale paints an evocative picture of a bygone era and the post-war ideal of young American womanhood."—Helen Bryan, author of the international bestseller War Brides
Houghton Mifflin Harcourt, 9780544809970, 336pp.
Publication Date: April 18, 2017
About the Author
MICHAEL CALLAHAN is a contributing editor at Vanity Fair and the author of the novel Searching for Grace Kelly. A former deputy editor at Town & Country and Marie Claire, he has written for more than two dozen national and international publications, including ELLE, Departures, Bloomberg Businessweek, the Hollywood Reporter, and the New York Times. He lives in Philadelphia.   
1. What does it usually mean when Betty's mother makes her favorite lemon cake? Why has her mother made it this time? Why does Betty agree to join the Miss Delaware pageant even though she claims to have no personal interest in pageantry? Do you think that her choice is a good one? Why or why not?
2. According to the novel, what is the Miss America pageant supposed to represent? Does the pageant and its participants truly live up to this? Explain. Why do you think that the pageant was so well-beloved at that time?
3. What are some of the rules that pageant contestants must follow? Would you say that these rules seem reasonable? What purpose might they serve? Do Betty and the other contestants follow these rules? If not, which rules do they break and what are the consequences?
4. What are Betty's first impressions of Griff? Would you say that she is able to accurately assess who he is within their first few meetings? Are her first impressions of him correct? What does the book suggest about identity and first impressions?
5. Why do you think that the judges seem interested in Betty even though she expresses minimal interest in the pageant? What makes her stand out from the other young women in the pageant?
6. How does Betty respond to winning the Miss America pageant? What is her time like after being crowned as Miss America? Were you surprised by her reaction? Why does she ultimately decide to take action that she knows will mean giving up her position and the crown?
7. What is the secret that Griff keeps from Betty? Why do you think that Betty stays with Griff even after she learns of his condition? How does knowing about Griff's condition makes Griff "seem" to her?
8. Who is Eddie Tate and why is he so interested in Betty and her story? Why doesn't Tate report what he finds in Reeve's apartment?
9. Although Ciji ultimately helps Betty, she first denies to others that she and Betty were ever close friends. Why does she do this? Why is Ciji afraid of honoring her promise to come to Betty's aid if Betty needs a "Joan of Arc"?
10. Consider the motif of denial. Which characters in the novel are in denial of something? What do they deny, and what causes them to do this? Do they ever reconcile with what they try to deny? Explain.
11. The book captures the story of an ordinary person changed in an extraordinary moment. What does the book suggest about the impact and legacy of fame? Is fame something that should be sought after? Why or why not?
12. Why does Bron think that Betty should tell her story, even after so many years have passed? How does he try to convince her to do this? Is he successful? Why or why not? What does he tell Betty that he believes about history? Do you agree with him?
13. Through The Night She Won Miss America the author creates a portrait of a bygone era. What does the novel reveal about this time period and its culture? Consider language, setting, imagery, and thematic material such as the treatment of social class, race, and gender roles, for example.
14. Reviewers have referred to Callahan's novel as "cinematic." What do you think they mean by this? What cinematic qualities does the book have, and how does the author give the book this quality? What kinds of films would you compare the novel to and why?
15. What were your thoughts and feelings about pageants before reading Callahan's novel? Did the novel change your view of pageantry or the Miss America pageant in any way? If so, what caused you to change your point of view? Discuss.
or
Not Currently Available for Direct Purchase