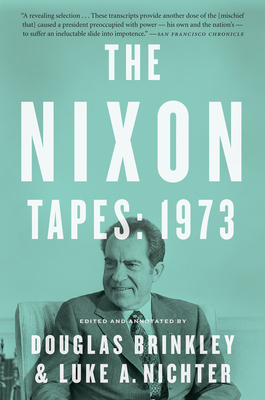 The Nixon Tapes
1973
Paperback

* Individual store prices may vary.
Other Editions of This Title:
Hardcover (9/22/2015)
Description
"A revealing selection . . . [a] heroic service." — New York Times Book Review

"Endlessly fascinating . . . Essential for students of late-twentieth-century history and the American presidency." — Kirkus Reviews

"[A] monumental effort . . . Astonishing." — Austin American-Statesman

Between 1971 and 1973, President Richard Nixon's voice-activated tape recorders captured 3,700 hours of conversations. Douglas Brinkley and Luke Nichter's intrepid two-volume transcription and annotation of the highlights of this essential archive provides an unprecedented and fascinating window into the inner workings of a momentous presidency.
                The Nixon Tapes: 1973 tells the concluding chapter of the story, the final year of taping, covering such events as the Vietnam cease-fire, the Wounded Knee standoff, and, of course, the Watergate investigation. Once again, there are revelations on every page. With Nixon's landslide 1972 reelection victory receding into the background and the scandal that would scuttle the administration looming, The Nixon Tapes: 1973 reveals the inside story of the tragedy that followed the triumph.
 
"A priceless . . . historical document . . . Readers will enjoy the editors' insightful introductions." — Publishers Weekly
Mariner Books, 9780544811843, 848pp.
Publication Date: September 20, 2016
About the Author
DOUGLAS BRINKLEY is a professor of history at Rice University, CBS News Historian, and contributing editor of Vanity Fair. He is the author of seven New York Times Notable Books of the Year. His recent New York Times bestsellers include Cronkite, The Wilderness Warrior: Theodore Roosevelt and the Crusade for America, and The Reagan Diaries.
LUKE NICHTER is an associate professor of history at Texas A&M University–Central Texas. He is a noted expert on the Nixon tapes as a result of his efforts to digitize the nearly 4,000 hours of recordings he makes available online as a public service, and he is the author of an ongoing petition before the District Court for the District of Columbia to open Watergate-related government records still sealed in the National Archives. Nichter's work has been reported on by the New York Times, the Washington Post, and the Associated Press.