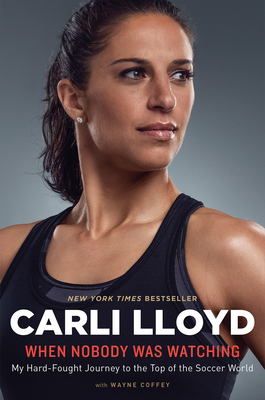 When Nobody Was Watching (Hardcover)
My Hard-Fought Journey to the Top of the Soccer World
Houghton Mifflin Harcourt, 9780544814622, 256pp.
Publication Date: September 26, 2016
* Individual store prices may vary.
Description
NEW YORK TIMES BESTSELLER

From the celebrated star of the U.S. Women's National Soccer Team, an inspiring, uplifting, and candid memoir of how she got there

"If a player trains when nobody is watching, she might be able to do superhuman things when the entire world is watching. Like scoring a hat trick in the first sixteen minutes of a World Cup final, an eventual 5–2 victory over Japan. Or topping off that hat trick with an astonishing fifty-yard strike from midfield, the greatest goal in U.S. soccer history, a shot so audacious that it's surprising to learn that Lloyd had actually practiced it for years with [James] Galanis on an empty field in New Jersey, far from any crowds." —Grant Wahl, Sports Illustrated

In 2015, the U.S .Women's National Soccer Team won its first FIFA championship in sixteen years, culminating in an epic final game that electrified soccer fans around the world. It featured a gutsy, brilliant performance by team captain and midfielder Carli Lloyd, who made history that day, scoring a hat trick—three goals in one game—during the first sixteen minutes. 
 
But there was a time when Carli almost quit the sport. In 2003 she was struggling, her soccer career at a crossroads. Then she found a trusted trainer, James Galanis, who saw in Carli a player with raw talent, skill, and a great dedication to the game. What Carli lacked were fitness, mental toughness, and character. Together they set to work, training day and night, fighting, grinding it out. No one worked harder than Carli. And no one believed in her more than James. Despite all the naysayers, the times she was benched, moments when her self-confidence took a nosedive, she succeeded in becoming one of the best players in the world. 
 
This candid reflection on a remarkable turnaround will take readers inside the women's national team and inside the head of an athlete who willed herself to perform at the highest levels of competition.
About the Author
CARLI LLOYD is captain of the U.S. Women's National Soccer Team and has been named the FIFA World Player of the Year for two years in a row (2015 and 2016). The midfielder led the U.S. team to World Cup victory in 2015 and also scored the gold-medal winning goals in both the 2008 and 2012 Olympics. She has played in three FIFA Women's World Cup tournaments, helping the U.S. win bronze, silver and then gold. In 2015 she was also awarded the FIFA Golden Ball and the Silver Boot. The New Jersey native currently plays for Manchester City Women FC in England. Follow Carli at carlilloyd.com or on Twitter @CarliLloyd.
 
WAYNE COFFEY is an award-winning sports journalist and the author of more than thirty books, including such New York Times bestsellers as The Closer with Mariano Rivera; Wherever I Wind Up with R. A. Dickey; and Above the Line with Urban Meyer.
 
Praise For When Nobody Was Watching: My Hard-Fought Journey to the Top of the Soccer World…
"When Nobody Was Watching provides a harrowing account of athletes' sacrifices. Lloyd's single-mindedness has undoubtedly put her in a different plane to most people." –The Guardian
 
"…the point of the memoir…is to show how dedication and a relentless work ethic can overcome an endless series of obstacles, both personal and professional." –L.A. Times
 
"We are reminded time and time again that our role models, the people we think we know because they play for our favorite team, are not at all who we thought. Otherworldly skills and talents aside, they face the same challenges, heartbreaks and doubts as we do. That's the message that comes through in Lloyd's book…" –USA Today

"A remarkable portrait of the relentless drive and sacrifice required to truly be the best."
–Booklist

"If you are a real soccer player – then this is the book for you to read . . .Open and refreshing . . . From the preface to the epilogue, this book is filled with passion and the solid wisdom of a winner . . . Inspiring and uplifting. Definitely a GREAT READ." 
–GoalNation

"Hard to put down . . . A must read for women's soccer followers and hopefully sets a standard for future books on the women's game."
–TribalFootball
Coverage from NPR
or
Not Currently Available for Direct Purchase