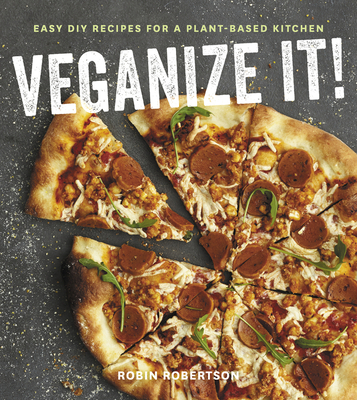 Veganize It! (Paperback)
Easy DIY Recipes for a Plant-Based Kitchen
Houghton Mifflin Harcourt, 9780544815568, 304pp.
Publication Date: March 7, 2017
* Individual store prices may vary.
Description
Vegan pantry staples plus enticing recipes in which to use them

This is the ultimate DIY pantry book, doing double duty with recipes for vegan staples, plus ideas on  how to use them as building blocks in both new and classic recipes. Many cooks prefer to make their own basics rather than buy expensive store versions, which are often loaded with additives and preservatives. These easy recipes make it easy to stock a home pantry. Enjoy milks, cheeses, bacon, burgers, sausages, butter, and vegan Worcestershire sauce in your favorite dishes, and then try delicious recipes using the staples. Sample Bahn Mi, Sausage Biscuits, Meaty-Cheesy Pizza, Milk Shakes, Jambalaya--even Jerky and Lemon Meringue Pie. With more than150 recipes and 50 color photos, this will become an indispensable cookbook for vegans--and everyone else who enjoys animal-free food.
About the Author
ROBIN ROBERTSON is a 30-year veteran food writer, cooking teacher, and chef specializing in vegan and vegetarian cooking.  She is the author of 20 vegetarian or vegan cookbooks, including Vegan Planet and 1,000 Vegan Recipes, and is a regular columnist for VegNews magazine and VegCooking.com. She operates a vegan-focused website and blog at RobinRobertson.com and lives in Virginia.
Praise For Veganize It!: Easy DIY Recipes for a Plant-Based Kitchen…
"Many vegan products, she observes, are expensive, highly processed, and full of preservatives. To remedy this, [Robertson] offers easy-to-make, inexpensive vegan alternatives that remain true to the original tastes and textures... Dishes such as bacon-topped 'mac un-cheese,' fish-free tacos, and cheesy steak-out sandwiches are appetizing options that readers will relish. Staple recipes go beyond dairy products to include meats, charcuterie, seafood, condiments and sauces, and desserts... This appealing collectionprovides vegan cooks with the tools they need to create homemade ingredients and enjoy the flavors of classic dishes while still following a plant-based diet."
— Publishers Weekly

" With an eye toward economy, vegan cooking authority Robertson demonstrates how many products – including tofu, ricotta, mushroom, bacon, whipped coconut cream, and more – can be easily made at home… smart and flavorful… Robertson's vegan alternatives to popular foods will draw even nonvegans." 
—Library Journal (starred)

"[Robertson's] care in protecting animals of all kinds is evident in this cookbook, which highlights alternative proteins from seitan and tempeh to tofu-based "fish" sticks to a No-Meat Loaf of mushrooms, lentils, and grains… Robertson makes good use of creative cooking techniques and flavor enhancers …a good choice for new vegetarians or vegans, who might miss the satisfaction of traditional meats. It's also a solid bet for meat-eaters looking to expand their repertoire of veg-friendly dishes."
 —Booklist