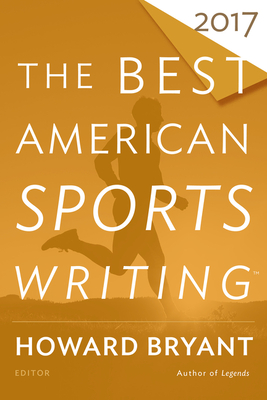 The Best American Sports Writing 2017 (The Best American Series ®) (Paperback)
Mariner Books, 9780544821552, 416pp.
Publication Date: October 3, 2017
Other Editions of This Title:
Paperback (10/2/2012)
Paperback (10/5/2010)
Paperback (10/26/2000)
Paperback (10/10/2001)
Paperback (10/8/2009)
Paperback (10/7/2014)
* Individual store prices may vary.
Description
For a quarter century, the annual Best American Sports Writing has showcased the greatest sports journalism of the previous year. This year's guest editor, acclaimed author Howard Bryant, continues the tradition, seeking out writing that best captures the unpredictable journey of sports. Triumphantly and painfully, these stories reflect on that journey, asking difficult questions about who we are, as individuals and as a nation: What does it mean when a football player takes a knee during the national anthem, who decides where the remains of an American legend should rest, and how far will people go to reclaim dreams that have long slipped away? Spanning different sports, disciplines, and styles, these pieces are, above all, inspirational to readers, writers, and athletes around the world, proof of the bonds and breaking points that exist between and within us all.
 
 
About the Author
GLENN STOUT is a freelance writer, author, and editorial consultant and has served as series editor of The Best American Sports Writing since its inception. He is the author of Young Woman and the Sea and Fenway 1912, and has collaborated with Richard Johnson on Red Sox Century, Yankees Century, The Cubs and The Dodgers. Stout has lived in and around Boston for 20 years, and currently lives in Vermont. 
 
Howard Bryant is a senior writer for ESPN.com and ESPN The Magazine. He has been the sports correspondent for National Public Radio's Weekend Edition Saturday since 2006, and worked at several newspapers including the Boston Herald and The Washington Post. A Boston native, Mr. Bryant is the author of Shut Out: A Story of Race and Baseball in Boston, Juicing the Game: Drugs, Power the Fight for the Soul of Major League Baseball, The Last Hero: A Life of Henry Aaron, and the three-book Legends series for middle-grade readers. His profile of Dusty Baker for ESPN.com appeared in the 2011 edition of The Best American Sports Writing. Mr. Bryant was also a 2016 finalist for the National Magazine Award for commentary