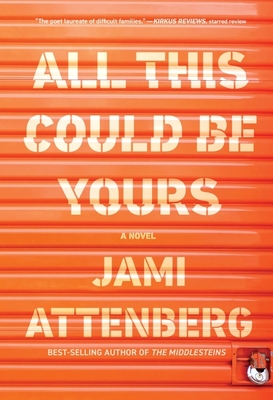 All This Could Be Yours (Hardcover)
Houghton Mifflin Harcourt, 9780544824256, 304pp.
Publication Date: October 22, 2019
Other Editions of This Title:
Compact Disc (10/22/2019)
MP3 CD (10/22/2019)
Compact Disc (10/22/2019)
* Individual store prices may vary.
Description
From critically acclaimed New York Times best-selling author Jami Attenberg comes a novel of family secrets: think the drama of Big Little Lies set in the heat of a New Orleans summer

"If I know why they are the way they are, then maybe I can learn why I am the way I am," says Alex Tuchman of her parents. Now that her father is on his deathbed, Alex—a strong-headed lawyer, devoted mother, and loving sister--feels she can finally unearth the secrets of who Victor is and what he did over the course of his life and career. (A power-hungry real estate developer, he is, by all accounts, a bad man.) She travels to New Orleans to be with her family, but mostly to interrogate her tightlipped mother, Barbra.

As Barbra fends off Alex's unrelenting questions, she reflects on her tumultuous life with Victor. Meanwhile Gary, Alex's brother, is incommunicado, trying to get his movie career off the ground in Los Angeles. And Gary's wife, Twyla, is having a nervous breakdown, buying up all the lipstick in drug stores around New Orleans and bursting into crying fits. Dysfunction is at its peak. As each family member grapples with Victor's history, they must figure out a way to move forward—with one another, for themselves, and for the sake of their children.

ALL THIS COULD BE YOURS is a timely, piercing exploration of what it means to be caught in the web of a toxic man who abused his power; it shows how those webs can tangle a family for generations and what it takes to—maybe, hopefully—break free. With her signature "sparkling prose" (Marie Claire) and incisive wit, Jami Attenberg deftly explores one of the most important subjects of our age.
About the Author
JAMI ATTENBERG is the New York Times best-selling author of seven books of fiction, including The Middlesteins and All Grown Up. She has contributed essays to the New York Times Magazine, the Wall Street Journal, the Sunday Times, and Longreads, among other publications. She lives in New Orleans.
Praise For All This Could Be Yours…
A Most Anticipated title from: Buzzfeed, BookRiot, LitHub, The Millions, The Week, and Good Housekeeping

"Dazzling . . . A delectable family saga."
—Publishers Weekly, starred review

"The novel takes place in one very long day but encompasses the entirety of lifetimes…Prickly and unsentimental, but never quite hopeless, Attenberg, poet laureate of difficult families, captures the relentlessly lonely beauty of being alive. Not a gentle novel but a deeply tender one." 
—Kirkus, starred review

"An ambitious and utterly delectable novel about families and their secrets that opens up, pleasurably, like a set of nesting dolls."
—Kelly Link, author of Get In Trouble

"Jami Attenberg's work is so deeply attuned to humans and our imperfect attempts to love each other. All This Could Be Yours is populated by Attenberg's pitch-perfect characters; flawed, recognizable people dealing with big topics--death, family, sex, love--and Attenberg handles it all with an expert touch and a keen sense of what, despite all the sadness and secrets, keeps people connected, striving for moments of beauty and tenderness in a dark world."
—Emma Cline, author of The Girls

 "Set against the vivid backdrop of New Orleans, Jami Attenberg's extraordinary new novel All This Could Be Yours is a deep dive into fractured family dynamics. In alternating voices, Attenberg expertly weaves together a chorus of love, betrayal and inheritance, each chapter a prism turned, revealing a new spectrum of secrets. Interspersed are gorgeous excavations into fleeting moments with strangers—the checkout clerks and ferry conductors passing through our lives—connecting this singular family into the larger web of life, where everyone is worthy of understanding and no one is without a soul."
—Hannah Tinti, author of The Twelve Lives of Samuel Hawley

"Attenberg crafts families with stunning nuance and depth. She pays tribute to unseen New Orleans with a gaze on the powerful and the downtrodden. Her characters are unforgettable, their predicaments are captivating and their journeys shed light on the inner workings of America."
—Margaret Wilkerson Sexton, author of A Kind of Freedom

"Jami Attenberg writes with an unflinching and generous spirit that brings to mind Grace Paley. All This Could Be Yours traces the lasting turmoil of a flawed marriage, and is another marvel of intelligence, humor, and soul."
—Zachary Lazar, author of Vengeance and Sway

"No one understands the contradictions of the human heart and how our grace and our failures reverberate through our families better than Jami Attenberg.  And no one writes about our grace and failures with humor and compassion better than her either.  Also—this book's structure is brilliant."
—Attica Locke, author of Heaven, My Home

"An engrossing story."
—AARP, "Favorite Fiction Books for Fall"