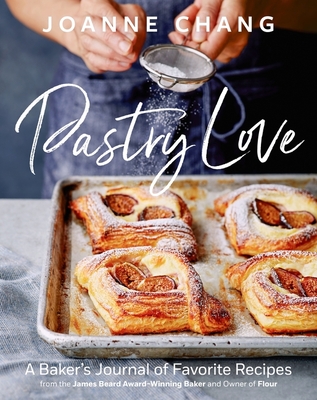 Pastry Love
A Baker's Journal of Favorite Recipes
Hardcover

* Individual store prices may vary.
Description
A must-have baking bible from the James Beard award–winning baker and owner of the beloved Flour bakeries in Boston.
James Beard award–winning baker Joanne Chang is best known around the country for her eight acclaimed Flour bakeries in Boston. Chang has published two books based on the offerings at Flour, such as her famous sticky buns, but
Pastry Love
 is her most personal and comprehensive book yet. It includes 125 dessert recipes for many things she could never serve in the setting of a bakery—for example, items that are best served warm or with whipped cream on top. Nothing makes Chang happier than baking and sharing treats with others, and that passion comes through in every recipe, such as Strawberry Slab Pie, Mocha Chip Cookies, and Malted Chocolate Cake. The recipes start off easy such as Lemon Sugar Cookies and build up to showstoppers like Passion Fruit Crepe Cake. The book also includes master lessons and essential techniques for making pastry cream, lemon curd, puff pastry, and more, all of which make this book a must-have for beginners and expert home bakers alike.  
*One of Food & Wine's Essential New Cookbooks for Fall*
*One of Food52's Best Cookbooks of Fall 2019*
*One of Bon Appetit's Fall Books We've Been Waiting All Summer For*
Praise For Pastry Love: A Baker's Journal of Favorite Recipes…
"Joanne does more than just share her recipes. She also shares her love for what she does, and that's what all great bakers and chefs do—they teach you to cook for the soul, not just the palate. First you find love for baking, then you bake." –Dominique Ansel, Chef/Owner, Dominique Ansel Bakery and Kitchen   "This may be my fave book of Joanne's YET!!! If there is anyone who understands the magic power of a warm muffin or a flaky, buttery croissant to brighten someone's day, it's my girl Joanne Chang. Pastry Love is everything you want in a baking guide. With it open on my kitchen counter, oven heating, mixing bowl ready to get into the mix, I feel exactly as I do when I walk into a Flour Bakery in Boston—welcomed, loved, and right at home." –Christina Tosi, Chef/Owner, Milk Bar   "From kicking off the day with Nutty Seedy Breakfast Cookies, to Peppermint Kisses as an after-dinner treat (with a stellar assortment of cakes, cookies, pies, and candies in between), Pastry Love is Joanne Chang's best collection of recipes yet! She is a rare combination of enthusiasm, talent, and passion—anything Joanne bakes, I want to eat." –David Lebovitz, Author of My Paris Kitchen and The Perfect Scoop   "This stunning book offers a superb window into the immense skill set of America's premiere baking goddess. I am obsessed with everything Joanne bakes, and Flour is a bakery I visit on every trip to Boston. I could go on and on about the technical perfection, the absurd quality of the baked goodies and their recipes, and the ease of use for the casual baker… all pillars of Pastry Love. Joanne really only has one goal in life, and that's making people happy. She is the person we all want to be in the kitchen with, fingertips still slick with butter, the smell of caramel in the air, an icy glass of milk at the ready… and those insane chocolate chip cookies emerging from the warm, reassuring oven that's keeping us company." –Andrew Zimmern, Chef, Author, Television Personality   "Rejoice! At last we have another Joanne Chang book to bake through. From breakfast sweets, breads, and pies to show-off cakes and snacks as irresistible as sticky-bun popcorn, Pastry Love is chockablock with recipes we all want to make, and each is written so clearly that even first-timers can succeed. This book won't last ten minutes before it'll be smudged with butter—a true sign of a baker's love." –Dorie Greenspan, author of Everyday Dorie and Dorie's Cookies    
Harvest, 9780544836488, 464pp.
Publication Date: November 5, 2019
About the Author
An honors graduate of Harvard College with a degree in Applied Mathematics and Economics, JOANNE CHANG left a career as a management consultant to enter the world of professional cooking. She started at Boston's renowned Biba, then Bentonwood Bakery, Rialto, and New York's Payard Patisserie and Bistro, and finally Mistral. She returned to Boston with dreams of opening her own pastry shop. In 2000, she opened Flour, a bakery and café, and has since opened seven more locations in Boston and Cambridge. Flour has been featured in Gourmet, Food & Wine, Bon Appétit, the New York Times, and Condé Nast Traveler and has received numerous Best of Boston awards. Chang also competed, and won, on Throwdown with Bobby Flay. In 2007, she opened a Chinese restaurant, Myers+Chang, with her husband, Christopher Myers. She is the author of four other cookbooks and was the recipient of a James Beard Award in 2016 for Outstanding Baker in America.