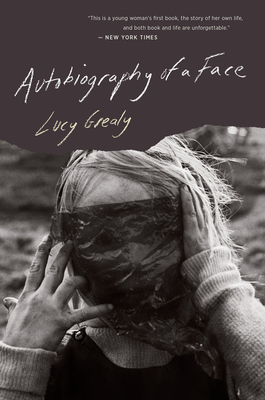 Autobiography of a Face
Paperback

* Individual store prices may vary.
Other Editions of This Title:
Digital Audiobook (9/5/2016)
MP3 CD (9/6/2016)
Compact Disc (9/6/2016)
MP3 CD (9/6/2016)
Compact Disc (9/6/2016)
Paperback (3/18/2003)
Description
A New York Times Notable Book

"This is a young woman's first book, the story of her own life, and both book and life are unforgettable." —New York Times

"Engaging and engrossing, a story of grace as well as cruelty, and a demonstration of [Grealy's] own wit and style and class."—Washington Post Book World


This powerful memoir is about the premium we put on beauty and on a woman's face in particular. It took Lucy Grealy twenty years of living with a distorted self-image and more than thirty reconstructive procedures before she could come to terms with her appearance after childhood cancer and surgery that left her jaw disfigured. As a young girl, she absorbed the searing pain of peer rejection and the paralyzing fear of never being loved.
Praise For Autobiography of a Face…
Selected as one of the best books of the year by USA Today and the Voice Literary Supplement

A New York Times Notable Book

"Despite its unblinking stare at an excrutiatingly painful subject, this is not a dour book. Autobiography of a Face is a book about image, about the tyranny of the image of a beautiful—or even pleasingly average—face. In the end, this tyranny is not so much overthrown as shrugged off."—New York Times Book Review

"Written in a voice that is both compelling and insightful, Autobiography of a Face seems to mirror back to readers something relevant to their own lives. . . Despite the singular nature of her experience, Lucy Grealy manages to convince an amazing array of people that she is speaking directly to them."—Baltimore Sun

"Wit, intelligence, and an unconquerable spirit. . . shine through this remarkable book."—Madmoiselle

"Though Grealy's experience was extraordinary, it is utterly affecting, for there is no one who has not felt the shame and self-doubt of physical inadequacy." – Elle
 
"With fairy tale logic, as though to make up for her nearly unbearable fate, the gods also gave this young woman extraordinary gifts of perception and language. It is impossible to read Autobiography of a Face without having your consciousness raised forever." – Mirabella

"Grealy has turned her misfortune into a book that is engaging and engrossing, a story of grace as well as cruelty, and a demonstration of her own wit and style and class."—Washington Post Book World

"Stunning. . . Insightful and exquisitely written, this book reminds us that the things that make us 'beautiful' are not always the things that other people see."—Seventeen

"This poet's ability to harness the pathos while transmuting her personal anguish into universal truths has enabled her to forge a powerful testament to the triumph of the human spirit." – Detroit Free Press

"[A] book that shares what it's like to be really different from other people. . . With exquisite prose and steely strength."—USA Today

A memoir of great beauty. In her intensely elegant prose, Lucy Grealy describes the loneliness of pain, the confusion of childhood, the slow shock of her disfigured face with an exquisite unblinking intelligence that is both gracious and, improbably, filled with joy. I love this book." – Cathleen Schine, author of The Three Weissmanns of Westport
 
"Autobiography of a Face is about that most wrenching of subjects – a child's suffering – but also moral courage, the hard battle of growing up and the unfolding of a writer's soul. An honest, deeply moving book." – Eva Hoffman, author of Lost in Translation
 
"This harrowing, lyrical memoir is a striking meditation on the distorting effects of our culture's preoccupation with physical beauty." – Publishers Weekly (starred)
 
"A memoir of disquieting candor and power. The account of Grealy's arduous coming of age is both haunting and inspirational." – Ploughshares
 
"An unsentimental, honest, unflinching look at a single visage reflected (or distorted) in an unforgiving cultural mirror." – Kirkus
 
"Grealy's is a book you want to hand people and say only 'Read it.'" – Booklist
 
Mariner Books, 9780544837393, 256pp.
Publication Date: September 13, 2016
About the Author
LUCY GREALY (1963−2002), an award-winning poet, attended the Iowa Writer's Workshop. She was a fellow at the Bunting Institute of Radcliffe and the Fine Arts Work Center in Provincetown, and a guest of the Yaddo Corporation. Her article for Harper's, "Mirrorings," on which Autobiography of a Face was based, received the National Magazine Award.